Paddock Insider: 2014 Lone Star Grand Prix – Friday
Texas street race to welcome large numbers in 10 categories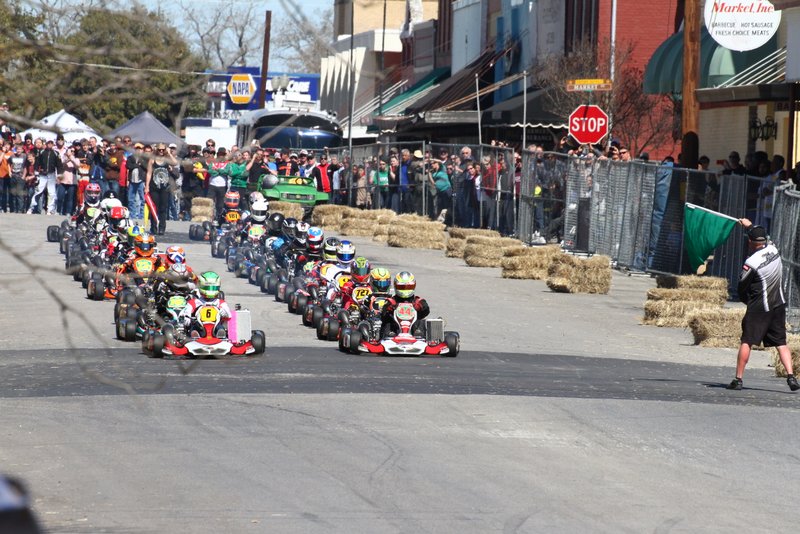 Big fields are expected for the 2014 edition of the LSGP (Photo: LoneStarGrandPrix.us)
EKN's Paddock Insider brings you notes, updates and breaking news as it happens. The article will be a timeline of events as they happen during the 2014 Lone Star Grand Prix in Lockhart, Texas. The information will not be seen anywhere else, including notes, interviews and photos. For complete coverage of the LSGP, visit the EKN Event Page. Please feel free to comment and discuss our coverage and today's action in the EKN Global Members Discussion area below:
Karting's Supper Club – The Community Dinner Table
One of the conversation topics that we hear regularly during our travels around the country is the feeling that we've lost a certain level of 'community' at major karting events.  So many veterans look back to the days when racers would connect, chat, and share a cocktail while moving in for a race weekend.  These days, at the national level at least, it's more about erecting big tents and trailer-side awnings, then putting up walls to close out anyone not wearing your team jacket.  Tonight, amidst the craziness of jamming trucks and trailers into the side streets of downtown Lockhart, it was a little more 'old school'.  People were connecting, there was a great buzz in the downtown core, and the 'feel' of old school karting was there.  Yes, there were the big transporters of a few major teams, but there were also pick-ups with small trailers jammed into every nook and cranny of this small Texas city.  It's a pretty cool vibe.
Part of the 'atmosphere' of a karting weekend has always been about over-running a local restaurant, sitting shoulder-to-shoulder with the people you'll see all weekend.  It's the 'community' of what we do.  This weekend in Lockhart, a city that is heralded as the center of BBQ in Texas, we'll be packing up famous joints like Kruez Market, Smittys and Blacks.  Tonight, the EKN staff hit Blacks to load up a couple food trays with lean brisket, chicken, a couple kinds of sausage and a Fred Flintstone-worthy giant beef rib.  We were not alone.  We joined the chow line with the guys from Karting Coach / Race Monitor from Colorado, and sat alongside guys from Champion Racing like the Berryhills, and the father-son duo on Mark and Jake French.  S4 frontrunners Trevor McAlister and Roy Montgomery were in the house too, as were many other racers.  In a time where we're often split up and separated into our team entourages, it was nice to see guys hooking up over dinner, talking about racing, travel and life.  All in all, we're off to a great start.
A Gathering for Everyone
One of the great things about the Lone Star Grand Prix, is the combination of big teams and just regular club racers coming together for one event. This year's LSGP is welcoming a number of major race teams, along with national talent.
CRG-USA is a event supporter for the event, and his supporting over 20 drivers combined with their Texas dealers. Former S2 Pro Tour champion Sabré Cook is back for a second straight year, and is bringing their California connection – Jimmy McNeil, Robert Marks, and Darrell Tunnell. All three elected to skip the California ProKart Challenge to experience the LSGP. They have been watching on-board footage from last year to get up to speed with the circuit, as track time is very limited to your typical event.
DRT Racing is another team showing its support again for the LSGP. The east coast team is loaded with Stock Moto drivers, including Brian Fisher, Josh Lane and Lance Lane. Fisher is scheduled to compete in four categories (Stock Moto Light/Heavy, Open Shifter, TaG Master) featuring a new TM KZ10B from the DR Racing Kart shop in Italy.
When you fill up a full city street, your bringing a ton load of karts and drivers. Champion Racing/Intrepid filled out a complete street section of the paddock area. Rodney and Brett Berryhill are rebuilding the brand in North America, focused on making 2014 another banner year. They signed last year's LSGP double winner Jake French to pilot an Intrepid this season, and he will be looking to defend his Stock Moto Light and Open Shifter crowns this weekend. EKN's Rob Howden spoke with Jake Friday afternoon.
Making the long journey from Northern California is Leading Edge Motorsports. Greg Bell is fielding a handful of drivers, including two Texans. Ryan Kinnear – the S2 Texas ProKart Challenge champion, and Trevor McAlister – a Texas native now calling California home. Both are making their LSGP debuts, with Bell excited for the atmosphere he's experienced in the opening day of the street race.
TaG Master action is expected to step up this year, thanks to the addition of Scott Falcone and Robby Mott. Falcone is the defending SKUSA Pro Tour champion, making his LSGP debut. He'll be racing both Master and TaG Senior, ready to take on the Lockhart streets. Mott – owner of Ribtect – is also racing in his first Lone Star Grand Prix after spending last year as a spectator.
The backbone of the event however are the club and regional racers making the trip to Lockhart. A number are coming in from the different LoneStarState facilities – North Texas Karters (Denton), Hill County Kart Club (New Braunfels), Gulf Coast Karters (Katy), Heart of Texas Kart Club (Waco), as well as Oklahoma Motorsports Complex. These racers, competing in everything from Stock Moto down to Yamaha and Chonda, are what make the sport what it is today. All about family and having a great time with competitors and friends.
Track Walk
EKN took a nice stroll around the LSGP circuit this afternoon prior to the major build-up of the course Friday evening. The course is not your typical street circuit, with elevation and banked corners not viewable in pictures or videos. The front straight is all downhill, creating more speed as racers funnel into the opening corner. The exit takes the drivers up Live Oak Street, which includes a sizable 'bump' going over the Main Street intersection. It reminds us to the 'hump' at Grattan Raceway in Michigan. The gradually climb to Church Street sends the course back north, with another right hand turn followed up by the first left turn onto Main Street. A right onto Market Street takes the drivers to the turn six left-hand hairpin. Portions of the roads used around the downtown section of Lockhart are crowned, thus creating the feel of banking around certain corners of the track. It's evident in turns five and seven. A number of areas repaved were repaved recently, but once drivers hit the track tomorrow morning, the bumps of a street course will be identified.
The paddock is an orchestrated chaotic scene from the outside, as LSGP have spent months planning the move in process for the paddock. Trailers and haulers have filled up a good three square block area, including the streets, parking lots and any other spaces that can be used for space – including a gas station near the course. The Lockhart area has welcomed the racers with open arms, with signs and specials at numerous businesses up and down the city.
Two Days of Good Eats and Fast Karts
In just a matter of 24 hours, the city of Lockhart will go from just a quiet little town outside of Austin, into a screaming race track filled with karters from all across the country. Two days of racing are scheduled for the 2014 Lone Star Grand Prix with 10 categories competing in the city streets. This is the second year the event has been held in the BBQ Capital of Texas, a full festival (Texas Independence Day Celebration) taking place around the event within the city limits.
Teams and drivers will set up Friday afternoon, along with track construction commencing. Action begins Saturday with two rounds of practice followed by qualifying and the heat race for each class. Sunday features the main events, set to begin at 11am. Throughout the day Friday, eKartingNews.com will bring you some stories, interviews and photos of what goes on as everyone gears up for the 2014 Lone Star Grand Prix.