Kiwi News: Clean Sweep for Bray…And He Could Have Gone Faster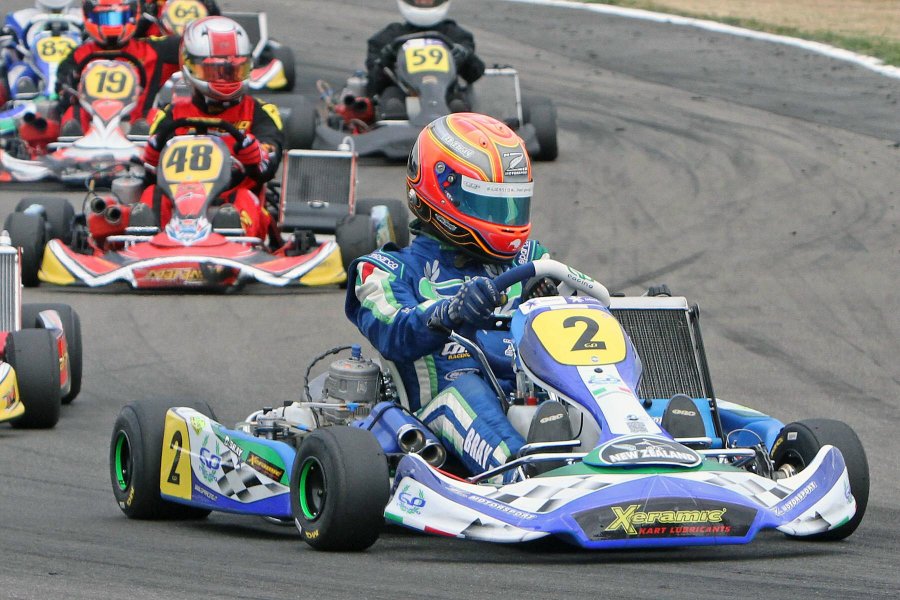 Daniel Bray (Photo: Fast Company/Graham Hughes)
Auckland-based international Daniel Bray swept all before him in the premier KZ2 class at the opening round of the this year's Pro Kart Series at KartSport Manawatu's annual Tans-Tasman Challenge meeting in Palmerston North over the February 22-23 weekend – and had he needed to he could have gone faster!
"Physically I pushed pretty hard, especially in the Final, but there was definitely some more time in the kart," the 26-year-old said of his qualifying/heat/finals clean sweep which included fastest race laps in all three heats, the Pre-Final and Final.
"Bar trying some longer rear hubs on Sunday we hardly touched the kart and the minute I did the (pole-winning) time in qualifying I knew I could park it because nobody else was going to get close."
Defending title holder, and fellow international, Ryan Grant, shadowed Bray in qualifying but seized his number one engine in the first heat and his back-up one in the Pre-Final, leaving the way open for former South Island class sprint champion Chris Cox from Rangiora to take the runner-up spot in the Final with teenage trio of Luke Dobbs, Mitchell Brown and Kent Wheeler completing the top five.
With fellow young guns Jordan Morris, Mitchell Osborne and Simon Davies, Dobbs, Brown, Wheeler put on some of the best racing seen over the weekend with Dobbs – just – getting the better of the battling bunch in the Pre-Final and Final but Brown impressing with the second quickest lap time in the Final.
Hastings driver Tom Curran, a former class title winner, also completed a clean sweep to take KZ2 Masters class honours, sealing the deal with a win in the Final from Aucklander Mark Wheeler and Nelson veteran Grant Kugener. It was consistent pace across the three heat races and Finals which saw Kevin Storr second in the points after the meeting with fellow Aucklanders Mark Wheeler third and Mark Lane fourth.
Quick in the new KZ2 Restricted class, meanwhile, was another Aucklander, Garry Cullum, who – after just missing out on pole position (by 0.056 of a second!) – won all five races. Of note in this class was the performance of another one of the series' young guns, Cameron Dance – who finished second in the Final – and father and son pair Gerhard and Tommy Benadie who ended up third and fourth respectively in the points after the first round.
Finally, not quite sure where his ultimate loyalty lay (it being a Trans-Tasman Challenge meeting) was 17-year-old Jaxon Evans who ended up seventh overall in the KZ2 class. Though now living and racing out of Australia where he has lived for a number of years with his family, Evans is the son of former New Zealand Formula Vee champion Debbie Evans (nee Lester) and was born in Palmerston North.
"Jaxon's got a lot of potential," said Daniel Bray who provided equipment and advice to the expat Kiwi, Dale Verrall, who is running Evans here and in Australia this year. "It was his first ever race meeting in a KZ2 kart and he acquitted himself very well.'
This year the Pro Kart Series will again share top billing at all six rounds with the 2014 Rotax Max Challenge New Zealand with subsequent rounds of both series at Rotorua, Hamilton, Te Puke, Hastings and Auckland.
2014 Pro Kart Series Trans-Tasman Challenge meeting Manawatu Toyota Raceway Shirriffs Rd Palmerston North Sat-Sun Feb 22-23
KZ2
1. Daniel Bray (Auckland), 2. Chris Cox (Rangiora), 3, Luke Dobbs (Auckland), 4. Mitchell Brown (Auckland), 5. Kent Wheeler (Auckland), 6, Mitchell Osborne (Auckland)
KZ2 Restricted
1. Garry Cullum (Auckland), 2. Cameron Dance (Auckland, 3. Steve Brown (Auckland).
KZ2 Masters
1. Tom Curran (Hastings), 2. Mark Wheeler (Auckland), 3, Grant Kugener (Nelson), 4. Graeme Lambert (Tokoroa), 5. Brett Hollander (Auckland), 6. Kevin Storr (Auckland).
Calendar
Rnd 1: Sun Feb 22-23 Manawatu Toyota Raceway Palmerston North
Rnd 2: Sat-Sun March 15-16 The Rock FM Raceway Rotorua
Rnd 3: Sat-Sun May 17-18 AgriSea Raceway Hamilton
Rnd 4: Sat-Sun June 07-08 Fagan's Valley Raceway Te Puke
Rnd 5: Sat-Sun August 16-17 Chemz Raceway Hastings
Rnd 6: Sat-Sun September 20-21 Strata Networks Raceway Auckland