KoeneUSA.com Pole Position Awards Program Nears Completion
Unique program in conjunction with Florida Winter Tour will award cash at final rounds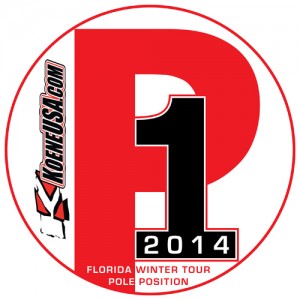 In an effort to give back to the karting community and support the annual Formula Kart Productions Florida Winter Tour, KoeneUSA.com has stepped up to the plate to provide the KoeneUSA.com P1 Award at the 2014 edition of the Tour. With the award program nearing its completion, Koene USA will award one junior competitor and one senior competitor with cold, hard cash.
"There was some confusion on who was eligible for the award," explained Mike Maurini, Owner of Koene USA. "Every driver will receive one point for each pole position they attained throughout the series in any class that had more than ten entries. Some people had already given the senior portion of the award to Luis Schiavo as he had claimed seven or eight pole positions but a few of them came from a class that had less than the required ten."
After the first four rounds of both the Formula Kart and Rotax weekends, below are the pole position leaders in both the junior and senior classes.
Following the completion of the 2014 Florida Winter Tour, the one driver attaining the most pole positions in junior and the one driver doing the same in senior throughout the series in their respective classes will be awarded $200.00 each in cold hard cash. Classes with less than ten drivers per weekend will not be eligible for the award.
Maurini continued, "Of course we need to be prepared for anything so if there happens to be a tie between drivers claiming the same amount of pole positions over the course of the series, their names will be placed into a draw to choose the winner."
With KoeneUSA.com having a strong online presence, Team Koene USA will be front and center with several competitors on both the Formula Kart Racing and Rotax Max Challenge weekends at the 2014 Florida Winter Tour. Koene USA will also continue to elevate their trackside sales and support program throughout the series and invite anybody needing to purchase Tony Kart, OTK, Rotax, Mojo, Vortex, MG, PKT Axles and Alpinestars items to stop by the team tent or pre-order by contacting Mike at 317.270.8723 or via e-mail to Info@KoeneUSA.com.
For more information on Koene USA and their online store, please visit www.KoeneUSA.com or contact company representatives at 317.270.8723 or via e-mail to Info@KoeneUSA.com. Team Koene USA is also very active in social media and can be found on Twitter at @KoeneUSA or on Facebook at www.Facebook.com/KoeneUSA.
For information on press releases or other media services offered by Race Tech Development, please contact Mike Maurini via e-mail at Info@RaceTechDevelopment.com or 317.270.8723. Race Tech Development can also be found on Twitter at @RaceTechDvlp as well as Facebook at their Race Tech Development Fan Page.