Kiwi News: Perfect Masters Start for Urban at Rotax Series Opener
Getting older isn't all that bad. Just ask karter Ryan Urban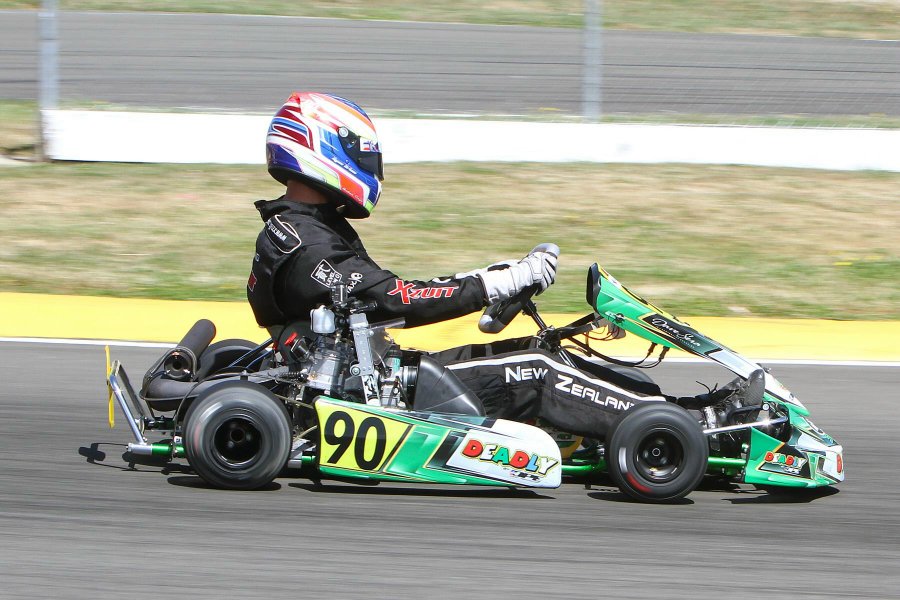 Ryan Urban (#90) proved too good for the competition in the combined Platinum Glass Rotax Heavy &Masters categories at the opening round of this year's Rotax Max Challenge in Palmerston North over the weekend (Photo: Fast Company/Graham Hughes)
At age 11 he won the 1993 New Zealand Midget class title. At the age of 27 he won the 2009 New Zealand Rotax Max Light sprint title. And now – at the ripe old age of 32 – he has just claimed his first Masters class victory.
Some victory it was too, the Auckland driver qualifying quickest and winning all four Platinum Glass Rotax Max Heavy/Masters class races at the opening round of the 2014 Rotax Max Challenge New Zealand supported by Schwarzkopf Professional in Palmerston North over the weekend.
Urban was one of three Rotax Challenge New Zealand class winners at the meeting, but the only one to come away with a clean sweep.
Teammate Daniel Connor came close, qualifying quickest and winning three of the four Logitech Rotax Max Light class races before slipping back to sixth place in the Final, won by last years' class winner Mathew Kinsman from younger brother Daniel and Cambridge driver Andy Schofield.
It was too close to call, meanwhile, in the Arai Rotax Junior class with Hawke's Bay driver Trey Nairn beating Kartsport Manawatu club members Dylan Drysdale and Michael McCulloch to the top spot in qualifying and Drysdale and Nairn sharing heat wins before McCulloch took over to win both the Pre-Final and Final.
Defending class title holder Marcus Armstrong from Christchurch showed plenty of pace, particularly in the Pre-Final but had an early exit in the Final when his kart threw a chain.
Best of the Australian drivers at the Trans-Tasman Challenge meeting was regular New Zealand visitor Lane Moore. The 24-year-old from the Gold Coast ended up second overall and first Heavy class competitor home in the combined Platinum Glass Rotax Heavy/Masters class after a weekend-long battle with reigning New Zealand Rotax Max Heavy sprint class champion Zach Zaloum from Hawke's Bay, Matthew Grant from Auckland and – in her first appearance in the New Zealand Challenge – former British DD2 class champion Tiffany Chittenden.
The other Australian driver contesting a Rotax class, 16-year-old Jordan Boys from Albury on the Victoria/New South Wales border, did well to qualify seventh and work his way up to fourth in each race and was leading the Pre-Final when a broken chain put him out.
That meant he had to start the Final from the back of the grid (P32) but he still managed to work his way back up to ninth in the Final
The weekend's Rotax Max Challenge New Zealand round was the first of six with KartSport Rotorua hosting the second at The Rock FM Raceway in the MamakuRanges over the March 15-16 weekend.
2014 New Zealand Rotax Max Challenge supported by Schwarzkopf Professional Rnd 1 Trans-Tasman Challenge meeting Manawatu Toyota Raceway Shirriffs Rd  Palmerston North Sat-Sun Feb 22-23
Rotax Max Light
1. Mathew Kinsman (Auckland), 2. Daniel Kinsman (Auckland), 3. Andy Schofield (Cambridge), 4. Mason Armstrong (Auckland), 5. Jaden Hardy (Palmerston North), 6. Daniel Connor (Helensville).
Rotax Max Heavy/Masters
1. Ryan Urban (Auckland), 2. Lane Moore (Gold Coast, Australia), 3. Zach Zaloum (Hastings), 4. Tiffany Chittenden (Christchurch); 5. Matthew Grant (Auckland), 6. Niki Urwin (Tauranga)
Rotax Junior
1. Michael McCulloch (Waikanae), 2. Dylan Drysdale (Palmerston North); 3. Trey Nairn (Hastings), 4. Taylor Harte (Auckland), 5. Caleb Huston (Rotorua), 6. Caleb Cross (Christchurch).
Calendar
Rnd 1: Sun Feb 22-23 Manawatu Toyota Raceway Palmerston North
Rnd 2: Sat-Sun March 15-16 The Rock FM Raceway Rotorua
Rnd 3: Sat-Sun May 17-18 AgriSea Raceway Hamilton
Rnd 4: Sat-Sun June 07-08 Fagan's Valley Raceway Te Puke
Rnd 5: Sat-Sun August 16-17 Chemz Raceway Hastings
Rnd 6: Sat-Sun September 20-21 Strata Networks Raceway Auckland