Bordogna Racing Engines Victorious at Florida Winter Tour
Bordogna powered drivers impress in international event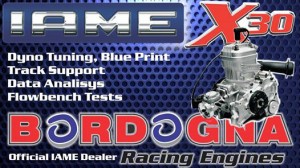 Heading into rounds three and four of the annual Formula Kart Productions Florida Winter Tour, Bordogna Racing Engines would enter a handful of drivers in multiple different classes during the Formula Kart weekend. With competition levels at their highest, junior rookie Mathias Ramirez would top the TaG Junior field to score his second career Florida Winter Tour victory and provide Bordogna Racing Engines with another win to add to their already impressive resume.
"Mathias drove a great race, I would like to say, perfect, and showed that Bordogna can provide race winning power," expressed Daniel Bordogna, Owner of Bordogna Racing Engines. "Racing with an IAME Leopard, Ramirez and Bordogna managed to out power and out duel a strong field of drivers and engine platforms to take the win."
Leading the main event from the drop of the green flag, Ramirez would control the pace of the race and never look back. As the only driver in the top five using the IAME Parilla Leopard engine, the junior Floridian put the Bordogna Racing Engines logo back on the top step of the podium.
With drivers entered in both TaG Cadet and TaG Senior, Bordogna Racing Engines would run at the pointy end of the field in almost every TaG division. Joffrey Amaya would bolt a Bordogna prepared engine on his Praga chassis in the TaG Senior division and power his way to an impressive podium result. Australian Lochie Huges would use his Bordogna Mini Rok engine to score a front row starting position for the main event. The talented driver from down under would look to be in the hunt for a race win before the heavens opened and rained dampened his dry weather success.
With successful results on the Formula Kart rounds, Bordogna Engines would be back to the Ocala Gran Prix facility the following weekend with a pair of competitors. Lochie Hughes would once again in Rotax Mini Max while Jo Nunez would enter the Rotax Micro Max ranks.
Nunez would have the most success of the two drivers, as he was able to garner a fifth place result on Saturday. Returning Sunday, Nunez would score a podium result in Micro Max but would receive a penalty for a last lap incident. With the results still under review, Bordogna is confident of officially adding another podium to their annual results. Hughes would take some time to get use to the Bordogna carbureted Rotax Mini Max engines but when all was said and done, the Australian, would claim a fourth place result on Sunday.
In other news, Bordogna Racing Engines is pleased to announce that they have become a dealer for the IAME X30 powerplant and a service center for all IAME products. Now servicing, preparing and selling the Vortex and IAME X30 Engines, Bordogna Racing Engines will be track side to support customers and ensure they have their best chance to stand atop the podium.
Bordogna Racing Engines is located in Delray Beach, Florida. Bordogna offers an engine rental program, dyno testing, blue printing and maintenance of engines for all classes from Cadets to KZ1, as well as flowbench testing and CNC customized parts and accessories for engines. For those looking to get more power from racing engines to get to the front of the pack, contact Daniel by visiting his website at www.bordogna.us, call (916) 256-0385 or email danielbordogna@hotmail.com.
For information on press releases or other media services offered by Race Tech Development, please contact Mike Maurini via e-mail at Info@RaceTechDevelopment.com or 317.270.8723. Race Tech Development can also be found on Twitter at @RaceTechDvlp as well as Facebook at their Race Tech Development Fan Page.