Dale', Tiene and Ticktum On Top Thus Far in 19th Winter Cup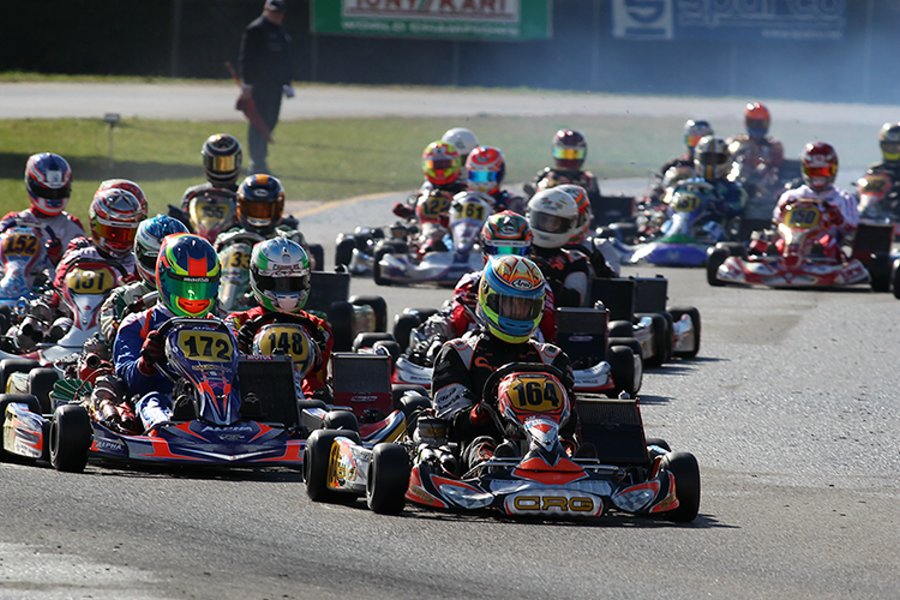 Andrea Dalè leading the KZ2 field Saturday (Photo: FMPress)
Andrea Dalè (CRG-Maxter) in KZ2 and Felice Tiene (CRG-TM) in KF got the win in qualifying heats ahead of the 19th Winter Cup and put their name forward for the victory, together with the Briton Daniel Ticktum (Zanardi-Parilla), who has been the best so far in KF Junior.
Lonato del Garda (Brescia, Italy). A very tight qualifying marked the eve of the 19th  Winter Cup, that witnessed a streak of spectacular and exciting heats with 208 drivers battling on track for this important international appointment that is currently underway at the South Garda Karting track of Lonato.
26 heats have been necessary to select the list of drivers that will continue their quest to the final victory partaking in the Finals on Sunday. A lot of drivers can actually aim to the victory in all three categories on Sunday afternoon.
A rain storm contributed this evening to make even more tricky and uncertain qualifying heats creating further problems to the drivers on track in the final races of the afternoon.
WINNING STREAK FOR DALE' IN KZ2:
The Italian Andrea Dalè on CRG-Maxter-Bridgestone confirmed to be on top of KZ2 after securing the pole position on Friday and pulling three wins and a second place in the heats. The driver from Brescia left his mark also on qualifying heats today. The two color bearers of Tony Kart-Vortex, Flavio Camponeschi and Marco Ardigò have also been very fast and ended their efforts close to Dalè. Very good session also for Marco Zanchetta (Maranello-TM) who won one heat,  as well as for Bas Lammers (Formula K-TM), Paolo De Conto (Bitrel-TM) and Arnaud Kozlinski (Intrepid-TM). Davide Forè (CRG-TM) ended quite to the back in 18th place as he put in a series of good races but had to retire in one heat.
TIENE LEADING KF:
Felice Tiene on CRG-TM-Bridgestone obtained the best performance overall in KF, thanks to two second places and a third. The CRG driver has always been among the fastestdrivers and had fought on track also with Alessio Lorandi (Tony Kart-TM), who had been the quickest in qualifying but, despite winning two heats, the driver from Brescia slipped down in 11th place due to a technical problem that cost him the retirement in one heat. The Spaniard Pedro Hiltbrand – Tiene's team mate –  had a solid day harvesting a victory and a second place but he eventually was delayed in the standings by a retirement.  The second absolute place was obtained by Stefano Cucco (Birel-TM) from the Dane Niklas Nielsen (Kosmic-Vortex).
DANIEL TICKTUM ON TOP IN KF JUNIOR:
The Briton Daniel Ticktum (Zanardi-Parilla-Vega) confirmed to be very quick in qualifying heats of KF Junior after the very good performance set in qualifying. Ticktum secured 3 victories that granted him the lead ahead of his two fellow countrymen Max Fewtrell and Enaam Ahmed, both on FA-Vortex run by Rcky Flynn. Leonardo Lorandi (Tony Kart-TM) is currently fourth thanks to a victory which put him ahead of the very good Russian driver Alexander Vartanyan (Tony Kart-Vortex).
Sunday 23 February
Warm-up from 8.30 to 10.45.
Repechage races from 11.10 to 12.05.
Drivers presentation at 12.15.
Prefinals: at 13.30 for KF Junior; at 13.55 for KF; at 14.25 for KZ2.
Finals: at 15.00 for KF Junior; at 15.35 for KF; at 16.15 for KZ2.
All information on the race are available at the website www.southgardakarting.it