Number of Drivers Add to Win Total at Florida Winter Tour
Schiavo earns three on the weekend, as Askew and De Conto wrap up Rotax Max Challenge event in Ocala with two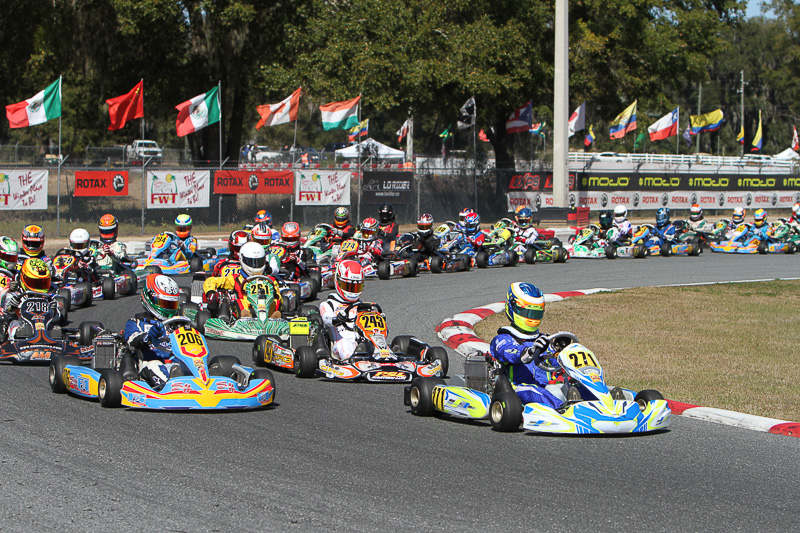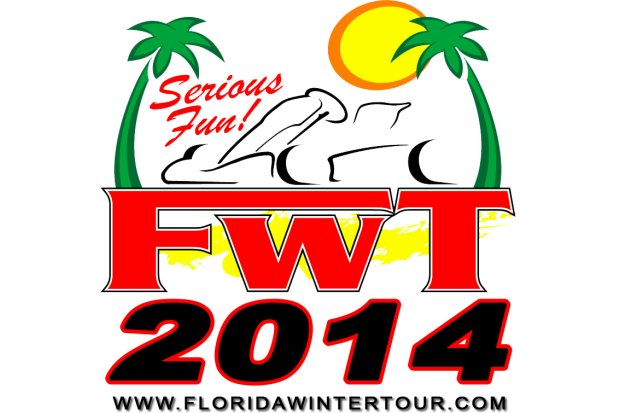 Story by Florida Winter Tour
It was another picture perfect day at Ocala Gran Prix for the fourth of six rounds in Formula Kart Production's Florida Winter Tour Rotax MAX Challenge, presented by Ocala Gran Prix. As is always the case when the FWT comes to Ocala there were plenty of spectators watching the races and thousands more watching the live streaming FWT LIVE! broadcast at home on their computer screens.
This weekend all the live buzz was about the addition of live onboard feed from Nick Neri and Dan Roeper's karts as they went into battle against a stacked international field. FWT is known as THE industry leader when it comes to using technology to improve kart racing, and this is yet one in a long list of innovations they have introduced to the karting community.
FEATURED PARTICIPANT
Over the years the Florida Winter Tour has witnessed thousands of drivers coming to compete in our events. Some come and go, others become regulars. But one participant that's been a welcome constant since the inception of the FWT is North American CRG super team PSL Karting. Stephan St. Charles is the Vice President of PSL and a very familiar face in the Florida Winter Tour paddock.
Stephen says he's always been interested in automobiles and racing while growing up, and that he had a very special interest in snowmobiles. He says it was snowmobiling that allowed him to cross paths with Dominic Labrecque, the president of PSL. In the early days of the business, they used to work on snowmobile engines as well, but now they are 100% karting.
When asked about the biggest change at the FWT he's seen over the years Stephan mentioned the increase in international participation. Stephan can lay claim to some of the credit for that trend. PSL has worked hard to find driving talent from all over the world to bring to North America and the Florida Winter Tour.  But, they don't just bring in drivers; they also scour the world for the best tuners and race engineers. The 14 staff working under Stephan at this weekend's FWT event in Ocala have come from as far away as South Africa, Holland and Italy.
This, for Stephan, is just another step towards doing the job in the most professional way possible. In fact, in his "tell it like it is" style, he says, "If you're not doing it right, then what sense is there in doing it at all?" Although he attends 15 to 20 events a year, Stephan says he likes to take time away with his girlfriend of 23 years and his 19-year-old son who was recently ranked third in the world at the Taekwondo World Championships. With his take charge attitude and attention to detail, it's no wonder Stephan St. Charles fits in so well in the Florida Winter Tour paddock.
FEATURED DRIVER
Eleven-year-old Gianluca Petecof hails from São Paulo, Brazil and has been racing karts since 2010. He says he got the idea to race from watching his father Fabrizio drive rental karts at an indoor track. For the Petecof's attending the Florida Winter Tour is a family affair for Gianluca, his father, his mother Mariana and his little sister Manuela who Gianluca says is his good luck charm.
So far in his short racing career, Gianluca says his best memory is from when he won the national championship in the Brazilian "Pre-Junior" class at the Kartódromo Internacional Aldeia de Serra track in Brazil. He says his ultimate goal is to be a professional driver and sees himself in either IndyCars or NASCAR. Should he make it that far, his mother will make sure he always remembers the things that are most important in life. He says she has taught him that it is not enough to be a good driver; he must be a good person too.
We'd say Gianluca has taken that advice to heart. Our chance to get to know the Petecofs was an absolute pleasure and, if their impending move to Miami comes to fruition, we hope to see them attending Florida Winter Tour races for many years to come.
Decal Zone sponsored DD2 Masters
The first group up for competition was the DD2 Masters class. After qualifying it was Luis Schiavo (Venezuela) on pole with Derek Wang (USA), the only man to beat Luis all season, alongside him. During the pre-final, Luis kept the status quo and was able to pull out a 4.183 second advantage over Wang.
In the DD2 Masters final, Luis Schiavo exercised his option as the pole sitter to bring the field to the start at an unusually slow pace. If it was a bit of strategy he was playing it didn't work as Derek Wang got a great jump when the lights went out to lead into turn one. Wang was able to hold the lead for a handful of laps before Schiavo again asserted himself into the lead. Behind Wang, now in second, was a three-way battle between Carlos Medina (Mexico), Andreas Fonseca Grajales (Costa Rica) and Camilo Matiz (Columbia).
Around the midway point of the race, Medina caught Wang and the two had a ferocious battle for second trading station multiple times. In the end, Medina got the better of Wang to take the second spot on the podium behind Schiavo who had a 5.457 second advantage by the time the checkers flew.
SH Racing sponsored Rotax DD2
The DD2 class would start out the day with two Americans on the front row for the pre-final. In the pole position spot was Nick Neri, who was sporting a live feed onboard camera for FWT LIVE!, and alongside was Daniel Formal. By the end of the 19-lap pre-final Alessandro Bressan (USA) would get between them to finish second.
The DD2 final started under warm blue skies and Nick Neri immediately showed why he was one of the favorites by jumping out to a quick lead. Behind Neri Daniel Formal and Paolo De Conto (Italy) would give the early chase with Bressan and Jonathan Kotyk (USA) in the mix. By lap six, De Conto would catch and pass Neri as the following pack closed in.
In the second half of the 22-lap final, Daniel Formal began to make his move and asserted himself into second. About the same time, Jonathan Kotyk was also making his move and came up from fourth, through Bressan, to challenge Formal for second. The battle for second between Formal and Kotyk allowed De Conto to streak away for the win and was eventually settled with Kotyk taking the second spot. As such, the DD2 podium was De Conto first, Kotyk second and Formal third.
AM Engines sponsored Rotax Mini MAX
After setting the fastest time in qualifying, Lachlan DeFrancesco (Canada) would start the pre-final from pole position with fellow Canadian Matthew Latifi alongside him. Starting fourth was Harry Coulton (USA) who would go on to win the 14-lap pre-final by 0.155 of a second over Latifi.
The start of the Mini MAX final saw Harry Coulton use his starting advantage to take the lead going through the ultra-fast turn one. Michael d'Orlando (USA) also got a great start to slot into second on Coulton's bumper while defending FWT Mini MAX champion Nick Brueckner (USA) moved into third.
As the race wore on, Coulton maintained a lead of about three to four kart-lengths over d'Orlando while Michael had a similar gap to Matthew Latifi in third. With two laps to go, d'Orlando made his bid for the lead but Coulton held him off. On the last lap he tried again and this time he was able to get by for the lead. As they crossed the line d'Orlando secured another win by 0.130 of a second over Coulton while Saturday's winner Matthew Latifi was another 0.233 of a second adrift.
Rolison Performance Group MAX Masters
After winning six out of his first seven finals of the 2014 Florida Winter Tour season, dominating MAX Masters qualifying and taking a close win in the pre-final over Scott Falcone (USA) and Raul P. Costa (USA), it seemed that nothing could stand in the way of Venezuelan Luis Schiavo grabbing win number seven under the beautiful azure skies in Ocala. Of course things don't always go as planned and from the start of the race it was obvious Schiavo was in trouble.
As the pack of karts accelerated towards turn one Luis' kart just never really got going and he pulled out of the line and fell way back in the pack. Going down the front straight his motor sounded as if it had ingested a small rodent as it stubbornly refused to pick up and run. Up front, Costa and Falcone were locked in a great battle for Masters supremacy when a red flag came out for an incident in turn one.
During the red flag period, Luis Schiavo tried to diagnose his motor's issue as best he could without touching his kart. As such, while the other drivers were seated in their karts waiting for the race to restart, Luis lounged on the track next to his chassis looking a lot more relaxed than he must have been. In the end the problem turned out to be a broken spark plug which could not be fixed on track.
When the race did restart, Costa and Falcone resumed their battle with Brian McHattie keeping them within striking distance. At one point, Costa looked like he might break away, but Scott Falcone is not one to give up when he smells victory and the determined racer from Colorado fought his way back to the lead, eventually taking a win by 0.873 of a second over Costa. Brian McHattie would round out the podium 3.2 seconds behind Costa. During the podium celebrations, we were again treated to Scott Falcone as "Captain America" when he again proudly displayed the Stars and Stripes to celebrate his victory.
PSL Karting sponsored Rotax Junior
The Rotax Junior pre-final would feature Luis Jose Forteza III (Puerto Rico) on pole with Patricio O'Ward (Mexico) alongside him. Saturday's Junior MAX winner, Pedro Cardoso (Brazil), would start third and run a strong race to win his second pre-final of the weekend.
Cardoso would lead the screaming pack of karts through turn one in the final as Jose Enrique Brito (Ecuador) would slot into second just ahead of Forteza and Aidan Keel (USA), who was having his best run in FWT Junior MAX to date. Coming from back in sixth spot Austin Garrison was moving quickly to the front, looking to repeat his Sunday winning performance from Homestead.
By the halfway point Garrison had made his way up to Cardoso's bumper. However, by this time Brito had overtaken the top spot. Also making a big move as the laps ran down was RPG driver Austin Versteeg, who used speed and racecraft to work his way up to second in the closing laps. After numerous position changes among the top runners, the podium positions were finally decided in the last moments of the race as Jose Enrique Brito took a hard fought win over Versteeg in second and Garrison in third.
GT7 Motorsports sponsored Micro MAX
Anthony Famularo (Venezuela) would set the fastest qualifying time of 40.944 seconds on Friday to earn the Koene USA P1 Pole Position Award for the Micro MAX class. Unfortunately for Famularo, pole for him would not translate into a win as Matheus Morgatto (Brazil) would emerge victorious in the 14-lap Micro MAX pre-final.
At the start of the final, Morgatto would assume the lead while Jo Nuñez (USA), Anthony Famularo and Reece Gold (USA) gave chase. Gold has had the hot setup as of late and it came as no surprise when he started working his way towards the front. By lap six, Gold had found his way up to Morgattos bumper, while Famularo was stuck on his.
Try as he might, Gold could not get around Morgatto who was just too strong for all contenders on this day. Trouble for Famularo in the closing laps dropped him down the order and opened the door for Joshua Cunha (Canada) to stand on the podium in third, a strong result after starting 25th and setting the fast race lap.
MRP Motorsports sponsored Rotax Senior
The last race before the lunch break was the pre-final for the Rotax Senior MAX competitors. Ocala Gran Prix's Kyle Kirkwood (USA) would start from pole but it was Jordon Lennox (United Kingdom) taking the win to be the man setting the pace in the final.
As the last race in the queue the Senior MAX final would be the last race of the day and those who waited for it were not disappointed. Oliver Askew (USA) timed his start perfectly as the lights went out and the entire outside row went with him as Lennox and the inside row hung back. Behind Askew Kirkwood slotted into second but lost that position a few laps later and fell back in the field.
This left Luke Varley (United Kingdom) and Dan Roeper (USA) to challenge Askew for the lead while Jordon Lennox had worked back to fourth. Although he had been set back a few places Kyle Kirkwood never gave up and began his march back up through the field. He would eventually get back to a fight for second. On the last lap, Kirkwood was knocking on the back door of Lennox and the two led a charge to the line in a four-wide-pack that included Varley, Thomas Issa (Jamaica) and Zach Claman DeMelo (Canada).
Kirkwood and Lennox crossed the line as one in what looked like a dead heat. However, the electronic scoring system showed Kirkwood to be ahead by 0.003 of a second, or roughly three inches. It was Oliver Askews third FWT Senior MAX win of the year and as of this writing he looks very solid in his bid to compete in his fourth straight Rotax MAX Challenge Grand Finals.
As the podiums wrapped up at Ocala Gran Prix we're now just one more set of rounds away from crowning our champions for 2014. The action gets underway on the Ides of March at the Orlando karting Center with the shifter, TaG and Briggs competitors of the FWT Formula Kart Racing Championship. With plenty of awards to be given away, including but not limited to, the Skip Barber Racing Scholarship Award, the Manufacturers Cup, Nations Cup, drivers championships, Rotax MAX Challenge Grand Finals tickets, a seat at the Granja 500, the Dan Wheldon Memorial / FWT karting Ambassador Award and more, the Orlando weekends are "can't miss" events on any serious racers calendar.
As always, if you can't make it to the FWT in person, log in to www.FloridaWintertour.com from anywhere around the world to watch all the action on FWT LIVE!, kartsports original live streaming broadcast with live video, live on-board cameras, live timing and audience interaction, all on one page, only at FWT.  And be sure to send shout outs to your favorite drivers and teams by emailing the FWT LIVE! announcing crew at live@FloridaWinterTour.com.