Number of Drivers Earn Multiple Pole Positions to Begin Florida Winter Tour Ocala Event
Schiavo post fast lap in four sessions, Kirkwood to lead Senior Max field both days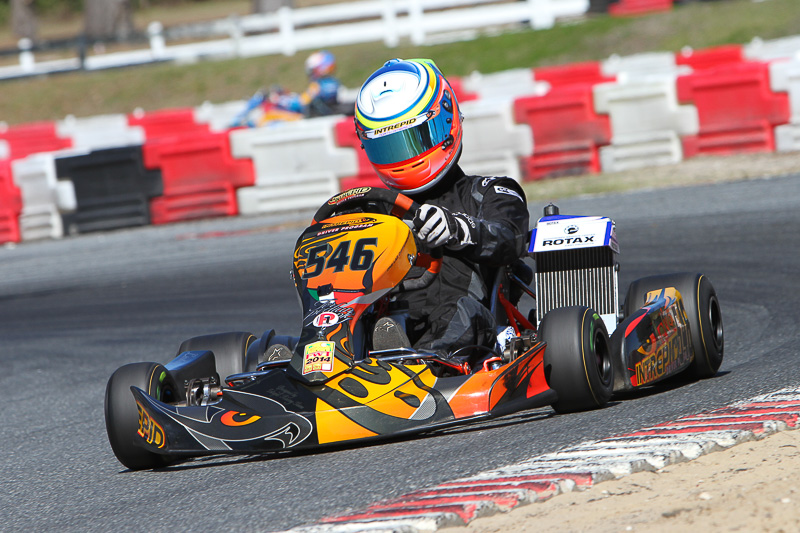 Luis Schiavo is the top qualifier in all four Masters sessions (Photo: Studio52.us)
Story by Florida Winter Tour
It was a beautiful Friday in Ocala, Florida as the Rotax MAX Challenge competitors of Formula Kart Production's Florida Winter Tour, presented by Ocala Gran Prix, took to the 0.52 mile OGP circuit to set their qualifying times for this weekend's races. With this being Valentine's Day, love was definitely in the air, and today it smelled like 2-stroke exhaust.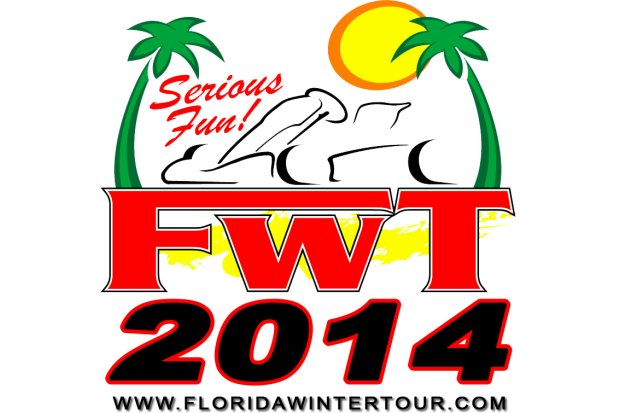 Indeed, love was everywhere today. Love of speed, love of competition, love of the sport, and especially, love of our friends and partners. A perfect example of this can be seen at every Florida Winter Tour event by FWT "Fun Team" members Steve and Pam Haines. Steve and Pam hail from Panama City, Florida and have been working with Formula Kart Productions since 2008. Steve manages the scales while Pam works in registration, an area she lovingly refers to as the "Blondromat", and apparel sales.
Pam says she knew nothing about karting before being brought into the sport by their neighbors, Formula Kart Production's Bill Wright and Carla Bjorklund, but that she knew business and was able to pick things up quickly. Steve has been interested in racing and cars all his life and actually learned to drive while a teenager living in Germany and has even done laps around the historic Nürburgring.
Both Pam and Steve say working with the FWT is the perfect way to stay active and involved after retiring from successful careers as a police officer (Steve) and a clinical psychologist (Pam). When asked about some of the changes they've noticed over the years they both mentioned the increase in entries and international participation, but Steve made and interesting observation that there are more girls racing now than there were when they started.
When the Haines come to the FWT they never travel alone. They are always keen to bring their 9-year-old pit bull Bo, short for Beauregardless, with them.  But, that's not their only family. They also have two sons and three grandchildren they enjoy spending time with. Pam and Steve both have a great sense of humor and are very quick witted. When asked if they had any special plans for Valentine's Day, Steve said they were focused on working the FWT but later that night they would celebrate with "lots of chocolate syrup and whipped cream". Of course, to that point, we'd have to agree that a good ice cream sundae is a great way to cap off a romantic day.
Part of the international contingent at this year's Florida Winter Tour is reigning Rotax DD2 World Champion Simas Juodvirsis. 22-year-old Simas hails from Klaipėda, Lithuania and has been racing karts since the age of nine. He says that karting is very popular in the small Baltic state, and points out that for a country with only 3.5 million people and five tracks, the race meetings often top 100 entries.
Simas got his start in racing when he went to a rally cross event with his father and ended up finishing second. From that moment a star was born and it was suggested that he begin racing karts. That, logically, was the next move and it paid off big when he won the Lithuanian National Championship in "Racket Micro" (a popular Scandinavian class) in just his first year of racing. After years of honing his talents, Simas was able to capture the top spot in DD2 at last year's Grand Finals in New Orleans.
That triumph, led to many offers to drive karts for some big teams around the world from the USA, to Europe to Dubai. Simas says he enjoys his life in karting but would consider racing cars if a good opportunity came his way. When not racing karts, Simas says he enjoys playing many other sports, especially basketball. In fact, at 197 centimeters (6'6") he's built more like a basketball player than a kart racer, which creates issues in chassis setup, but obviously he has the talent to work around that.
While Simas says a career as a racing driver would be great, he's also planning for another career as well. For that he's going to university to study sports tourism. With his background in racing and his drive to be successful, that very well could be a very good career path for him after he's done winning races.
As previously mentioned, todays on track action was to officially set the qualifying orders for the events over the weekend. Although the grids will be as tight as usual, personal dominance was also the order of the day as, uncharacteristically, five of the seven classes saw both day's pole positions being set by the same driver.
Starting out the qualifying queue were the Decal Zone sponsored DD2 Masters competitors. Luis Schiavo (Venezuela) continued his run as the dominant masters competitor of the 2014 FWT by grabbing both Koene USA P1 Pole Position Awards. Luis will be starting Saturday's DD2 pre-final from the top spot and sharing the front row with Carlos Medina (Mexico) who qualified 0.287 second behind Schiavo. For Sunday's race, Derek Wang (USA) will be sharing the front row with Schiavo, and will be looking to grab another DD2 Masters win, as he did in Homestead.
In the SH Karting sponsored Rotax DD2 class, Saturday's P1 Pole Position Award was earned by Paolo De Conto (Italy) who was 0.079 of a second quicker than fellow Italian Alessandro Bressan. Sundays DD2 front row will consist of Nick Neri (USA) who set the quick time of 35.929 seconds and Daniel Formal (USA) who just missed matching Neri's time by 0.002 of a second.
PROMOTERS NOTE: OGP DD2 driver Nick Neri helped FWT and K.A.R.T.S with another groundbreaking introduction during Saturday qualifying when Nick carried an onboard camera that was live streamed over the FWT LIVE! broadcast. At publication Nick was scheduled to carry the camera through all remaining competitive elements. The broadcast will feature full screen and picture-in-picture video of Nicks efforts in the DD2 class. Tune in to the broadcast beginning at 10am eastern-time.
The next group to take the track were the AM Engines Rotax Mini MAX competitors. In both day's qualifying sessions it was a pair of Canadians setting the fast times. On both days we'll be seeing Lachlan DeFrancesco on pole with Matthew Latifi joining him on the front row. Third fastest for Saturday and Sunday was Harry Coulton (USA) and Michael d'Orlando (USA) respectively.
Similarity goes deep in the Rolison Performance Group Rotax Masters category.  On pole for both days will be Luis Schiavo who repeated the performance he had in DD2 Masters. Behind Schiavo, second through fourth on both Saturday and Sunday will be filled out by Raul P. Costa (USA), Scott Falcone (USA) and Brian McHattie (USA). Even though the qualifying positions were the same, the times were actually so tight that anything can happen so this is definitely a class to watch over the weekend.
With all the super-fast drivers in the PSL Karting sponsored Rotax Junior class it's highly unlikely that the same driver could sweep both weekend pole positions. Yet, that's just what Luis Jose Forteza III (Puerto Rico) did. Of course, while the pole position in the pre-final is an advantage, nothing can be decided until the checkered flag fall on this class. In fact, Luis' combined advantage over second place qualifiers Pedro Cardoso (Brazil) on Saturday and Patricio O'Ward (Mexico) on Sunday, is only 0.090 of a second. Don't miss the action in this one.
Not all classes had the same driver setting both Koene USA P1 Pole Position. GT7 Motorsports Rotax Micro MAX saw Matheus Morgatto (Brazil) set the quick time for Saturday's grid while Anthony Famularo (Venezuela) topped the session in Sunday's qualifying order. Both drivers looked quick all day and had other fast laps to back up their quickest times. Look for these two to run up front in the hotly contested Micro MAX class all weekend.
The MRP Motorsport sponsored Rotax Senior class is technically the same as the MAX Masters class except for the minimum weight. And in qualifying the results were similar to the Masters version in that the top four positions will be the same for the start of both days of racing. Sitting on top of the time sheets was Kyle Kirkwood (USA) who is rapidly adapting to the Senior MAX class as fast as his OGP teammate Oliver Askew (USA) did last year. Speaking of Oliver, he will share the front row with "Woody" on both days and is a threat to win every time out.  Sharing the second row both days will be Zach Claman DeMelo (Canada) and 2009 Senior MAX World Champion Luke Varley (UK).
Earlier in the week, we mentioned that there was no better way to spice up a relationship than to attend a Florida Winter Tour event. While some may think that comment was in jest, we should point out that when the Senior MAX polesitters parents, Cam and Peggy Kirkwood, were asked if they had any special plans for Valentines day, they simply replied, "We're here at the FWT."  So, we'll take that as scientifically proven evidence that the Florida Winter Tour keeps relationships strong.
As always, if you can't make it to the FWT in person, log in to www.FloridaWintertour.com from anywhere around the world to watch all the action on FWT Live! The sports original live streaming broadcast with live timing and audience interaction.  And be sure to send shout outs to your favorite drivers and teams by emailing the FWT Live! crew at live@FloridaWinterTour.com.