Lonato Getting Ready for Winter Cup
Free practice taking place until official sessions begin February 19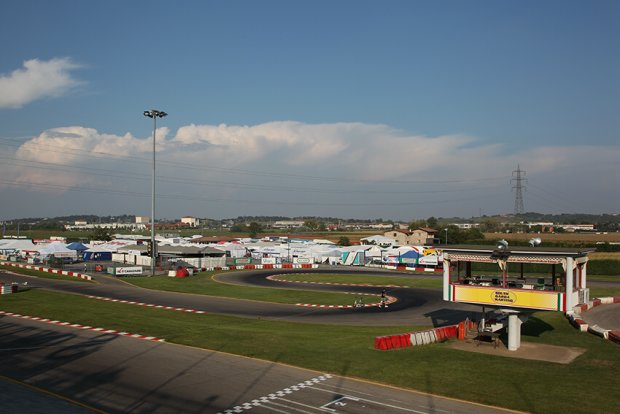 Constructors' works teams as well as the most important teams are ready to get on track for the first International challenge in the CIK-FIA 2014 calendar. The programme of the event to start next 19thFebruary with free practice. The three Finals of KF Junior, KF and KZ2 on Sunday 23rd February.
Preparation tests ahead of the 19th edition of the Winter Cup of Lonato, race scheduled from 21st to 23rd February 2014, are in full swing. This first international event of the season will kick off on Wednesday 19th February with free practice. This is going to be quite an important event that will be the first technical challenge among all the most important constructors and teams, with several top drivers ready to start the new karting season.
The race is part of the CIK-FIA international calendar and is open to categories  KZ2, KF and KF Junior. Works teams of constructors like CRG, Birel, Tony Kart, Kosmic, Energy, DR, Art Grand Prix, Intrepid, Maranello Kart, Formula K, CKR, G.P. Racing, Zanardi will be present as well as some of the most important teams in karting like Morsicani, Baby Race, Forza Racing, Ward, Ricky Flynn, KSB, CRG Holland, DTK, VDK, Gandolfi, Tribe One, KK1, CPB, AVG, PDB, and many more.
The race will be an interesting occasion to test the new Bridgestone tires (employed in this coming season for the International CIK-FIA races in KZ and KZ2) that will be fitted on KZ2 and KF karts in Lonato, while Vega XH-Option tires will be the choice for KF Junior as will be the case in theother CIK-FIA 2014 races.  
The event's programme will kick off on Wednesday 19th February with the first free practice that will see KF,KZ2 and KF Junior on track in the order. The complete programme follows (all times GMT+2):
Wednesday 19 February
Free practice from 8.30 to 17.38.
Thursday 20 February
Sportive scrutineering from 9 to 17.00.
Free practice from 8.30 to 17.38.
Friday 21 February
Technical verifications from 8.30 to 13.00.
Free practice from 8.30 to 10.25.
Official Free practice from 10.50 to 13.25.
Qualifying: 13.40 for KF, 14.06 for KZ2, 14.45 for KF Junior.
Qualifying heats: 16.15 for KZ2, followed by KF Junior's heats.
Saturday 22 February
Warm-up from 8.00 to 9.55.
Qualifying heats from 10.00 to 17.35.
Sunday 23 February
Warm-up from 8.30 to 10.45.
Repechage races from 11.10 to 12.05.
Drivers presentation at 12.15.
Prefinals: at 13.30 for KF Junior; at 13.55 for KF; at 14.25 for KZ2.
Finals: at 15.00 for KF Junior; at 15.35 for KF; at 16.15 for KZ2.
All information on the race are available at the website www.southgardakarting.it