Morning Coffee: Friday – February 7
Humble Beginnings – Looking Back at 20 Years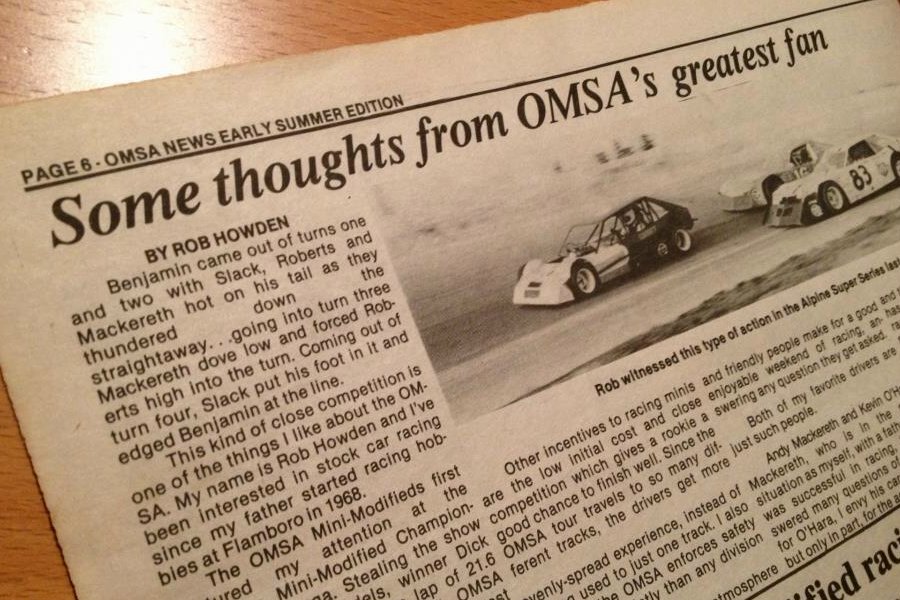 Rob's first article was published at age 16, but his real shot at journalism arrived in 1993 at Performance Racing News
As we roll our way into the new year, I can't help but look back at my last two decades as a journalist in this sport.  I got my start in motorsports media in the winter of 1992-93 when I answered a classified ad that was run in Performance Racing News, Canada's only racing publication at the time.  It was a tabloid-size newspaper that covered all of the country's different motorsports disciplines, as well as the pro stuff from south of the border.  The paper was looking for someone to come into the office at night and call subscribers to pitch renewals – you know, to try to get them to extend for multiple years by offering hats and t-shirts etc.  I was a guy whose father raced, spent Saturday nights at the short track, and just loved it.  The chance to get into this end of racing was exciting, so I jumped at the opportunity, driving into downtown Toronto after working a full day at my regular job.  After a few nights on the phone, my renewal rate was the best in the office, probably because with my love and knowledge of the sport, I was able to just sit and chat with everyone I called about their favorite series or driver.  Getting them to renew for three years was easy, as it was a no-brainer, if you loved racing, you were a PRN subscriber and would renew for three years to get the hat.  Duh?  It was cool calling professional drivers guys like Ron Fellows, who was a subscriber at the time.
My father raced Super Late Models when I was a kid and I had always loved reading the stock car racing newspapers.  I'd buy one every Saturday night and I poured through them.  I knew every driver from every series.  Funny, I can't remember to charge my cell phone these days, but I still know all the drivers from the 70s and 80s. When I was young, I would think of how great a job that would be, being the editor or writer for Stock Car Racing or Circle Track Magazine or one of the local racing weeklys.  But, I was realistic.  There were just a handful of these jobs, already taken of course, and I'm sure the line was long for potential replacements should anyone be dumb enough to leave.  There was zero chance for a 12 year-old kid from Cambridge, Ontario.
This was my 'in'.  Yes, I was only on the phone calling for subscriptions, but I was there, in the office.  And I wasn't about to leave.  In the spring, I volunteered to cover some races and to my joy, the paper's editor began giving me small assignments.  I worked my regular 50-hour week, and bolted to tracks on the weekend to try my hand at being a 'correspondent'.  The $0.04 per word rate didn't cover my car's gas to get the events that I was reporting on, but I was digging life.  I got to cover the stuff I loved – short track stock car racing – but they also sent me to road racing events, snowmobile grass drags, jet ski racing, and eventually, a couple kart races.
And, as the story goes, I was hooked.  The first race I covered was the inaugural Grand Prix of Barrie street race in 1993.  Wow.  The sport was exciting, electric and affordable enough to be a possibility for me one day.  That was a major plus for a guy whose father did not feel the need to help his son into the sport, and who never had the finances to make it happen himself.  I hit a number of karting events in 1994 and 1995 as a freelance journalist for PRN, and after scrimping and saving, I eventually picked up my own four-cycle kart – an MXK Mirage – for the '95 season.  At my first race, I thought I'd died and gone to heaven.  After 26 years on the sidelines, I was finally driving, and all thanks to kart racing.
In 1995, I went to work full-time for PRN, and I was put into a dual role, which quickly instilled in me the reality of this business.  This was hugely important in getting me where I am today, because despite the fact that it's always been about passion, and passion is key, it's also a business.  I took on the position of Account Executive at PRN, selling advertising in the paper while also covering any event that they'd let me hit.  The more karting advertising I sold, the more pages they'd dedicate to karting.  Talk about motivation…and talk about taking advantage of that offer.  We started with a single page of coverage, called 'A La Kart', but by the end of the year, I pitched the idea of a special year-in-review pullout section, and they went for it.  It was a 16-pager that was my crowning achievement at the time.  Over the next two years, the section was 4-6 pages in every issue.  Little did I know that over the course of the next 12 years, I'd personally publish over 80 issues of Shifter Kart Illustrated (and later Super Kart Illustrated) and 50+ issues of Speedway USA (our oval karting mag) and FormulaCar Magazine.  It's pretty incredible when I look back at it all.
What I really want to do with this edition of Morning Coffee is give a heartfelt shout-out to the four guys who were such a big part of shaping my skill set during my early years in the biz.  The quartet I'm talking about were the core staff of PRN when I began my journey – David Weber, Rob Morton, John Hopkins and Greg MacPherson.  John was the Editor of the publication, and Greg was the Assistant Editor, and I learned much from both of them, feeding off their passion for the sport as well.  Even more than the knowledge, they gave me great opportunities, significant feedback and much needed encouragement.  It was also a demonstration of the reality of the position, which meant lots of road hours traveling to races, and a week of midnight work sessions getting the 'boards' completed before going to press.
I knew from the beginning that this was not a 9-to-5 job, and that late nights or all-nighters would be commonplace.  I actually look back and cherish those nights in the office, editing the boards and ordering in dinner.  They were magical times for a guy like me.  I'd often have to pinch myself.  From David and Rob, with whom I worked the phones and managed our advertising clients, I learned first hand how to work 'with' a customer and how to provide them what they needed in our program.  It's the advertising that provides a publication with its stability and its viability, but it's also such a valuable asset for the sport.
In the end, what they taught me was how to really work with people and how to make real connections, even if it was simply through regular phone calls.  And because I worked both sides of the magazine – editorial and advertising – which are so often constantly in conflict, I developed a respect for both, which I believe was key to my success with SKI and my other magazines.  I also believe that my work ethic took a big turn for the good during my time at Performance Racing News, because I had found my calling and I fell in love with the job.  Long hours are easy when you're doing what you love, and I've never scoffed at an all-nighter to get the job done.  We don't make a lot of money doing what we do, so you better damn well love it.
I left PRN and the guys in 1997 when I was offered a job at National Kart News, and they sent me on my way with a handshake and a nice little editorial in the paper.  All four of them followed my lead not long after to launch their own publication, Inside Track Motorsports News, which continues to flourish today as Canada's #1 motorsports publication.  This weekend, they're promoting the Canadian Motorsports Expo in Toronto, the country's biggest racing show (canadianmotorsportsexpo.com), providing the sport with an incredibly important event that promotes, connects, motivates and excites the industry and the enthusiast alike.
On this opening day of the show, I send my thanks to each of them for giving a hardcore racing fan a shot, and I wish them the best for this weekend and for another great year at the track.  For me, I look back on the last 20 years with a smile, it's been an education in life and in business.  And thankfully, I am looking forward to the next 20 with the exact same unbridled love of racing that got me into this gig in the first place.