Wilson Feels the Heat, Still Bags Fourth Straight NZ Superkart Title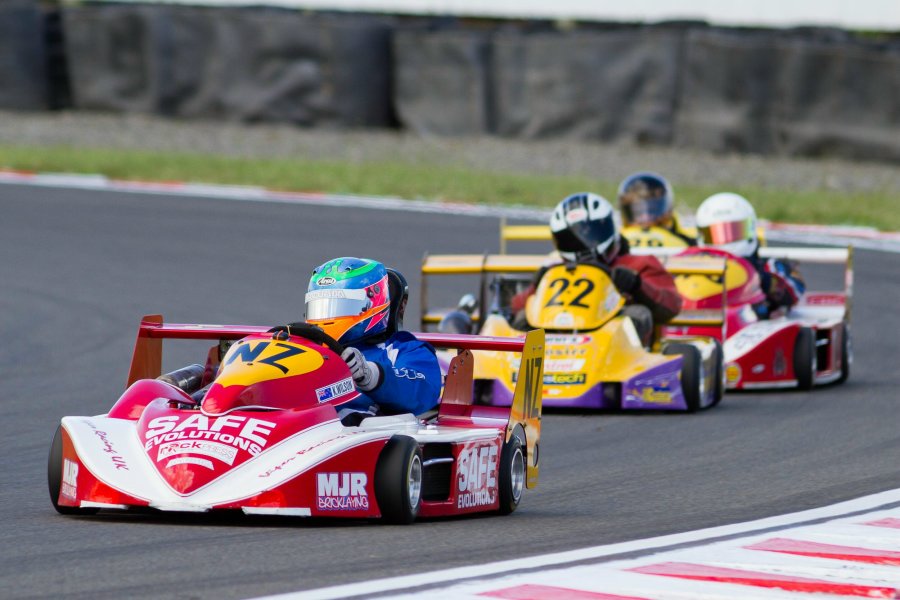 Wellington's Karl Wilson (#NZ) on his way to winning this year's New Zealand SuperKart Grand Prix at Manfeild on Saturday (Photo: Fast Company-Jordan Moss)
On paper it was the perfect result – pole position in qualifying, four fastest race laps on the way to four heat race wins plus a runaway victory in the stand-alone Grand Prix race – but Wellington's Karl Wilson says winning his fourth straight New Zealand SuperKart Championship title on Saturday was no cakewalk
"It was definitely harder this year than the last couple," he said of his victory at KartSport New Zealand's annual SuperKart title and Grand Prix meeting at Feilding's Manfeild motor racing circuit. "The competition was a lot closer."
Wilson was one of four title winners at the meeting, claiming the International class from Wellington's Tony Gestro, Auckland's Andrew Hall and former National class title-holder Robin Wooldridge from Whangarei. He also again took home the coveted Pommie Trophy for the driver with the best finishing record across the heats and Int/Nat GP.
In the other classes, Chris Simmonds won the National class title from defending champion (and fellow Wellingtonian) Steve Wilton, teenager Josh Drysdale from Palmerston North won the Rotax Light title from Ben Thom and the Rotax GP race from Clayton Merz, while Daniel Sayles from Auckland came out on top in Rotax Max Heavy from Karl Cameron and David Odering.
This year's SuperKart title meeting attracted the biggest International class entry in recent years with Wilson setting the pace in qualifying but Aucklander Ryan Urban and Paul Dunlop from Clydevale (near Balclutcha) not far behind and only two-and-a-half seconds separating the top seven.
Both Urban and Dunlop ran into mechanical problems in the heats however, and their 3-7-9-9 (Urban) and 5-8-8-6 (Dunlop) results were no match for Wilson's 1-1-1-1 and eventual second place-getter Tony Gestro's 2-2-2-2.
That said, Dunlop managed to come back strongly in the stand-alone combined International/National class Grand Prix, finishing second to Wilson, explaining that his problems in the heats were all a result of a chain adjuster.
"It broke in the second heat and we fixed it but still had problems with the chain in the third. I'm very happy with our new engine though so we'll be back next year for sure."
Former New Zealand Schools Junior class champion and CIK Trophy of New Zealand KF3 winner Josh Drysdale enjoyed a Wilson-like run in the Rotax Light support class, qualifying on pole and winning all four heats as well as the combined Rotax Max Light/Heavy Grand Prix, the latter from fellow Light class drivers Clayton Merz and Ben Thom.
In Rotax Max Heavy, however, eventual winner Daniel Sayles from Auckland won only one of the heat races, and claimed the 2014 title by just one point from Karl Cameron with David Odering and quickest qualfier Brad Alexander just another point back and Alexander the first Heavy class competitor home in the combined Light/Heavy Grand Prix in fourth place.
2014 KartSport New Zealand SuperKart Championship event Manfeild Feilding Sat Feb 01
International
1. Karl Wilson
2. Tony Gestro
3. Andrew Hall
4. Robin Wooldridge
5. Tony Bowden
6. Dion Hubers
National
1. Chris Simmonds
2. Steve Wilton
3. Nick Isaac
4. Mitchell Ward
5. Allan Giles
6. Daniel Isaac
GP (Int & Nat )
1. Karl Wilson
2. Paul Dunlop
3. Andrew Hall
4. Allan Giles
5. Tony Gestro
6. Warwick Dunn
Pommie Trophy
(based on performances across all four heats and the GP)
Karl Wilson
Rotax Max Heavy
1. Daniel Sayles
2. Karl Cameron
3. David Odering
4. Brad Alexander
5. Brent Melhop
6. Ricky Lang
Rotax Max Light
1. Josh Drysdale
2. Ben Thom
3. Derek Lawrence
4. John Bassick
5. Ron Alexander
6. Clayton Merz
Rotax Max GP
1. Josh Drysdale
2. Clayton Merz
3. Ben Thom
4. Brad Alexander (first Heavy home)
5. Karl Cameron
6. Geoff Thom