Bumper Entry Bodes Well for KartSport New Zealand SuperKart Championship Event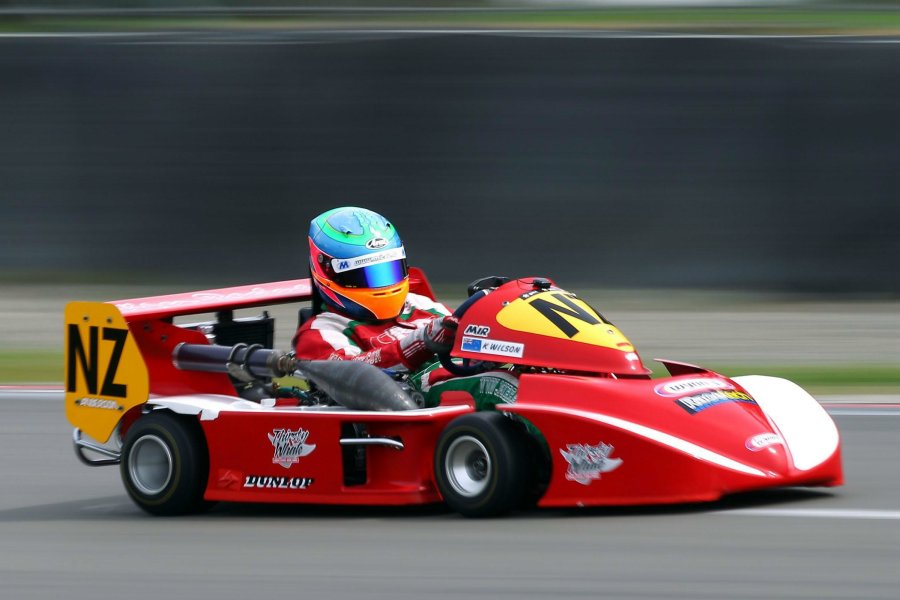 Defending New Zealand SuperKart International class champion Karl Wilson in action (Photo: Hagen Hopkins)
A bumper entry list – including a recent record of 10 in the premier International class – bodes well for Saturday's 2014 KartSport New Zealand SuperKart Championships event at Manfeild.
Defending and now three-time New Zealand International class champion Karl Wilson from Wellington again heads the list with competition set to come from fellow former sprint class champion Ryan Urban of Auckland, former New Zealand International class champions Wayne Sproston from Wellington and Paul Dunlop from Clydevale (near Balclutha), as well as former National class champion Robin Wooldridge from Whangarei.
"We're very pleased with the numbers, "said event convenor Wayne Keats this morning."Karl (Wilson) is definitely going to have some competition this year."
SuperKarts differ to sprint karts in a number of key ways and run on full-size motor racing circuits, rather than purpose-built kart ones. Drivers sit in a reclined rather than upright position and the 250cc engined karts come complete with faired in nosecones, sidepods and a rear wing.
Speed-wise they are some of the fastest four-wheel vehicles to lap any track with race winner Karl Wilson setting the fastest lap on his way to victory in the final Grand Prix race at the 3.033km Manfeild circuit last year.
That time – 1.07.879 – is similar to that of a Porsche GT3 Cup Car (Craig Baird holds the Manfeild lap record with a 1.07.785) and considerably quicker than a Formula Ford single-seater (the record at the circuit for that class is a 1.11.733).
Kiwi SuperKart drivers also do well when they venture overseas, both Wilson and Urban winners of the annual Superstars of Superkarts meeting at the Laguna Seca circuit in California, USA, Urban in 2006, Wilson in 2012.
As well as 10 entries in the International class, the organisers have received nine for the National one, led by that of defending class champion Steve Wilton from Wellington, and 10 each in the Rotax Light and Rotax Heavy support categories.
Karts will be on track at Manfeild from 9.20am on Saturday. Following the four heats to decide the New Zealand Championships for each class the two stand-alone (12 lap) Grand Prix title races will be contested.
The Rotax Max Grand Prix (Rotax Light and Heavy combined) is due to start at 3.20 pm, the Open Grand Prix (International and National combined) at 3.50pm.