Team MMK Ready for SKUSA California ProKart Challenge Round 1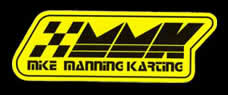 Yes, ladies and gentlemen, MMK is back.
2013 was a progressive year for the California-based team, Mike Manning Karting. Team MMK made a stronger than expected comeback after having equipment stolen in 2012, and not only fashioned a complete box van make-over, but also released our new chassis line: the Chassis MMK. Now for 2014, Team MMK is continuing on this streak of success with an extremely strong driver line up for the opening round of the SKUSA Pro Kart Challenge California, being held at Buttonwillow Raceway in Bakersfield, California on February 1, 2014.
Team MMK is proud to announce our drivers for this series. Starting with TAG Senior category, we have two drivers competing who are ready to take on the challenge of this exceptionally competitive class.
Our first driver is newcomer Gino Alfonso-Macauley, who has yet to complete his first season in karting, but was a participant of the 2013 SKUSA Summernationals and Supernationals in TAG Senior. Gino, out of Los Angeles, California, will be competing in his #777k MMK-powered Leopard on a Chassis MMK.
Our second driver in TAG Senior is someone very special to MMK, who started his MMK career back in 1984. Former Atlantic Champion and Indy Car driver Richie Hearn, of Las Vegas, Nevada, at 43 years old, is back. When questioned on Facebook about which class Richie will be competing in—TAG Senior or TAG Masters—Richie's response was reflective of the competitive nature he still carries, "I may be older, but I still know how to drive." Richie will be competing on an kart #70 MMK-powered Rok TT, also on a Chassis MMK.
For the TAG Masters category, we are proud to announce six drivers. Steve Brackett, kart #28, will be competing on an MMK-powered Rok TT with a Chassis MMK. His brother, Rob Brackett, kart #29, will also be competing on an MMK-powered Leopard with a CRG chassis.
New York driver Tom Gerstner will be making an appearance on the west coast again this year competing on his kart #777N MMK-powered Rok TT with a CRG chassis.
Kevin Manning, son of team owner Mike Manning, who had an impressive 7th place finish after starting 27th at the 2013 SKUSA Supernationals in the TAG Masters category, will also be competing. 2013 was Kevin's first year competing in a SKUSA series, and he successfully finished 3rd place in the Pro Kart Challenge California TAG Masters Championship. Kevin will be on his kart #23k MMK-powered Rok TT on a Chassis MMK.
Team MMK is very excited to have 2012 and 2013 SKUSA Pro Tour TAG Masters 3rd place Champion Chuck Graffar, who is making his way out to the west coast to race for us, on loan from the Russell Karting camp. "I am excited to get the chance to race the Pro Kart California Challenge with a great group of competitors. I have worked hard trying to duplicate their speed in the past few years on the Pro Tour." Chuck will be competing with a kart #3 MMK-powered Rok TT on a Russell Karting Parolin chassis. Chuck has been racing karts since 1979, and met Mike Manning and Richie Hearn back in 1989/90 at the Cuddebackville, New York IKF Grand Nationals. "I worked with Mike last year at Adams and look forward to having fun this year in the Pro Kart California Challenge."
Our final driver for the TAG Masters category is karting veteran Billy Cleavelin. Billy, the multi-IKF, WKA, and SKUSA-National Champion, who won back-to-back TAG Masters Supernational titles in 2008 and 2009, will be competing with a kart #19 MMK-powered swansong Motori 7 CRG. Billy is looking to defend his hard-earned 2012 and 2013 SKUSA Pro Kart California Championship TAG Masters titles (also 2008 champion), and is set to go three in a row.
When asked about this coming weekend, team owner Mike Manning was nothing but smiles. "The start of another racing season is always very special. Team MMK is excited about competing at all SKUSA Pro Kart Challenge California and all SKUSA Pro Tour events."
About Mike Manning Karting- – MMK is located in Rosamond, California at the gates of the famous Willow Springs International Raceway. MMK has been in business since 1980, winning races across the nation for over 30 years. MMK is the developer of the Chassis MMK, and specializes in building all current TAG engines. We pride ourselves on our arrive and drive program that has won numerous races for an array of talented drivers, most recently being Formula 3 driver Michael Lewis, and Camping World Series Truck driver, Australian Scott Saunders. Please follow Team MMK on Facebook (http://www.facebook.com/mikemanningkarting) or Twitter (http://www.twitter.com/teamMMK) for live race updates and info, or e-mail us at mmkm7@aol.com to find more information on how to become part of the team.