EKN One-on-One: Rob Miller – Lone Star Grand Prix
Motorsports enthusiast motivated to help grow the sport of karting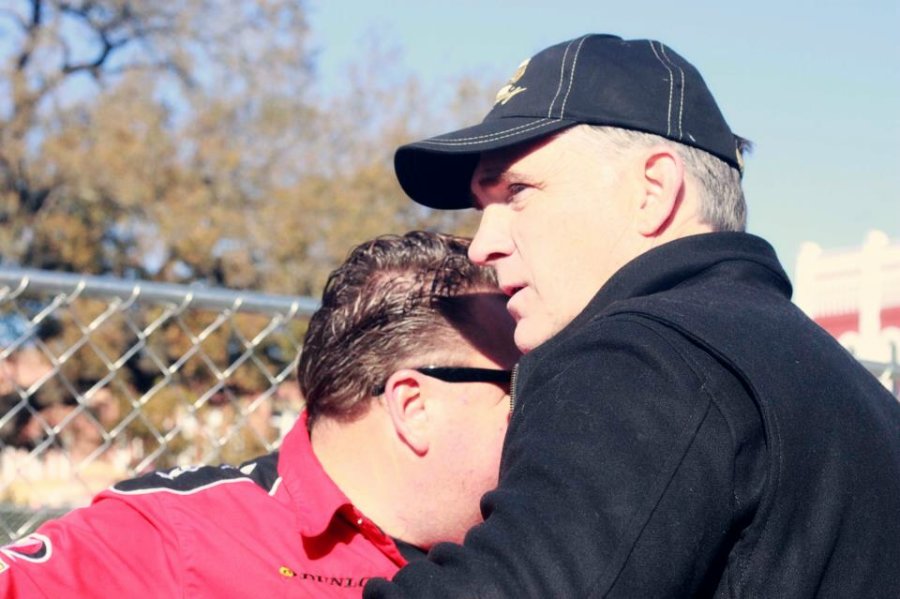 Year after year, a lingering question is always brought out during personal discussions and online chatter: How do we grow karting? Many ideas and concepts get thrown around during forum discussions, drinks at the bar after a day at the track, or during phone conversations between industry members. Each individual in the sport has his or her own opinion and how they would work to introduce the sport to the general public, or to remove the misconception that karting is restricted to the fun karts people see at the local amusement or activity park.  Discussions and opinions are one thing, but actual action on an idea is another.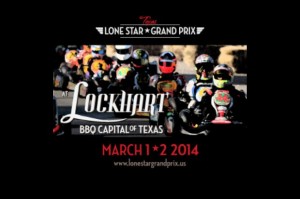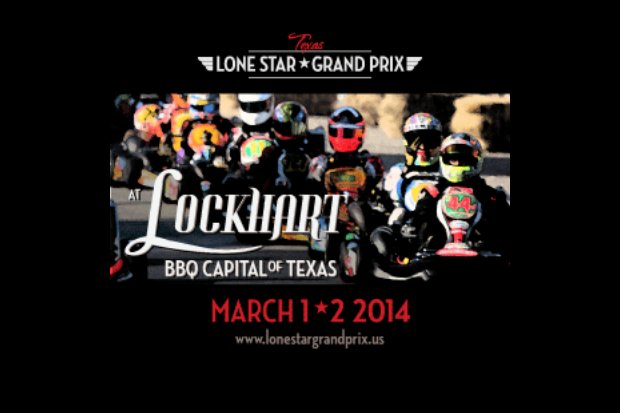 This focus on growth the sport and exposing it to new people is part of what motivates the people behind the growing Lone Star Grand Prix, which is set to roll out its third edition on March 1-2 on the city streets of Lockhart, Texas. Rob Miller has played an integral role in helping to form the event since its debut back in 2012, and he continues to promote the event day after day, while also acts as a karting dad with son Carson at selected sprint and road racing events all over the country. We had a chance to talk with Mr. Miller as the countdown begins, with karts primed to hit the barbeque capital of Texas at the beginning of March.
eKartingNews.com: Rob, we'd like to begin by thanking you for taking the time to speak with us, as we're all are very excited to attend our first Lone Star Grand Prix event. This will be the third edition of the race, after the first was held in downtown Dallas and the second in Lockhart. With each passing year, the event has received more attention and is drawing more drivers from around the country. You must be happy with the progress the event has made in just a short amount of time.
Rob Miller: Thank you, David. We are very pleased that so many racers and teams are supporting what we do. It's terrific to have the factory teams like CRG-USA, Champion Racing/Intrepid North America, and DRT Racing coming in with great drivers from all over North America. The shifter and TaG turnouts are flattering and the talent in those classes is top notch.
Equally rewarding though is the participation we are seeing from regional racers in the 'budget' classes. The 'Chonda' (Clone) class at LSGP 2013 had 37 entries and Stock Honda Light had 33 entries. To have good numbers in both the most and least expensive classes is and has been one of our primary goals.
Street races are the very best way to put kart racing in front of the general public. Too many folks have no idea what a race kart is or how it will perform. When spectators see 40 karts racing through the streets of a historic, picturesque city and have the opportunity to interact with the kart racing families they quickly appreciate what kart racing is.
EKN: Introducing karting, as we know it, to the general public has been a challenge for much of the sports history. How was it that you became involved in the sport and what is it that drives your passion to promote events such as the Lone Star Grand Prix?
RM: Lack of knowledge of karting is the number one challenge to growing our sport. When spectators experience a kart race, it sells itself.  They immediately begin to ask how to get in a kart.  This is the next critical juncture.  The karting industry has both an opportunity and a challenge at this point.  The opportunity is to sell a kart.  The challenge is to put the new kart racer into a kart they can afford and grow with.  If we get this right, we have not only an enthusiastic new racer, but a fresh new advocate for the sport who will bring others into the sport.
My dad began racing a home-built McCulloch kart in the mid-sixties.  He and his buddies set up temporary courses on parking lots and closed airport tarmacs.  He eventually went on to race stock cars on an asphalt quarter-mile track.  Then, in his 50s, he came back to kart racing and raced a KT100.  At 72 years of age, he'll be racing in the KT100 class at LSGP for the second year in a row.
The family aspect of the sport is what drives me and the rest of the LSGP team.  Most kart racers' parents aren't sitting in the stands just watching.  At kart races large and small, all over the world – moms, dads, sons and daughters are in the pits working together.  At national events, you see many more professional tuners, but even there you see families working together.  It is common to see three generations together at kart races.
EKN: Family is a big part of the sport, and the main reason of why I'm involved in karting in the first place. Watching some of the coverage and seeing the photos from last year, the crowds appeared to be a lot of race fans, most of the families. What is LSGP doing in terms of spectator access and education of karting to the general public during the two days in Lockhart.
RM: Exactly.  It was great to spend time with you and your Dad road racing at Grattan this past year.
As for the fans, we had about 9000 spectators over two days at LSGP 2013 and the overwhelming majority were families coming out to see the race.  Lockhart and its Chamber of Commerce are running television and radio ads this year to increase those numbers, but the focus is the same, get families to the race to spend the weekend together. The best way to educate someone on how cool race karts is to let them see them, hear them and smell them.
The education process really goes on year around in Lockhart.  We had karts on a float and driving and doing donuts in the street in the other major event in Lockhart – The Chisholm Trail Days Parade.  On February 1, we will have karts at Hot Rods and Hatters, which is a 300+ car show with six bands playing on the square in downtown Lockhart.  A space has already been selected for us to do some mild demonstrations.  RPM MotorSports and a few others are providing karts for the demonstrations.
Additionally, one of the LSGP Partner Tracks, North Texas Karters, will have a manned booth with karts on display and members available to answer questions throughout the weekend.  Finally, and maybe most importantly, we open the gates as part of the Sunday morning opening ceremonies and allow spectators on the track for the driver's autograph session.  The interaction between spectators and racers is invaluable.  Racers become ambassadors for the sport.
EKN: The first event was held in downtown Dallas, right at the Cotton Bowl/State Fair compound. How did the location of Lockhart become available, and what has it meant for the city to be behind the event 100%?
RM: We were looking for a site for a street race somewhere along the I-10 corridor and began looking at satellite images of different cities.  A central location like this would involve less travel for the racers at LSGP Partner Tracks. The support of these tracks makes LSGP possible. North Texas Karters in Denton, Hill Country Kart Club in New Braunfels and Gulf Coast Karters in Katy provide large levels of support, doing everything from providing barriers and crash pillows, to helping revise and improve competition rules to actively promoting the race, and much, much more.
It became apparent pretty quickly that Lockhart was in a great location.  We did a little more Internet research and became convinced that the historic nature of the downtown area would be a perfect backdrop for a street race. At that point, we asked for a meeting with city government, and thus, former IKF President Jim McMillan and I drove to Lockhart to give a presentation to city's decision makers. They were particularly attracted to the family aspect of the sport and were familiar with the continued success of Rock Island Grand Prix.
LSGP and Lockhart moved forward as partners in this race.  Lockhart has made a habit of under-promising and over-delivering.  LSGP has had the full support of the city, the Lockhart Chamber of Commerce, the Lockhart Hispanic Chamber of Commerce and numerous business and civic leaders. This has allowed the LSGP team to continually focus on promoting and improving the race, as Lockhart works on building and improving the festival that surrounds it. The Texas Independence Day Celebration that they are doing in conjunction with the race will help attract a broader range of spectators and expose them to kart racing. It is fair to say that Lockhart is as excited about LSGP as we are. They have already begun preparations for LSGP 2015 with emphasis on growing and improving it.
This is not directly responsive to your question, but it gives a little insight into the true hospitable and friendly nature of this great historic Texas town.  A lady in Lockhart sent me an email saying that she has an extra room in her home if one of our racers would like to stay there for free and also offered to cook breakfast.  This is probably the most generous offer we have had but typical of the attitude of these folks.  If you look at the LSGP video interview of Lance Lane, he spends a good bit of time talking about how friendly and helpful these folks are.
While it is a great deal of work and very challenging to put on a kart street race, working with Lockhart has been extremely rewarding.  The energy and excitement that is created about kart racing with this event is something that you have to observe in person to fully appreciate it.  As MG Tires Wagner Rossi said during last year's race, "This brings karting back to its roots.  This reminds me of all the fun of the street racing we did in Brazil when I was young.  It is absolutely fabulous."
EKN: Support is something events must have in order to be successful, as you mentioned with the LSGP Partner Tracks. MG Tire has been a big supporter of the event, and beginning last year, awarded one Lone Star Grand Prix winner with a trip to the Granja Viana 500 event in Brazil. A number of other companies have stepped in to offer a wide variety of prizes for the 2014 event, as we have seen on the LSGP Facebook page. Could you just provide a list and tell us what it means to have all the support the event has from industry members and outside?
RM: We are very fortunate to have great partners who are providing some impressive awards for our racers. The value of the total prize package now exceeds $27,000, with more on the way.  Here's a list of some of the prizes we're awarding:
A paid trip to the 2014 Granja 500 in Brazil, courtesy of WR Motorsports/MG Tires
Eight (8) test days in a Formula Mazda, courtesy of Formula Mazda
A custom painted helmet by Jeff Long's Image One
"Honda Bucks" courtesy of Honda Performance Development
A custom race suit from One Race Gear
Three (3) custom hats from Texas Hatters (the folks that made the hats for the winners of the inaugural United States Grand Prix at Circuit of the Americas)
Ribtect 4 rib protection vests, courtesy of Ribtect
Power Plus synthetic racing oil, courtesy of Power Plus
Hegar pipe kits for Honda 01 motors, courtesy of Hegar Manufacturing
Four (4) gift certificates for powder coating from Custom Powder Coating
A Yamaha engine rebuild by Jean Brown
Alfano prizes courtesy of WR Motorsports/Alfano
Fuel cans and funnels courtesy of VP Racing Fuels
EKN: For those who were not at the Lone Star Grand Prix last year, what are two things that they will come away with from their trip to Lockhart and their experiences during this two-day festival?
RM: The first thing is the Lockhart experience.  The downtown looks very much like it did 100 years ago.  The BBQ is cooked the same way in long pits with an open fire at one end.  The folks here still have the frontier mentality of helping your neighbor and welcome newcomers to your home.
Lockhart is in the heart of where the Texas Revolutionary War was fought.  The Alamo is about an hour away, as is San Jacinto, where the war was won by Sam Houston.  The celebration this year will take place downtown and at the Agarita Ranch just a few miles away.  Old West gun fights, famous Texas Rangers and stars from 'The Virginian' television series will all be part of the celebration.
The second thing is the race experience.  Although there are very talented drivers from all over competing at a high level, this race captures the camaraderie that is the essence of family-based kart racing.  Walking through the pits, you hear a lot of laughter and see a lot of happy people just getting together for a race weekend and a good time.   The racing has a similar feel.
We have not had problems with rough driving and we work hard to discourage it.  It probably helps that there are no series points on the line.  There are nice trophies and prizes to be had, but LSGP is about having fun.  As we grow, we want to insure that the race experience retains that flavor.  Our competitors do a really nice job of racing hard but clean. We really appreciate this attitude from them and it makes the LSGP staff's job much more pleasant.
EKN: Building the Lockhart city streets into a race track, placing haulers and trailers in the correct positions, officiating two days of hard racing, and tearing it all down in a matter of moments must take a lot of work and effort of some key individuals. Who are some of the people we will see on-track working for the LSGP, and who in the LSGP group make things happen outside the circuit.
RM: There are literally too many to mention, like the 50+ Lockhart volunteers.
The track will actually be constructed again under the supervision of LSGP Race Director Rick Fulks.  Head Flagger and Assistant Race Director Matt Ackley, Chief Grid Steward Maddi Egger, Race Communications and Coordinator Terry Riggins, The Voice of the Texas Lone Star Grand Prix Tony LaPorta, Timing and Scoring Director Lyle Clark, LSGP President Mac McMillan, Pit Coordinator Bill Summers, LSGP Director of Inspiration Donnie Cluck, Corner Worker Coordinator Chad Phillips and everyone else we can round up will construct the track as Rick directs.  Last year, construction was completed after 3:00 a.m.  We hope to be done significantly earlier this year.
It is a hardworking passionate group, for sure.
EKN: Rob, thank you for your time and we are really looking forward to the 2014 Lone Star Grand Prix
RM: Thank you, David. We look forward to seeing you.