Route 66 Sprint Series Readies for Its 14th Season in 2014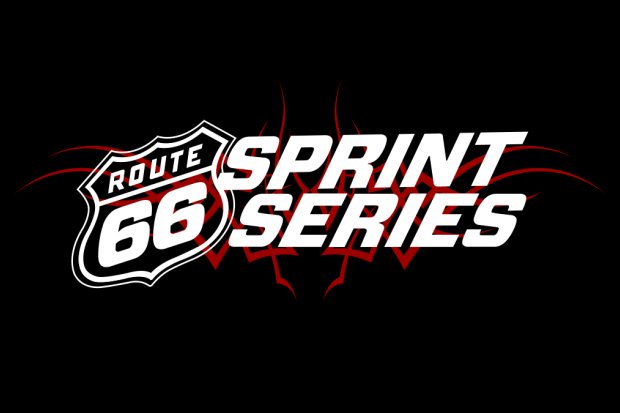 Come celebrate 14 years of Great Racing, at Great Tracks, with Great People and join in the fun at the MG Tire/L&T Manufacturing Route 66 Sprint Series events.  The Route 66 Sprint Series was started by racers and we listen to our racers and reward our racers for supporting the series.
The MG Tire/L & T Manufacturing Route 66 Sprint Series is launching a new race format for 2014 with 10 classes of racing each Saturday and Sunday.  Starting this season all classes will run both Saturday and Sunday for one point championship.  With a five event schedule there will be ten races per class and the best eight of ten events will count for season point championship.  With this format there will be one champion for each of the ten classes.  New classes added for this season will be Leopard 125 Junior and Briggs & Stratton LO206.  As previously announced, MG Tires will be the new spec tire brand for all classes for the next two years. Also new to the series this year will be the availability of on-line registration along with discounts for pre-entering and season package entry discounts that include kart number reservations.  Visit the Route 66 Sprint Series booth at the Winter Kart Show this Sunday January 26 and see how easy it is to register on line.
Four-cycle racing returns to the series with the introduction of a new Briggs & Stratton LO206 class. David Klaus, director of Briggs and Stratton Racing stated, "We are excited to be a part of Route 66 in 2014.  With the growth of the LO206 racing program throughout the Midwest racers now have a series the caliber of Route 66 to compete against the best of the best with an engine that brings competitiveness right from the box.  The LO206 is about out of the box, cost-effective racing.  To further highlight that and thank our racers your FIRST Route 66 LO206 class entry will be discounted $50 when you pre-enter online."  The LO206 class guidelines are listed below and can be found on the series website.
The Route 66 Sprint Series has scheduled five events at five of the Mid-West's favorite kart tracks.  The series will open the season at Concept Haulers Motor Speedway (CHMS) in Norway, Illinois in April, followed by a return to Michiana Raceway Park (MRP) near South Bend, Indiana in June.  The series heads north to the historic Briggs & Stratton Raceway hosted by Badger Kart Club (BKC) in Dousman, Wisconsin in July.  August has the series racing at the popular New Castle Motorsports Park (NCMP) near New Castle, Indiana.  The final event will be hosted by Mid-State Kart Club (MSKC) in September at Mid-State Raceway near Springfield, Illinois.  There will be 22 bonus points awarded for participating in all ten races for a given class.
ROUTE 66 Sprint Series 2014 Schedule
April 26 & 27 – CHMS – Norway, Illinois
June 7 & 8 – MRP – North Liberty, Indiana
July 12 & 13 – BKC – Dousman, Wisconsin
August 2 & 3 – NCMP – New Castle, Indiana
September 6 & 7 – MSKC – Springfield, Illinois
Another new feature this year is that the series will post a time line for each event on the series website. The series will continue to use a two-day/weekend format at all events with three rounds of practice held on Saturday morning.  Ten classes of racing will be held on Saturday afternoon and the same ten classes will race again on Sunday.  There will also be at least one round of practice held on Sunday morning. All five series events will have practice time available on the Friday before the event.  All events will again hold the popular free cookout at the conclusion of racing on Saturday.
Series Promoter Mark Coats says "The reason for the success of the Route 66 Sprint Series is that we listen to our racers and The Route 66 Sprint Series Team. What is neat about the Route 66 Sprint Series is that I am allowed to be a racer, because we have a great team."
Below is the Route 66 Sprint Series Team:
Series CEO:  Mark Coats
Series Race Director:  Rick Fulks
Series Assistant Race Director:  Jason Ludwig
Series Secretary, Registration & Scoring:  Kris Finke
Series Safety Tech:  Matt & Colleen Dial
Series Head Tech Man:  Mike Everson
Series Assistant Tech Man:  Rick Jump
Series Flagman:  Tony Jump
Series Announcer:  Tim Koyen
Series Apparel Sales:  Sabrina Bergeson & Colleen Dial
Series Official Photographer & PR:  Joe Brittin
Series Grid Steward:  Becky French
Series Assistant:  Pauline Deyo
The event flyer and entry form for the first event scheduled at CHMS will soon be available on-line at www.Route66KartRacing.com.  Pre-entries for the first event at CHMS must be post marked by April 11th to receive a $20 pre-entry discount.  On-line registration will also be available very soon.  The series web site has a download section with forms available for event informational flyers, registration forms, schedules, class structures and minors release forms.  The web site has retained many of the great features such as Mylaps results, point standings, track and motel information, photo galleries and series news.  Check the series website for more updates about the new on-line registration process that will be administered through MotorSportsReg.com.
2014 ROUTE 66 SPRINT SERIES
CLASS STRUCTURE
KID KART
Drivers Age: 5-7 Years
Engine: C-51 Only
Weight: 150 Lbs
Tires: MG "HZ" Reds 4.60/4.60
YAMAHA 100 ROOKIE
Drivers Age: 7-10 Years
Engine: Yamaha KT100
Carburetor: Walbro WA55
Exhaust: Spec RLV 7500 YBX
Weight: 225 Lbs
Tires: MG "HZ" Reds 4.60/4.60
Must qualify on new tires and race the same set Saturday & Sunday
YAMAHA 100 CADET
Drivers Age: 8-12 Years
Engine: Yamaha KT100
Carburetor: Walbro WA55
Exhaust: Spec RLV 7548 SSX
Weight: 250 Lbs
Tires: MG "HZ" Reds 4.60/4.60
Must qualify on new tires and race the same set Saturday & Sunday
YAMAHA 100 JUNIOR
Driver Age: 12-15 Years
Engine: Yamaha KT100
Carburetor: Walbro WB3A
Exhaust: Spec RLV 7548 SSX
Weight: 310 Lbs
Tires: MG "FZ" Yellows 4.60/6.00
Must qualify on new tires and racethe same set Saturday & Sunday
YAMAHA 100 SENIOR
Drivers Age: 15 + Years
Engine: KT100
Carburetor: Walbro WB3A
Exhaust: Spec RLV 7548 SSX
Weight: 360 Lbs
Tires: MG "FZ" Yellows 4.50/7.10
Must qualify on new tires and racethe same set Saturday & Sunday
KOMET CADET
Drivers Age: 8-12 Years
Engine: KPP 100
Carburetor: Walbro WA55
Exhaust: Komet Header, K1 Pipe, Flex 12" Min. 12.5" Max.
Weight: 255 Lbs
Tires: MG "HZ" Reds 4.60/4.60
Must qualify on new tires and race the same set Saturday & Sunday
KOMET
Drivers Age: 13 + Years
Engine: KPP 100
Carburetor: Walbro WB3A
Exhaust: Komet Header, K2 Pipe, Flex 10" Min. No Max. Length
Weight: 350 Lbs
Tires: MG "FZ" Yellows 4.50/7.10
Must qualify on new tires and race the same set Saturday & Sunday
Leopard 125 Junior
Driver Age: 13-15 Years
Engine: IAME Leopard w/Factory 25mm Header
Carburetors: Tillotson HL334a, HL334ab & HL334aa
Exhaust: As supplied by Manufacturer
Weight: 330 Lbs
Tires: MG "FZ" Yellows 4.60/7.10
You must have 1 year prior experience in the YAMAHA JUNIOR CLASS to race this class
Must qualify on new tires and racethe same set Saturday & Sunday
LEOPARD 125 SENIOR
Driver Age: 16 + Years
Engine: IAME Leopard
Carburetor: Tillotson HL334a, HL334ab & HL334aa
Exhaust: As supplied by Manufacturer
Weight: 365 Lbs
Tires: MG "FZ" Yellows 4.60/7.10
New Tires are required both days
BRIGGS & STRATTON LO-206
Drivers Age: 14 + Years
Engine: B&S LO-206
Chassis Specs: CIK Body Work
Weight: 365 Lbs
Rules will be posted on the ROUTE 66 WEBSITE SOON
Tires: MG "FZ" Yellows 4.60/6.00
Rim Specs: Front 5 ¾" & Rear 7 3/4" Outside Measurement
Must qualify on new tires and racethe same set Saturday & Sunday