Florida Winter Tour Rotax Max Challenge Program Opens with Full Day of Qualifying
International-filled fields score numerous pole positions on Friday in Homestead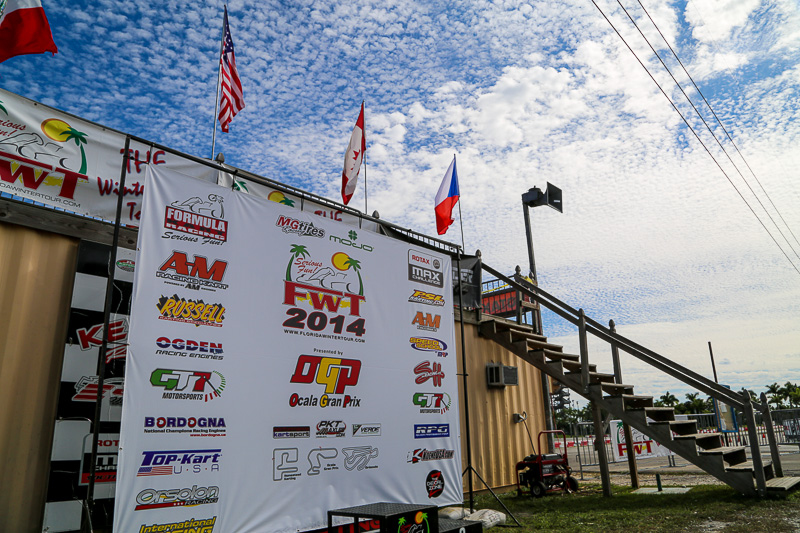 Story by Florida Winter Tour
The second weekend of Formula Kart Production's Florida Winter Tour presented by Ocala Gran Prix kicked into high gear Friday morning as the karts took to the track to set their qualifying times for the weekend. The morning dawned an uncharacteristically cool 47 degrees but warmed up quickly as a combination of bright sunshine and almost no wind made it feel like a sunny spring day.
As a popular international program the FWT attracts people from all over the globe who come from different climates. Thus, the actual temperature "feel" can be very relative to what one is used to. The difference in perception to what 47 degrees meant to each individual was very apparent as competitors from places like Florida and Texas were seen in thick jackets, while their counterparts from other destinations, such as Canada, were adorned in t-shirts and shorts.
There have been a lot of young drivers changing classes this year as they get older and move up to the next rung of the ladder. Perhaps no one knows this progression better than Palmetto, Florida's Nick Neri. Nick first raced with the Florida Winter Tour in 2003 in the Comer 80cc class. And in the decade since, he's competed in Mini MAX, Junior InterContinental A (JICA), Junior MAX, Senior MAX, KF3, Rotax Pro, Open Shifter and, this weekend for the first time, DD2 MAX.
The 18-year-old, who has driven for FWT presenting sponsor Ocala Gran Prix since 2008, has raced karts for 13 years and is eyeing a career in NASCAR. "We're going to be running some late model cars this year and hope to do some testing in an ARCA car by the end of the year," he said.  And, although his ultimate goal is to be a Sprint Cup driver, Nick says he'll always remain loyal to his roots and will continue to race in the Florida Winter Tour and other big races whenever his schedule permits.
Other veterans of the Florida Winter Tour who have seen many changes through the years are three members of the Welfenberg family, Betty, Angie and Michael. Angie was the first to come on board in 1999 when she started working for Formula Kart Production's owner Bill Wright handling duties at the scales when he was running some races for SKUSA. Betty, the matriarch of the family, came on board a few years later after having managed the race track side of the business at the Ocala Gran Prix. Betty is the FWT Grid Steward. Angie works with Tom Thelen in Timing and Scoring.
Michael has been working in the tech inspection area for four years and says it's the perfect job for him since he loves to tear things apart and inspect them. Michael stays very busy in karting and spent 38 weekends in 2013 working various races. When not at the track, Michael works as a cook for Chili's and says he loves to cook just about anything but steaks are a specialty.
All three Welfenberg family members hail from Ocala, Florida where Angie and Betty work in health related fields. Betty is a home health care nurse taking care of physically and mentally handicapped patients and Angie is a Paramedic. Of the three, Angie has the most time behind the wheel of a kart as she used to race at the dirt track in Ocala but Michael would occasionally get behind the wheel if Angie couldn't make a race.
When asked what were the biggest changes they'd seen on the FWT during their tenure, both Betty and Angie mentioned the advances in technology, both in safety and scoring, that Formula Kart Productions has pioneered over the years. Between the three of them, there's a lot of passion for our sport and they are a huge part of what makes the Florida Winter Tour's "Fun-Team" so special.
During the Rotax MAX Challenge weekends, the unique format contains two packed days of racing for all seven classes.  As such, there is no time for qualifying on Saturday and Sunday so all qualifying for the weekend's races occur on Friday. Today's sessions resulted in some pretty spectacular on track action as noted below.
Decal Zone sponsored DD2 Masters
In the first group out to qualify, DD2 masters for Sunday's races, the session was dominated by Venezuelan Luis Schiavo who turned in a fast lap of 47.648 seconds. Francis Mondou (Canada) was just 0.152 seconds behind Schiavo with Carlos Medina (Mexico) another 0.035 of seconds adrift.
For Saturday's action in the two-speed masters class it was three-time Team USA member Derek Wang that had the measure of the field to take his first Koene USA P1 Pole Award. Wang's lap of 47.445 was 0.166 of a second faster than Schiavo who narrowly beat out Enrico Friso (Venezuela) by 0.012 of a second for second starting spot.
SH Racing sponsored DD2 MAX
After the DD2 Masters sessions, it was time for the DD2 MAX karts to take the stage at Homestead karting.  As the kings of the Rotax program these karts really get around the track in impressive fashion. Leading the morning qualifying session for Sunday's races was former CIK World Champion Arnaud Kozlinski (France) who blasted around the 0.7 mile course in 46.282 seconds. Joining Kozlinski in the top three were Nick Neri (46.361) and Holland's Jordi Van Moorsel (46.407).
In the afternoon session to qualify for Saturday's races, Daniel Formal (USA) took the P1 pole position with a lap of 46.292. Paolo De Conto (Italy) was right on Formal's heels though and turned in a 46.362 for second. Arnaud Kozlinski proved he hadn't used up all his speed in the morning session by clocking in the third fastest time (46.403).
AM Engines sponsored Mini MAX
Sergio Terife (Venezuela) will start Saturday's Mini MAX Pre-Final at the front of the grid after timing in at 51.155 seconds. Michael d'Orlando (USA) picked up where he left off last weekend and will start alongside Terife. Qualifying third for Saturday's Mini MAX race is Mathias Soler (Columbia) who qualified just 0.017 behind d'Orlando.
Last weekend Michael d'Orlando dominated the TaG Cadet class in the FWT Formula Kart program. This weekend he's continued his strong form by qualifying on pole for Sunday's Mini MAX class with a lap of 51.009 seconds. Second fastest time went to defending FWT Mini MAX champion Nicholas Brueckner (USA) and third was Gianluca Petecof (Brazil).
Rolison Performance Group sponsored MAX Masters
In both qualifying sessions for MAX Masters, it was DD2 Masters pole winner Luis Schiavo who turned in the fastest time to take two more Koene USA P1 Pole Awards. Not only did Luis take both poles, but Raul P. Costa (USA) and Brian McHattie (USA) took second and third respectively in both sessions. Fourth place, in both sessions went to 2013 Rotax PanAmerican Challenge Masters MAX winner Chris Boggart.
In fact, you have to go all the way to fifth to find dissimilarity. In fifth starting spot on Saturday will be Scott Falcone (USA) and on Sunday the fifth spot on the grid for the pre-final will be Jaime Macías Alarcón (Ecuador).
PSL Karting sponsored Junior MAX
There's no doubt what a strong field Junior MAX has at the Florida Winter Tour this year. For Saturday's Junior MAX pre-final the top three starting positions will be occupied by no less than Gianfranco Mazzaferro (Canada), Mauricio Andrés Baiz (Venezuela) and Augusto Soto-Schirripa (USA).
Setting the fastest time of the day in Sunday Junior MAX qualifying was Pedro Cardoso (Brazil) when he turned a lap of 48.328 seconds. Austin Garrison proved he has what it takes to be in the fight by setting the second quickest time of 48.334. Rounding the top three was Saturday's pole sitter Gianfranco Mazzaferro (Canada) with a time of 48.413.
GT7 Motorsports sponsored Micro MAX
Reece Gold (USA) got it right in both Micro MAX qualifying sessions to set the prefinal pole position for both days of racing. His laps of 53.092 for Saturday and 53.199 for Sunday were tops in both sessions. Joining Gold in the top three starting spots on Saturday will be Daniel Steven Chaverra Palacio (Columbia) and Arias Deukmedjian (USA).
Sunday's starting top three will be Gold, followed by Arias Deukmedjian in second with a lap of 53.346 and Jeremy Fairbairn (USA) in third with a lap of 53.532 seconds.
MRP Motorsport sponsored Senior MAX
The last class to run in both qualifying sessions was the Senior MAX category. This class always attracts some of the biggest names in karting and this year's field has stayed true to form. At the top of the time sheets after both qualifying sessions was Ed Brand (Great Britain). Just behind Brand for Saturdays qualifying honors was the Floridian duo of Oliver Askew and Kyle Kirkwood.
In Senior MAX qualifying for Sunday, both of Ed Brand's two fastest laps were quick enough to put him on pole. Starting behind brand on the last day in Homestead will be Jordon Lennox-Lamb (United Kingdom) and Dan Roeper (USA).
P1 AWARDS
Koene USA is providing special recognition and cash awards for the FWT "P1" award winners. For every race-day at the 2014 FWT the fastest qualifier in each class will be recognized. Award recipients are provided custom "P1" stickers to display on their karts, and are then eligible for a portion of the $400 cash prizes to be awarded at the final round of the 2014 FWT. See all the details here.
Be sure to catch all of this weekend's Florida Winter Tour racing action by logging on to the original interactive kart racing broadcast, FWT LIVE!  exclusively at www.FloridaWinterTour.com.  And be sure to send in questions and shoutouts by contacting us through our broadcast announcers email at live@floridawintertour.com.