eKartingNews.com Driver of the Month – December 2013 – Matt Solarczyk
Junior Birel America driver earns four wins at WKA Daytona KartWeek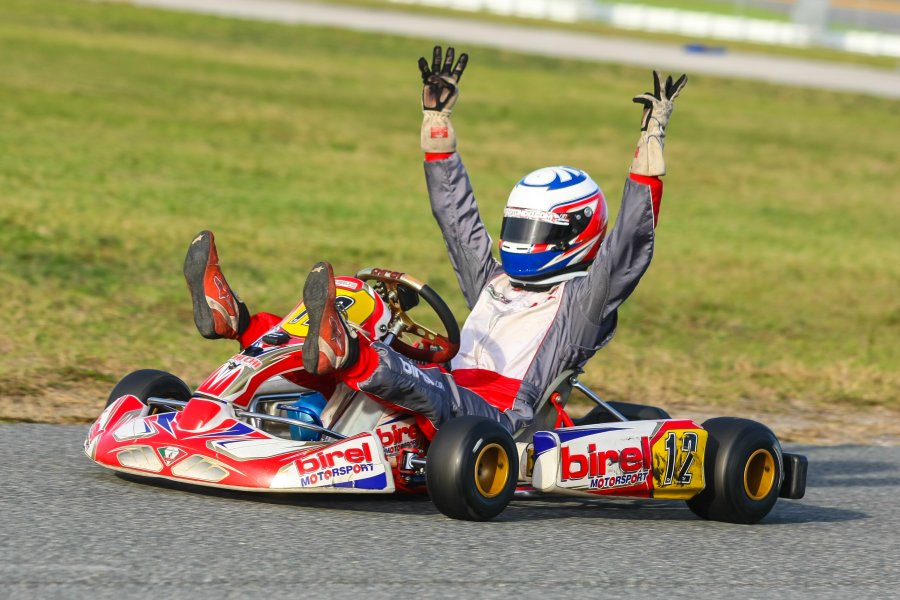 Solarcyzk scored four wins at the WKA Daytona KartWeek Manufacturers Cup event (Photo: SeanBuur.com)
In a continued effort to highlight the many outstanding performances by drivers around the country, eKartingNews.com is proud to introduce the 'Driver of the Month' program. Each month, the staff at EKN will determine the one driver who stood out above the rest and give the viewers a chance to know exactly what they accomplished and who they are.
Each and every season, starting a series off with a victory can help build the confidence to earn more throughout the season, and if the cards fall the right way, lead to championships. World Karting Association racers got their chance in December as the 2013 Daytona KartWeek marked the beginning of the 2014 season. The historic Daytona International Speedway facility hosted three events in one location, with the start of the Manufacturers Cup Series and the Road Racing Series inside the 'World Center of Speed' while the Dirt World Championships was contested on the Dirt Flat Track outside NASCAR turns 1 and 2. Over 1,700 entries combined took part in the event, with drivers from all over the continent taking part in the annual event.
A number of drivers performed well at each of the three events, but it was Virginia driver Matt Solarczyk who came away with the best overall performance from the 2014 Manufacturers Cup Series opener and earned the honor of eKartingNews.com Driver of the Month for December. Day one saw dry weather turn into rain and then slowly dry up as the event moved along. The final day of action was bright sunshine, as Solarczyk piloted his MRP Motorsport Birel to the front in all conditions to record his best results in the win column of his career, winning four features in six races.
In Yamaha and Komet, Solarczyk was the driver to beat. The first of his three pole positions during Daytona KartWeek 2013 came in Komet Junior 1. That led to the Prefinal win before coming under pressure for the victory by Tazio Torregiani. The two-time United States driver in the CIK-FIA Academy Trophy program led during the middle portion of the 12-lap event but Solarczyk led the final five laps to score the victory. Win number two of the day came in Yamaha Junior 1. Braden Eves edged out Matt by just two hundredths of a second to steal the pole position. Solarczyk took the top spot away in the Prefinal, and ran away with a wire-to-wire win in the feature by a 1.737-margin of victory.
Day two was a complete sweep in Yamaha and Komet action, earning top qualifier honors, the Prefinal win and the Final victories. It was a half-second gap in the Komet qualifying session between Solarczyk and the second place driver, which translated to a Prefinal win. He walked away to lead all 12 laps of the main event toward a seven-second advantage. The results were similar in Yamaha, as Matt was a half-second quicker in qualifying. The Prefinal was a close finish, with Matt coming out on top. Putting that race behind him, he went on to a wire-to-wire win, resulting in over a five-second margin of victory to cap off his 2013 Daytona KartWeek.
The WKA expanded their Junior class roster by two, adding a Parilla Junior class to both days of action to go alongside the Yamaha and Komet classes. Matt came away with finishes of seventh and second, bringing his podium total to five for the event. The results were a vast improvement from last year, as Matt recorded only two wins in 24 feature races in Komet and Yamaha competition. With a few drivers graduating to the Senior level, Solarczyk is stepping up to the plate to become one of the newest rising stars in North American karting. Solarczyk is going to concentrate on his Rotax package this year, taking part the opening few months in the Florida Winter Tour Formula Kart weekends.
December 2013 EKN Driver of the Month – Matt Solarczyk
Bio
Born: 2/12/99
Hometown: Centreville, Virginia
Parents: Kristin and Mike Solarczyk
Siblings: none
Height/Weight: 5'7"/132 lbs
Education: Freshman at Westfield High School
Job: N/A
Racing Resume
Chassis: Birel
Engine/Engine Builder: Yamaha/Komet-Switch Racing Engines, Parilla Leopard-Woljter Racing Engines
Sponsors: MRP Motorsport, High Velocity Racing, Switch Racing Engines, Chi Chi Racing
Series You Compete In: WKA Manufacturers Cup Series, North East Rotax Max Challenge, Florida Winter Tour (Formula Kart), SKUSA
Years Karting: 7
How did you get started in karting? When I was 8, my dad took me to a local indoor karting track Allsports GP and shortly after we were taking a karting class at BeaveRun (Pittsburgh International Race Complex), and it just took off from there.
What has been the high point in your racing career? 4 wins and 3 pole positions at WKA Daytona KartWeek 2013
What are your goals in racing? I want to keep moving up the ladder, and hopefully end up in either IndyCar or TUDOR
In a few words, how would you describe your driving style? Aggressive (sometimes overly) but calm
Funniest moment at the race track? Wearing my friend's cheeseburger hat on the podium, and looking quite silly.
Likes
Favorite Track: GoPro Motorplex
Favorite form of professional motorsports: It's a tie between DTM and IndyCar
Favorite karting driver: Ben Cooper
Favorite professional driver: Ayrton Senna
Favorite website: eKartingNews.com
Favorite movie: Inception
Favorite actor/actress: Leonardo Dicaprio.
Favorite music/group: EDM, Dubstep, Pop
Favorite vacation/activity spot: The beach
Favorite food: Stuffed shells
The Real Deal
What do you do when not at the track? Play paintball, play iRacing with friends from the track, hang out with friends from school.
What are your goals outside of karting? Go to college and make a decent living
What type of street car do you drive? N/A
What type of street car would you like to drive? Either a BMW M3 or an Audi R8
What are your pet peeves or things that irritate you? Understeer
What do you think could be done to improve the sport of karting? There are a few things that could be done, one of the main issues is affordability, but I think the karting community could use one big, well run series, similar to what Stars of Karting was.
What are your favorite aspects about the sport of karting? Aside from just driving, I enjoy the competition, karting is one of the most competitive types of racing, and it's a great way to develop drivers.
December 2013 Driver of the Month – Honorable Mention:
– 'Mr. Daytona' Randy Fulks: WKA Daytona KartWeek – 2 Road Racing wins (100cc Controlled Spec 2, 100cc Controlled Final 2)
– Zachary Linsell: WKA Daytona KartWeek – 3 Road Racing wins (Animal 360, Animal Limited Modified 360, Pro Gas Animal 2)
– 'Disco' Donnie Nall: WKA Daytona KartWeek – Dirt World Championship Pro Clone $10,000 winner (second consecutive year)
– Patrick Olsen: WKA Daytona KartWeek – 2 PistonPort wins
– John Paul Southern: WKA Daytona KartWeek – 4 Sportsman wins (Cadet 1, Komet 1, Komet 2, Yamaha 1)