Champion Racing/Intrepid North America Signs Jake French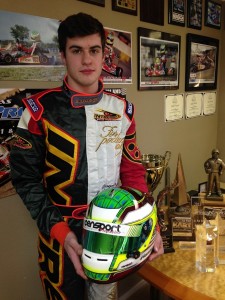 Texas driver Jake French will once again join the ranks of the S1 Pro Stock Moto class for the 2014 season. After a 1-year hiatus from karting, Jake will join Champion Racing/Intrepid North America and Oklahoma Motorsports Complex to pilot the SwedeTech powered Intrepid at the 2014 Lone Star Grand Prix, SKUSA Pro Tour and SKUSA SuperNationals, along with other races as they fit into what is now a packed year of racing for French.
"I spent last year running the BWFS NASCAR Truck series in Houston and did really well. But, karting is what I do and I have missed it!  It should be an interesting year running the NASCAR Truck, NASA CMC Car and the Intrepid for Champion.  I cannot thank the Berryhill family enough for giving me this opportunity," Jake said.
French plans to defend his Stock Honda win at last year's LSGP and is looking forward to racing for the SKUSA Pro Tour title. French says, "I have raced the Intrepid before and Champion Racing and the Intrepid brand bring a ton of experience to racing. I am honored to be a part of their program."
Joining French will be teammates; Ryan Kinnear (S1), Bryce Cornet, Tyler Fling, Luke Waller, Jarred Campbell, John Gottsaker (S2), Coy Dayton (S4), Jesse Woodyard, Harry Gottsaker (S5), Hector Alvarez, Gary Butler, Mike Mannes (TAG Masters), Wyatt Mannes (TAG Sr.) with more to be announced.
More information about Champion Racing Http://www.championkart.com or contact rodney@championkart.com