World Sportscar Champion Allan McNish to present Karting's British and National Championship Trophies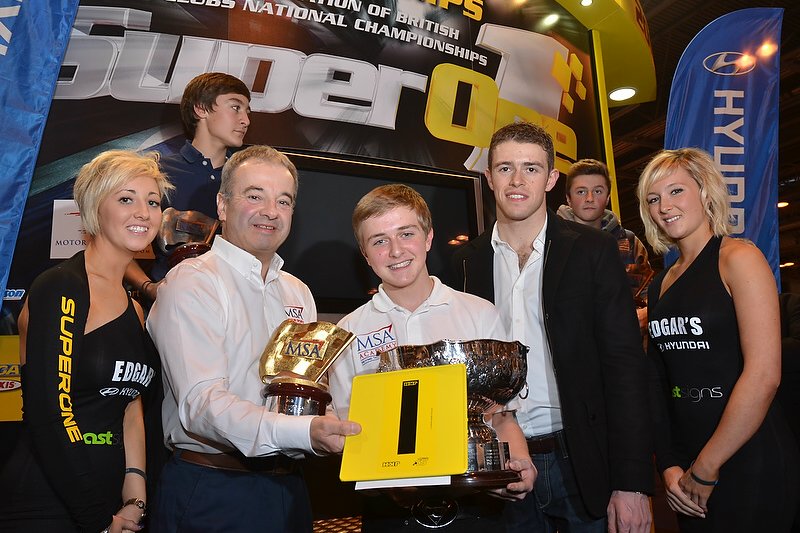 Sahara Force India F1 driver Paul Di Resta along with the MSA's Rob Jones presenting the MSA British Junior Kart Championship trophy to Alex Gill in 2013 (Photo: Chris Walker - kartpix.net)
Allan McNish will present the prizes to the top ten in each Super One kart racing series at the Autosport International Racing Car Show on Saturday 11th January.  The reigning World Sportscar Champion has recently announced his retirement from top line racing, he is also a triple Le Mans 24 Hour winner and a former Formula 1 driver.  Well known for his lively anecdotes, McNish will present the prizes for the ABkC National Rotax classes and Honda Cadet Championships and the MSA Comer Cadet National series at 1p.m. on the Super One Series stand number 6410.  And at 3 p.m. he will return to present the prizes along with a representative from the MSA for the MSA British Kart Championships for IAME Cadet, KF Junior and KZ1 Senior gearbox along with the ABkC National Championships for TKM Classes and the KGP National Championship.  All of the champions will also receive a TAG-Heuer timepiece,  a carbon fibre Koden helmet and a Vroom UK Magazine.  The total prize fund for the 2013 Edgar's Hyundai sponsored series in cash and goods exceeds £60,000 due in part to the generosity of its partners.  The inaugural IAME Cadet British Champion Oliver York will receive an all expenses trip to the X30 Junior Grand Finals courtesy of IAME and John Mills Engineering, whilst many of the top Rotax drivers have already had success with their free entries to the Rotax Max Challenge Grand Finals held in New Orleans in November, as did KGP drivers in their Grand Finals in Italy. Rotax is supported by the importer JAG Engineering with prizes of a new engine for all champions and the top Rookies.  The TKM classes are supported by Tal-Ko Racing and KF Junior by Tillotson carburettors. Rotax rookie winners receive an invitation to Mercedes GP factory for a VIP tour at their Brackley facility.  Through the Association of British Kart Club's partnership with its nominated tyre partners, cash prizes are awarded from Dunlop / Anderson Racing, Bridgestone / Zip Kart, Mojo / JAG Engineering,  Maxxis / Tal-Ko Racing and Vega / Andy Cox Racing for the KGP class.  For a full list of partners please visit the http://superoneseries.com website, all are thanked for their support of Britain's premier karting series.
The Series promoters will be taking registrations for the 2014 series, this can also be completed on line through the website. There are six rounds in each of the two series (five for the MSA British Kart Championship for KZ1 gearbox class) and in 2013 well over 400 drivers raced in the series.  With Super One drivers enjoying much success on the international stage more and more overseas drivers are choosing the Super One for their national racing.
The Super One Series announces a new headline partner in SSM Metals for 2014 and a new media partnership with Vroom UK magazine who will also be present on the stand.