WKA Daytona KartWeek Attracts Over 1,700 Entries Among Three Events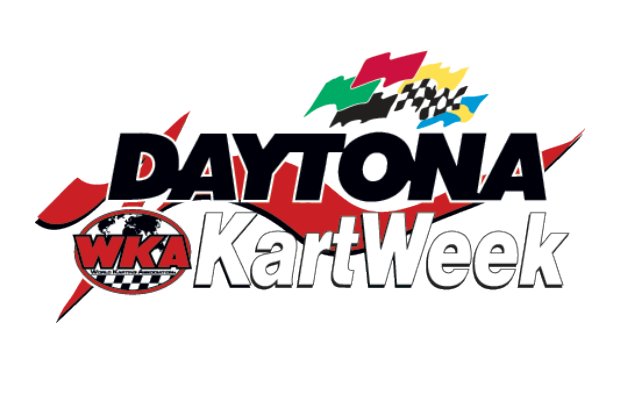 By now racing families from across the country have returned home from Daytona Beach, Florida, and the dust has begun to settle on the 2013 version of WKA's Daytona KartWeek.
The latest edition of the historic karting event drew more than 1,700 entries to Daytona International Speedway for kart racing December 27-30.
For the second consecutive year, the WKA / Tri-State Pro Series Dirt World Championships was the largest of the three events running under the KartWeek umbrella. The Dirt World Championships drew 838 entries between two days of racing. The number surpassed last year's mark of 820 entrants, despite rainy weather forecasted for the weekend, which surely cost the event racers who stayed home because of the unfavorable weather forecasts.
Mother Nature did have her say in the Daytona Dirt event for the second consecutive year. Five rounds of practice were run Friday, Dec. 27 and a full day of racing concluded around 10:30 p.m. Saturday. Saturday's show was pushed back at least three hours because of rain over Friday night and Saturday morning.
Officials and racers fought the rain all day Sunday, and after hours of attempts to go racing, only three classes qualified before heavy rain finally postponed Sunday's competition to Monday. Skies cleared Monday morning, and Daytona Dirt racing ran off at a fast pace with the final checkered flag waving before 5 p.m.
The Mazda / Bridgestone Manufacturers Cup Series' Margay Sprint Championships attracted 430 entries to the Daytona Sprint Course. Of course, weather played a factor throughout the weekend, but with sprint karting allowing for racing in the wet conditions, all events were run, comprising Saturday's full day of practice and Sunday and Monday's racing.
The VEGA / TS Racing National Road Racing Series' 2013 Road Race Championships marked an upswing in entry counts with 475 entrants between Sunday and Monday's racing. The 2012 Road Race Championships drew 430 entrants.
Unfortunately for road racers, many who traveled 20 to 30-plus hours one way to compete on the 3.56-mile DIS superspeedway road course, Sunday's action was cancelled after only one of seven race groups was completed in full.
Luckily rain left the Daytona Beach area early Monday morning and skies cleared around 9 a.m., allowing the track to thoroughly dry before all six race groups competed in full Monday afternoon.
On the track, several racers made headlines.
Dirt World Championships
"Disco" Donnie Nall, of Lawsonville, N.C., captured the Dirt World Championships' headline Pro Clone main event for the second consecutive year. Nall won $10,000 for his triumph, and also captured five other main events at Daytona, including the $500-To-Win Pro Champ main. Nall also finished second to Fountain Inn, S.C.'s Justin McDonald in Pro Animal.
Other Pro class winners at Daytona Dirt were Carter Davison in Pro Junior 1 Heavy; Austin Teras, of Maine, in Pro Junior 2 Heavy; Trynt Lloyd in Pro Junior Clone; Tennessee's Colby Horner in Pro Gold; Davidson, N.C.'s Daniel Armstrong in Pro Gas Animal and Florida's Michael Nicosia in Unlimited All-Stars.
Junior 1 Daytona Dirt "trophy" class winners were Trynt Lloyd in Junior 1 Lite, Junior 1 Box Stock Lite and Junior 1 Box Stock Heavy.
Junior 2 Daytona Dirt "trophy" class winners were Elijah Todd in Junior 2 Lite, Joshua Hanson in Junior 2 Box Stock Lite and Lane Penley in Junior 2 Box Stock Heavy.
Junior 3 Daytona Dirt "trophy" class winners were Brice Boatright in Junior 3 Lite and Junior 3 Heavy and William Prince in Junior 3 Box Stock Lite.
Senior "trophy" class winners were Donnie Nall in Champ Lite, Animal Medium, Animal Heavy and Pro Gas Animal (trophy), Joe Bunch in Animal Super Heavy, Shaun Pittman in Animal Senior Stock, Shay Chavous in Box Stock Medium and Yamaha, Daniel Armstrong in Box Stock Heavy, Darin Coker in Box Stock Super Heavy and Chris Kaczmarczyk in Box Stock Senior.
Florida Champ Kart League feature winners were TJ DeCaire in Sportsman Champ Green, Austin Teras in Sportsman Champ Blue, Tyler Diel in Junior Champ Mix and Raymond Folwell in Senior Champ Mix.
Margay Sprint Championships
Ohio's John Paul Southern Jr. and Virginia's Matt Solarczyk each scored four main event wins at the Margay Sprint Championships to lead all sprint racers.
Southern captured four of the six Junior Sportsman finals, comprising Cadet 1, Komet Sportsman 1 and 2 and Yamaha Sportsman 1.
Solarczyk had his best-ever Man Cup weekend with a sweep of Komet Junior and Yamaha Junior. Solarczyk also finished second to Austin Garrison in Parilla Junior 2.
NASCAR Sprint Cup star AJ Allmendinger was strong throughout the weekend in the senior TaG categories. Allmendinger, who resides in Huntersville, N.C., scored final victories in Sunday's TaG Senior 1 and Monday's Parilla Senior 2. 'Dinger nearly captured a hat trick; he finished a close second to Cal Stewart in TaG Senior 2 Monday afternoon.
New Jersey's Connor Ferris swept the Yamaha Rookie Sportsman main events. Ferris won the Rookie class both days for the double-win weekend.
Wisconsin's Patrick Olsen swept the SeniorPistonPort finals to join Ferris as a Daytona double-winner. Olsen bested Tony Jump in Sunday's Senior Piston Port 1 while Austin McCusker finished second to Olsen in Monday's Senior Piston Port 2 main.
Florida's Devin Boutot and Wisconsin's Austin Schaff joined Southern in the Junior Sportsman win column. Boutot won Cadet Sportsman 2 over Southern while Schaff bested Tyler Gonzalez in Yamaha Sportsman 2.
2013 WKA Triple Crown champion Brandon Lemke and Garrison split the Parilla Junior mains. Lemke won Sunday over Emerson Reed while Garrison won over Solarczyk in the aforementioned Parilla Junior 2 main.
Mark Boos, of New Hope, Pa., won Parilla Senior 1 over Michael Geringer. More on Boos' KartWeek accomplishments below.
Tennessee's Jeff Jewell and Ohio's Brian McHattie split the TaG Masters finals. Jewell won over Anthony Honeywell in Sunday's TaG Masters 1 while McHattie scored the TaG Masters 2 main over Steve Schiewer.
In the inaugural edition of the 2014 IAME CUP, Mark Boos captured the overall win in IAME Parilla Senior while Austin Garrison scored the overall win in IAME Parilla Junior.
For his efforts, Boos won the HYTORC of Texas $1,000 bonus for the overall win in Senior, while Garrison captured the Arai Helmet / Butler Built $500 bonus for the overall win in Junior.
Road Race Championships
Rain Sunday cancelled five of the six race groups, however a number of road racers still captured multiple victories in the seven total race groups that did run.
Pennsylvania's Zachary Linsell continued his hot streak in 4-cycle competition. Linsell was the only competitor to capture the hat trick on the Road Race Championships side, winning Animal Sprint 360, Animal Limited Modified 360 and Pro Gas Animal 2. Linsell would have been favorited to win Animal Sprint 335 later Sunday afternoon, but that event fell to the weather.
Illinois' Randy Fulks added to his unprecedented Daytona KartWeek win total with a couple of victories in Monday's action. Fulks raced to wins in 100cc Controlled Spec Final 2 and 100cc Controlled Final 2. Fulks captured Monday's Controlled Spec main by a mere 0.082-second advantage over his brother, Rick Fulks.
Stephen Bassham swept the Stock Leopard finals. Bassham won Sunday's Stock Leopard race by seven seconds over Aamir Hyder followed by a close win over Robert Wimmer in Stock Leopard 2 Monday.
Rhode Island's Dawn Magiera won a couple of races Monday. Magiera, wife of enduro legend Lou Magiera, won Yamaha Sprint Final 2 and Yamaha Sportsman Sprint Final 2. Lou did some winning of his own at Daytona, capturing victories in both Open Sprint local options.
Pennsylvania's Doug Stearly won both Clone 360 races. Stearly, who's won races at the Daytona Dirt World Championships in past years, was trying his hand at enduro racing in a backup Linsell kart.
New York's JT Coupal swept the 2-cycle Junior Sprint races, while Alabama's Will Delaney did the same in the Animal Junior Sprint finals.
In Sunday Race 1 Arkansas' Brian Wilhelm won a close race over Robby Harper in Unlimited Final 2. The official margin of victory was just 0.076 seconds.
Texas' Johnny Gottsacker captured CIK 125 Shifter Final 2 over Dan Chalk, while Florida's Brad Zoeller won WKA 125 Shifter Final 2 over Tracy Phillips.
Bobby Butler won the 250 Twin 2 local option.
Kansas' Pierce and Bernie Baldus and Oklahoma's Ryan Hatcher pulled away from a big 25-kart Yamaha Heavy field. Pierce scored the win over Bernie by less than a half-second, while Hatcher right behind in third.
Jonathan Tedder won Animal Limited Modified 385; Jimmy Duguay won Yamaha Sprint Final 1; Joe Cuslidge won Clone 385 Final 1 while Paul Rice captured Clone 385 Final 2. Darren Greene won LO206 360 and Joshua Trone won LO206 385.
Mark Nagy won an unbelievably close Stock Honda 2 race. Nagy, Steven Rougeou, Steve Flatt, Dan Chalk, Bill Pyles and John Gottsacker finished first through sixth, all separated by only 0.513 seconds.
Noel Farrelly won TaG Heavy Final 2 in a tight race with second-place Michael Camarra and third-place Harry Gottsacker.
Veteran Don Chrzan won Formula 100 Final 2 while Jamey Brown captured 100cc Pipe Medium. Florida's Matt Michel won by just 0.144 seconds over Hatcher in Yamaha Sportsman Medium, which started 25 karts.
Massachusetts' Michael Camarra won TaG Final 2 over James Slade. Florida's David Bruinsma scored the WKA Sprint Final 2 triumph over Adam Myers. South Carolina's Rob Garland won Animal Sprint 410 by a slim margin over his father, Robert Garland.
Dick Charest won Vintage Classic 2.
Full Daytona KartWeek results are posted under the "National Results" section on the homepage of www.WorldKarting.com