EKN One-on-One: Nicholas Rowe
Aussie driver steals SuperNationals TaG Senior victory in Las Vegas debut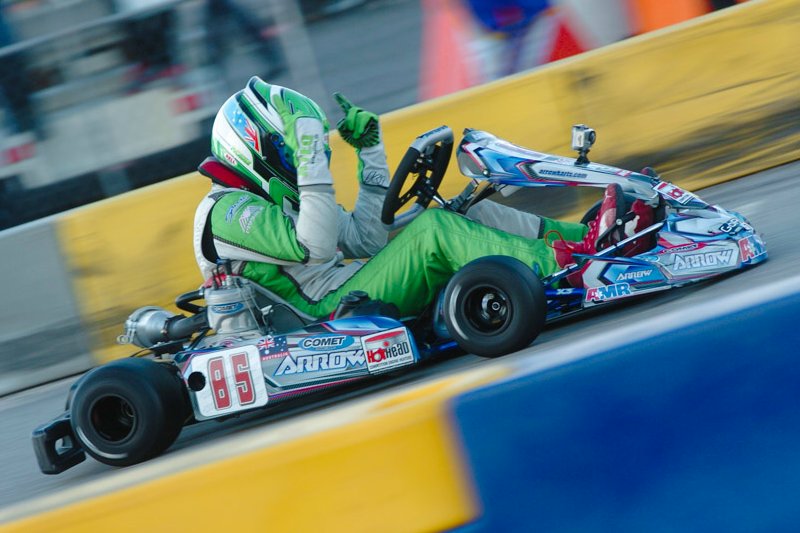 Nicholas Rowe celebrating the TaG Senior victory at SuperNationals XVII (Photo: On Track Promotions - otp.ca)
Over 80 drivers entered in the TaG Senior category for their chance to make history at this year's Superkarts! USA SuperNationals. The 17th edition of the event was historic in terms of numbers, with over 600 drivers in attendance, and in terms of weather. For three straight days, it was nothing but cold and rain, as record rainfall hit the Las Vegas area, leaving everyone at the Rio All Suite Hotel and Casino making the run to the store for warm clothing and rain gear. Come SuperSunday, the skies cleared and it was a heated 25-lap battle for the victory. Coming away with the title was Australian driver Nicholas Rowe.
The event began strong for Rowe, placing ninth overall in qualifying to put him in the top five to start each of his three heat races. The Aussie maintain the spot through the first two heats, but was caught up in a wreck in the third to drop back to the 20th spot. That moved him down 13th on the grid for the main event. A great opening lap put the KartSport North America/Arrow driver into the top-10 early, in contention for a top-five spot. Rowe's machine came on late, as he continued to improve his position as the laps clicked off. Up to third by lap 17, he was able to run down the leaders – including fellow countryman David Sera – and take over the lead with four laps remaining. Holding on for the remainder of the 25-lap event, Rowe scored the victory in his SuperNationals debut, becoming the first Australian driver to win at the event.
"Nicholas is a great kid and the family was great to work with at the SuperNationals, as were all the 10 drivers from Australia competing in Las Vegas with us," commented Eric Jones of KartSport North America. "He had good pace all week, just bad luck leading into the final. I was glad we could help be a part of getting him the biggest win of his career along with a 1-2 finish for KartSport North America/Arrow."
Rowe is a 15-year old from Karratha, a small mining town in the western desert of Western Australia, roughly about 1000 miles from the nearest major city (Perth) and 9,139 miles directly to Las Vegas. Nicholas has been karting for five years, earning eight state championships and stood on the podium six times at the Australian Nationals. In 2012, Rowe was named Australian Karter of the Year by Kart Oz Magazine.
To learn more about the first-time SKUSA SuperNationals winner, we contacted Rowe after he arrived back in western Australia to answer a few questions about who he is and where he's heading in motorsports.
Now that you are back home and had time to let it sink in, what does it mean to win SKUSA SuperNationals XVII?
It means everything to win the SuperNationals. We went there at the start of the weekend just hoping to make it through to the final. But winning was just something that I didn't think was possible. It was one of the most memorable races I've had in my life. I'll never forget it, I loved every part.
This was your first SuperNationals experience and first trip racing in the United States. What was your overall opinion of the event and the North American competition?
This was my first SuperNats, but I had heard about the event in Australia pretty much from the day I first started karting. It has always been an event my family and I have wanted to do, and it certainly didn't let us down. It was everything we were told it would be if not better. I found it to be one of the most organized and professional events I have ever competed in, and the atmosphere and people I meet in America were great to us and made us feel very welcomed. I loved the track and the location of the event. We have nothing like this in Australia so it was a eye opening experience for me. This will definitely be on my calendar of racing in 2014.
Looking back at 2013, what series and categories did you compete in?
I haven't really been competing in any series in Australia as I've had other racing commitments such as Formula Ford, but have still competed in any possible state and national titles. I've won four state championships this year – 2 Victorian and 2 Northern Territory state championships – but haven't competed in any series.
How did you get involved in karting, and what was your first kart?
That's a funny story actually my dad and I were bored one night, so we went to the local kart track. There were probably about 20 people racing. Dad asked if I want to do this, and so he bought a kart six months later. He bought the kart, suit, helmet, engine – everything for only $600. It was a First Kart with a Yamaha J engine with a restrictor so it would be as fast as the 80cc Comer engines. He found it in someone's shed. I did heaps of practice on it as my dad wouldn't let me have a clutch, so I never really raced until I wouldn't spin out anymore. So my first race was at the start of 2009 in the Cadets class at the Karratha Kart Club. I was so slow I remember getting lapped about three times in an eight lap race.
What are your current plans for the 2014 season?
My plans for 2014 are not complete yet, but we are planning to yet again come back to SKUSA SuperNationals and see if we can pull of another miracle. I will be doing minimal karting next year, as I will be focusing on my Formula Ford racing competing in national series.
How long have you been racing Formula Ford? What have been your biggest accomplishments in that category of motorsports?
I've been racing Formula Ford for about 8 months now. My biggest achievement would have to be round 3 of the Victorian state series. After having engine issues and not qualifying, I started from the rear (19th) in race 1. Slowly I worked my way forward throughout the weekend and scored the win in the final. It was pretty cool.
Are you looking to move yourself up the motorsports ladder, as Formula Ford has been the catalyst for many professional drivers in the past?
Yeah that's the plan, I hope to one day be one of the best in Australia motorsport, or in the world, but the reality of that happening is very slim. But who knows what can happen, maybe one day I'll wake up and be one of the best in the world.
How is karting looked at in Australia, from your point of view, compared to other sports?
Karting is a very big sport in Australia with most towns having a kart track. There is a race meeting on every weekend of the year, but the karting scene is publicized to a level that is very good. We get TV coverage a couple of times a year and we have magazines that come out once a month that keeps you up to date.
What do you consider to be the best track in Australia and why?
There are many good tracks in Australia such as Kalgoorlie, Cockburn and Eastern Creek. But my favorite track would probably have to be Eastern Lions. It's such a complex track with fast flowing sections and very stop start section. It has the best facilities by far I think in Australia and is just run amazingly by the club.
If Americans were to come down to compete at the biggest race in Australian karting, similar to the SuperNationals, what would that event be?
There are not many meetings in Australia that have the same amount of entries and competition level. The biggest meeting in Australia is probably the Nationals, which is where most karters from around Australia all come to one meeting to compete and try and win a green plate, which represents an Australian champion (ed. note: 2014 event set for April 18-20 at Newcastle Kart Racing Club facility).
Thank you Nick for your time and we hope to see you at the SuperNationals next year to defend your title.
No worries mate, I'll defiantly be back wouldn't miss it for the world.