2Wild Karting and Jake Craig Ink Deal for 2014
Top California karter will compete with Tony Kart squad in several series of competition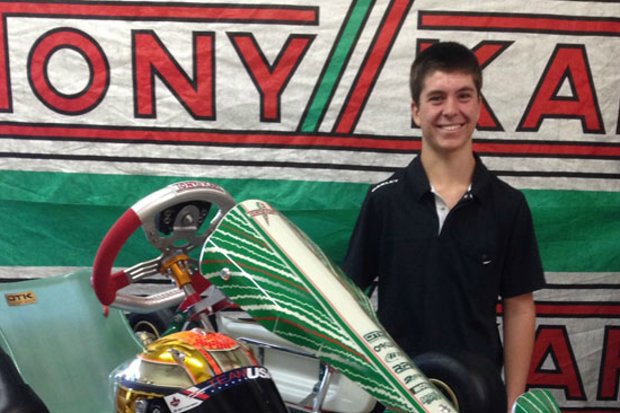 Jake Craig and 2Wild Karting will join forces in 2014 (Photo: Flatout Management)
Looking to kick off the 2014 karting season with a bang, California based 2Wild Karting has signed a deal with veteran karter Jake Craig. With years of experience at the regional, national and international level, Craig will bring a new dynamic to the program as 2Wild Karting looks to perform in some of the nation's top series.
"I am very happy to have Jake as part of the 2Wild program in 2014," expressed 2Wild Karting Owner Ryon Beachner. "Jake is one of the top karters that California has to offer and members of our team have been competing against him for several seasons. It is good to have his talent and tuning ability under the tent and it will go along way with helping new and existing customers with their programs."
Working in the 2Wild Karting shop between events, Craig will utilize his skills and experience to help improve the 2Wild Karting program throughout the season. Joining the squad as the defending TaG Senior Pro Kart Challenge champion, Craig also claimed the Rotax Senior CanAm championship and the PRD PanAm Crown of Karting as well as secured his place on Team USA at the Rotax Max Challenge Grand Finals.
Craig and the 2Wild Karting team will have a busy schedule in 2014 with several planned series of competition. Looking to attack the Rotax Challenge of the Americas (COA), SuperKarts! USA (SKUSA) Pro Kart Challenge and Pro Tour, Southern California Rotax Max Challenge and the annual SKUSA SuperNationals in Las Vegas, Craig will look to steer his Tony Kart chassis to the front of the field.
"2Wild Karting has been a fixture in California karting and I can't wait to get started in their program. Thanks to the work of Ryon and his crew, we were able to put a deal together to compete throughout the country in 2014."
Craig will be behind the wheel of his 2Wild Karting prepared Tony Kart in both TaG Senior and the S2 ranks in the California Pro Kart Challenge as well as TaG Senior at the SKUSA Pro Tour. Trading in his TaG and gearbox powered karts on several occasions, Craig will see action in Rotax Senior at the Challenge of the Americas, SoCal Rotax Max Challenge, Rotax CanAm program and the annual United States Rotax Max Challenge Grand Nationals set to take place at MillerMotorsportsPark in Salt Lake City, Utah.
For more information on 2Wild Karting, please visit them online at www.2WildKarting.com or contact them by phone at 949.206.9906.