Road Race Championships Ready to Roll at Daytona
Karters hit the highbanks for WKA KartWeek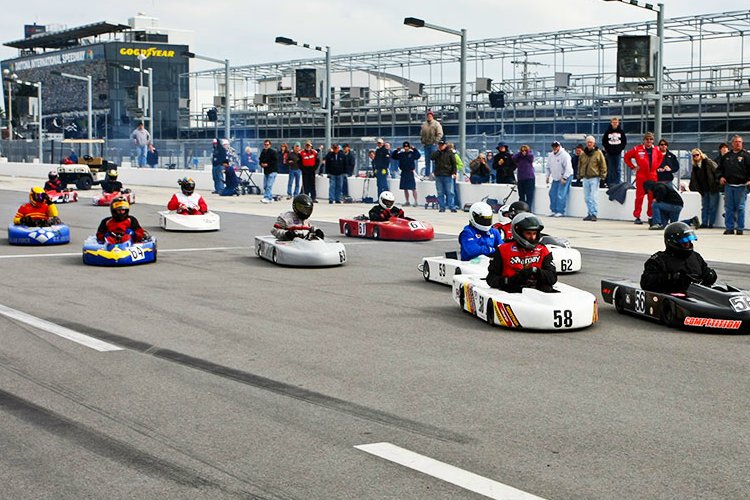 Yamaha Heavy Daytona start in 2012 (Photo: NCRM)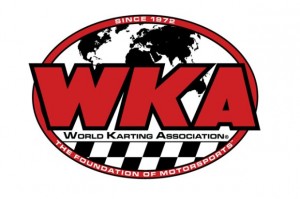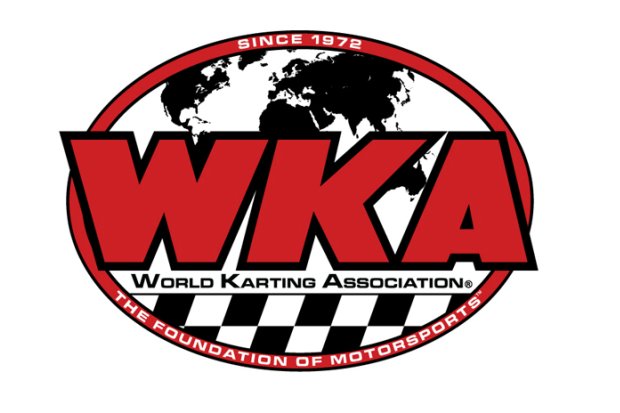 Viewed by many karting veterans as WKA's most historic event, the Road Race Championships for the VEGA / TS Racing National Road Racing Series will kick off the 2014 WKA enduro series December 27-30 on the high banks of the 3.56-mile Daytona International Speedway road course in Daytona Beach, Florida.
Enduro-style kart racers from across the country – including Texas, Oklahoma, California, the Midwest and up and down the East Coast – will travel to Daytona Beach this holiday season for the most prestigious event of the year for this style of karting.
Approximately 400 pre-entries have been filed at the WKA Office and the event appears it will be another solid turnout with competitive fields in the number of categories the Road Racing Series offers.
Garage rentals are another strong point for this year's event. Fifty-three of the 62 garage spaces have already been rented, and usually more sell on parking day. The DIS garage area will be nearly full which is a very good sign for the Road Racing Series and sport.
Of course, many veterans of the sport will tell stories and reminisce of the days when over 100 karts would line up on the Daytona grid for classes like PistonPort, Yamaha Medium and Heavy, 2-cycle Sprint and Yamaha Sprint and others. While the days of 80 to 120 karts in a class have left us, road racers still enjoy Daytona starting grids that offer some of the best competition racers will compete against all year.
Based off pre-entry numbers, this year's best-entered classes appear to be the Animal Sprint categories, which have boasted over 30 entrants for a number of years running, Yamaha Medium and Heavy and the Yamaha Sportsman divisions. Controlled enduro classes also have good numbers while TaG, sprint shifters, WKA Sprint, Unlimited, B Stock and others all will have formidable starting fields come December 29.
The Road Race Championships on the Daytona high banks has been a mainstay for WKA since the 1970s – the decade our organization got its start. The event drew 800 to 1,000 entrants throughout the '80s and peaked in December of 1988, when 1,020 total entrants hit the track at Daytona.
Another 1,009 entrants ran in December of '89 before numbers slipped a bit in the 1990s. Still the '90s decade saw outstanding turnouts of enduro karts at The World Center of Racing, including 893 entrants in December 1997 and another 864 in '98.
The 2000s marked another decade of terrific turnouts at Daytona. Over 800 entrants ran in 2001 and 2003 before numbers started to slip toward the latter part of the decade. In 2004, just over 700 entrants raced, which was the last time the event drew over 700 total entries.
This year's event will draw anywhere from 450 to 600 entrants, and naturally, officials hope that number is closer to 600. Many racers come out and race only once a year when they make their annual pilgrimage to Daytona Beach. For other teams, the Road Race Championships marks the kick-off to a new season that will see them travel across the eastern half of the country to compete at many of America's best road courses, including Mid-Ohio, VIRginia Int'l Raceway and other challenging circuits like Summit Point, W.Va.; Grattan, Mich.; and Kershaw, S.C.
The four-day event opens Friday, December 27 with a full day set aside for parking, pre-tech and registration. Most teams will spend Friday afternoon working on their mounts and engines, making final preparations for Saturday's official practice.
Racing kicks off Sunday, December 29 and runs through Monday. In all 13 race groups will hit the track between Sunday and Monday. All sorts of karts will be represented in what's easily the most diverse karting series in the country. Everything from 4-cycle sprint-enduros to 250cc super karts will have classes to race on the DIS high banks.
Go to HERE to view the Road Race Championships entry form, which includes daily schedules, lodging, spec oils and other important information.
Here is a master schedule of 2013 WKA Daytona KartWeek.
Friday, December 27
8 a.m. Parking for all KartWeek events
1 p.m. – 5 p.m. Dirt practice
Saturday, December 28
8 a.m. – 5 p.m. Sprint practice
9 a.m. – 5 p.m. Road racing practice
9 a.m.  Dirt practice
12:15 p.m. Dirt qualifying and races
Sunday, December 29
8 a.m.  Sprint qualifying (heats/features to follow)
8:30 a.m.  Road race practice
10:45 a.m. Road race events begin
9 a.m.  Dirt practice
12:15 p.m.  Dirt track qualifying and races
Monday, December 30
8 a.m.  Sprint practice (heats/features to follow)
8:30 a.m.  Road race practice
11 a.m.  Road race events