Over $30,000 in Purses, Awards Set for Daytona World Championships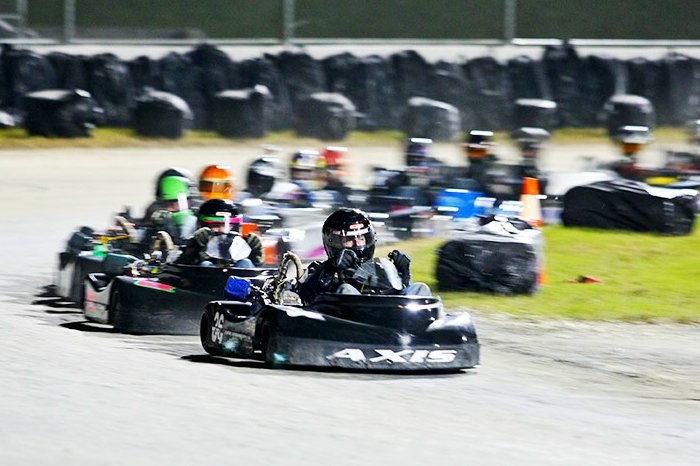 Between the Christmas and New Years holidays Speedway Dirt kart racers and teams from across the country will travel to one of our country's meccas for motorsports – the famed Daytona International Speedway in Daytona Beach, Florida – for the big December 27-29 WKA / Tri-State Pro Series Dirt World Championships.
Tagged simply "Daytona Dirt" by many, this event is one of great tradition and history. Once a spectacle like no other in kart racing at the Daytona Beach Municipal Stadium, the event routinely drew over 1,000 entries throughout the 1990s. In fact, just over 2,000 entrants hit the Municipal Stadium limestone in December of 1995, making it the largest WKA national event ever at the time.
But the first half of the 2000s would see WKA's largest entry count record broke again. In December 2003 a whopping 2,258 entries raced at the Stadium and another 2,216 in 2004. The 2003 event's record count of 2,258 entries stands as the greatest attended WKA event in history – likely a record that will never be broken.
Kart racing at the Municipal Stadium ended after the 2005 KartWeek event, and nearby Volusia Speedway hosted the Daytona Dirt event in 2006 and 2007. After 520 entrants in '06 and a disappointing 406 in '07, Daytona Dirt was not included in the WKA KartWeek schedule in 2008.
In 2009 Daytona International Speedway officials reached out to WKA to notify our organization that a brand-new quarter-mile Flat Track was to be constructed outside turns one and two of the superspeedway. The track would be built for karts and flat-track motorcycles. New life was bred into the once great Daytona Dirt show, and WKA and DIS agreed to bring the Dirt World Championships to the grounds of The World Center of Racing – for the first time ever – in December 2009.
The Daytona Dirt show drew fewer than 400 entrants in '09, '10 and 2011, and without the big money racing that dirt racers throughout the country had grown accustomed to, it was clear most Speedway Dirt kart teams would not travel to Daytona Beach – even if the event was at one of the greatest racing facilities in the world – to race only for a trophy and contingencies.
In the summer of 2012 WKA officials began working on a plan to ensure last year's Daytona Dirt show would not only outdraw approximate 350 entrants we'd seen the previous three years, but also revamp the event as once again a major show in east-coast Speedway Dirt racing.
Plans to offer respectable-paying money classes in all age categories began to take shape and officials were anticipating an event that would garner double the amount of racers we'd seen in recent years.
A major shakeup came in September, when WKA and the Tri-State Pro Series' Troy Duncan began talking about what it would take to bring Daytona Dirt back to the limelight. The event had clearly lost its luster, and now promoters and track owners in the South were looking at the dates as a good time to hold events at their racetracks.
Early discussions between WKA and Duncan led to WKA officials Van Gilder and Keith Shampine visiting the Tri-State's 2012 season-closer at Carolina 120 Speedway in September. Discussions heated up, and by that afternoon the announcement was made to the 120 Speedway pit area that Daytona would serve as the 2013 Tri-State Series points opener.
With Duncan's help, WKA soon announced that seven Pro money classes would headline the 2012 Dirt World Championships, none bigger than the $10,000-To-Win Pro Clone class that would close the show the night of December 30.
The buzz for Daytona Dirt was back, and calls for parking began to overload the WKA Office phone lines. Over 450 pre-entries were received throughout November and December and come December 27 and 28, race teams from all over the country filed into the Flat Track pit area and it was clear that Daytona Dirt was "back," at least in some form or fashion.
The best dirt kart racers from up and down the east coast made the trip and some of the best kart racing you'll witness took place December 29 and 30. Fans filed into the pit area for each night's main events, and after three years of average-at-best attendance at the DIS Flat Track, this new version of WKA / Tri-State Daytona Dirt finally began to resemble those huge shows at the Municipal Stadium that so many still clearly remember.
In all 820 entrants made last year's version of the Dirt World Championships the best-attended WKA national event since – believe it or not – the 2,216 entries at 2004 Daytona Dirt.
This year's event is primed to be another big show.
Five-hundred pre-entries has surpassed last year's pre-entry count, and officials are optimistic that the show will out-draw last year's in regard to total attendance.
For the second consecutive year Maxxis / Goldspeed USA Pro Clone will headline Daytona Dirt next Sunday night, paying a big $10,000 prize to the victor. Last year Lawsonville, North Carolina's "Disco" Donnie Nall capped an amazing 2012 season with the big Pro Clone win at Daytona. Nall is pre-entered for this year's Dirt World Championships. Pro Clone will pay back 10 spots.
Kevin Smith Racing Engines Pro Animal will headline Saturday, December 28 action with a cool $2,000 to the victor. Charlotte, North Carolina's Jerry Mullis won the Pro Animal main last year. Pro Animal pays back five spots.
Baker Racing Engines Pro Gas Animal is a new addition to this year's show with $2,000 and a new Briggs Pro Gas Animal engine posted for the winner. Second- through fifth-place will earn a WKA Pro Gas Animal engine kit for their efforts. This class was a hit in 2012 WKA Gold Cup competition and officials are looking to build the class from the ground-up in Speedway Dirt.
The Unlimited All-Stars are on the docket for December 29 action and for the first time at the DIS Flat Track the Unlimited class will offer a purse. WC Equipment & Sales of Pennsylvania stepped up to team with WKA to offer a nice $2,500 purse for UAS. A generous $1,000 will go to the winner and the class will pay back 10 spots. Yamaha KT100 will serve as the UAS undercard Saturday, December 28. Seay Hi-Performance of South Carolina has posted $100 to the Yamaha pole winner.
Ultramax Racing Chassis Pro Gold and BDL Motorsports Pro Junior Clone headline junior class racing at this year's show. Each division will pay $2,000 to the winner and pay back five spots. Pro Gold is open to Junior 3 racers (age 12 to 15) and their mighty gold-plate Briggs Animals, while Pro Junior Clone is open to Junior 1 and Junior 2 racers (age 8 to 12) and their green-plate Clone powerplants.
Three $1,000-To-Win junior classes will run Saturday. Last year Junior 3 racers only had one money class; this year WKA listened to racer feedback and offered a Team Hall's-sponsored Pro Junior 3 Box Stock (Clone) division that will pay a grand to win and pay back five spots. Seeright Racing Pro Junior 1 Heavy (purple Animal) and Slack Karts Pro Junior 2 Heavy (blue Animal or flathead) will each pay $1,000 to the winner and pay back five spots.
Streeter Super Stands Animal Medium and Box Stock Medium will be classes to watch Saturday and Sunday. Many of the same racers who enter Pro Animal and Pro Clone will use the Medium and Heavy Animal and Box Stock trophy classes as warm-ups for the money race.
Streeter Super Stands has stepped up to sponsor Daytona Dirt for the second straight year. A brand-new Streeter Big Foot kart stand will go to the winner in Animal Medium and Box Stock Medium.
Arai Helmet and Butler Built Professional Seat Systems recently teamed with WKA for a three-year partnership. Arai and Butler Built are wasting no time giving back to WKA racers and have posted $50 gift certificates toward the purchase of a new Arai Helmet to all WKA Daytona Dirt trophy class winners.
Go to HERE for the Daytona Dirt entry form, which includes daily schedules, lodging and other important information. Page two of the entry form includes a chart of classes with minimum weight, engine, tire and age rules.
Here is a master schedule of 2013 WKA Daytona KartWeek.
Friday, December 27
Parking for all KartWeek events: 8 a.m.
Dirt practice: 1 p.m. – 5 p.m.
Saturday, December 28
Sprint practice: 8 a.m. – 5 p.m.
Road racing practice: 9 a.m. – 5 p.m.
Dirt practice in classes: 9 a.m.
Dirt qualifying and races: 12:15 p.m.
Sunday, December 29
Sprint qualifying (heats/features to follow): 8 a.m.
Road race practice: 8:30 a.m.
Road race events begin: 10:45 a.m.
Dirt track practice: 9 a.m.
Dirt track qualifying and races: 12:15 p.m.
Monday, December 30
Sprint practice (heats/features to follow): 8 a.m.
Road race practice: 8:30 a.m.
Road race events: 11 a.m.
Please follow and like us: