Red Line Oil Series Crowns 2013 Champions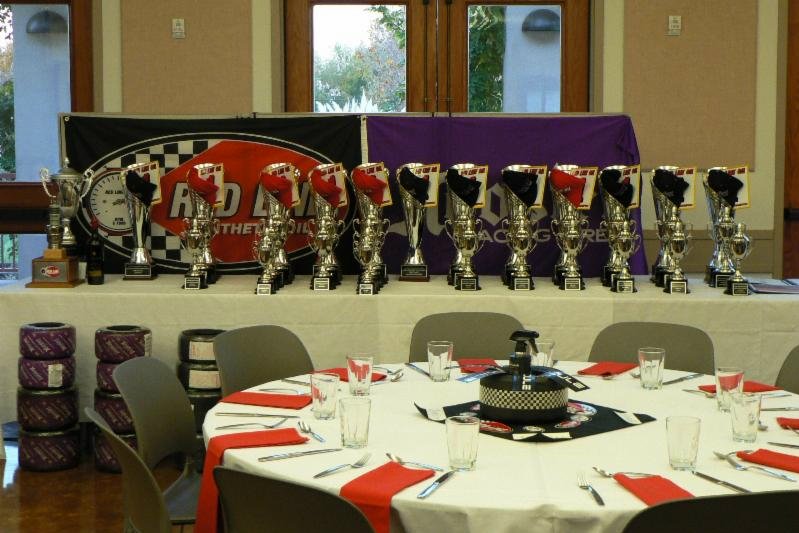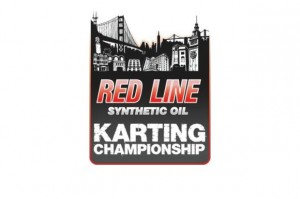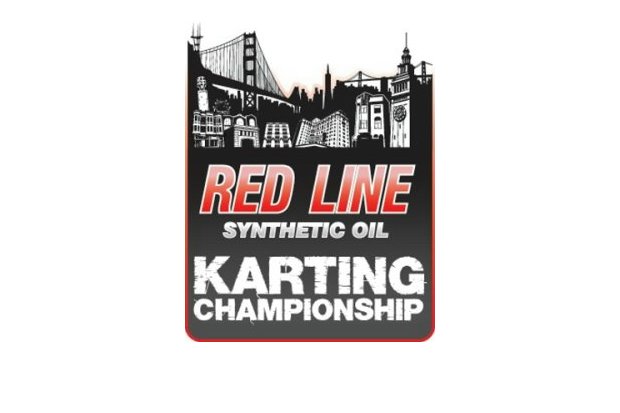 The 2013 Red Line Oil Karting Championships crowned their top award winners and eleven class Champions at the annual series banquet on November 9 in Novato.  One hundred and twenty five people attended the sit down dinner banquet hosted by series promoter Steve Cameron, with Race Director Ric Shaw the MC of the event.    Cheryl Buckwalter and Jordan Miller were given a big thanks for their efforts in organizing the event.
In addition to the Championship trophies, the series sponsors contributed a number of additional prizes that were awarded.  Prizes and awards included:
Red Line Oil Champions Trophies:
GoPro Hero3 Cameras:
Lynx Racing F1600 test:
Shawn Thomas Racing 360 Sprint Car test:
Molecule products:
Muscle Milk $1000 cash and products:
Wine Country Motorsports Leatt Neck Collar:
Cambrian Go-Karts $50 gift certificates:
SimRaceway Track passes:
Rotax Memberships courtesy Go Rotax:
Flamingo Hotel Spa package
Adobe Road wine:
Honda HPD top end kits:
ERC racing fuel:
Aluminos coaching with Tom Dyer:
Test and Tune with VRP Racing:
Hoosier tires and Champions Jackets:
Mojo tires:
Certificates for RLOKC Race Entries:
Certificates for 4 day and 2 day RLOKC practice days:
PS3 Game controller and PSVita Game controller courtesy of Sanzaru Games: 
The two biggest awards went to Senior and Junior Rotax champions.  Senior Rotax champ Jarrett Lile won a Sprint Car test provided by Shawn Thomas Racing.  Junior Rotax champ Michael Avansino won a Formula 1600 test provided by Lynx Racing.
Three special prizes were raffled out near the end of the evening: a weekend Spa package at the Flamingo Hotel Resort in Santa Rosa, a $100 gift certificate from Cambrian Go Karts and a Simraceway free practice punch card.
Four drivers had their names added to the Jim Russell Perpetual Trophy.  Jarrett Lile was named the Senior Driver of the Year, Michael Avansino Junior Driver of the Year, Scott Ripslinger the Masters Driver of the Year, Daniel de la Calle was named the Rising Star for the 2013 season.   A new Perpetual Trophy was added this year for the Mechanic of the Year.  Mike DeRosier was this first winner of this award, acknowledging his dedication and hard work this year many past years.  The Drivers who were the recipients of Perpetual awards received a $250 each, courtesy of Muscle Milk!
All Champions received a GoPro Hero3 plus a $50 gift certificate from Cambrian Go-Karts.
All 2nd place drivers got a Molecule products cleaning kit.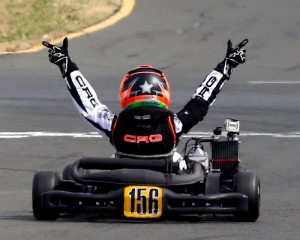 Sanzaru Games Northern Californian Rotax Challenge
Micro Max
Champion: Dustin Salaverria – PS3 and VRP Test and Tune award
2nd Place: Gino Sandoval – Aluminos Racing coaching day
3rd Place: Aiden O'Neill – 4 Saturday Practice days
4th Place: Garrette Randolph Jr. – 2014 Rotax membership
5th Place: Ethan Tavares – Simraceway Practice punch card
Mini Max
Champion: Horatio Fitz-Simon – PSVita and Rotax Jacket
2nd Place: Tomas Mejia – 4 RLOKC race entries
3rd Place: Matteo Sandoval – set of Mojo tires
4th place: Colin Mullan – 4 RLOKC Saturday Practice days
5th Place: Bryson Lew – 2 RLOKC Saturday Practice days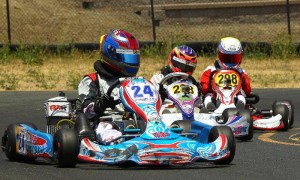 Junior Rotax
Champion: Michael Avansino – Formula 1600 test with Lynx Racing
2nd Place: Jaden Conwright – 4 RLOKC race entries
3rd Place: Enzo Prevost – 5 gallons of fuel from ERC and Aluminos coaching day
Senior Rotax
Champion: Jarrett Lile – Sprint Kart test from Shawn Thomas Racing
2nd Place: Daniel de la Calle – 4 Saturday RLOKC Practice days
3rd Place: Carlos Calderon – Rotax membership
Rotax Masters
Champion: Scott Ripslinger – 4 RLOKC Saturday Practice days
2nd Place: James Dix – set of Mojo Tires
3rd Place: John Breidinger – 5 gallon of ERC fuel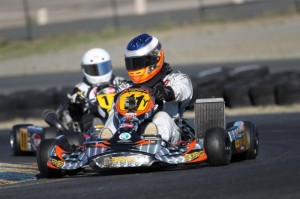 Rotax DD2 Masters
Champion: David Palic
Molecule Karting Championship
Junior TaG
Champion: Joe Morton – 5 gallon of ERC fuel and Hoosier Racing jacket
IAME TaG
Champion: Maxx Marian – set of Hoosier tires and Hoosier Racing jacket
2nd Place: Bryson Guzman – 4 RLOKC race entries
3rd Place: Tazio Ottis – 5 gallons of ERC fuel
80 Masters
Champion: Tom Nelson – 4 RLOKC entries and Hoosier jacket
2nd Place: Roger Cornwall – 4 RLOKC Saturday Practice days
3rd Place: Geoff Provo- 2 RLOKC Saturday Practice days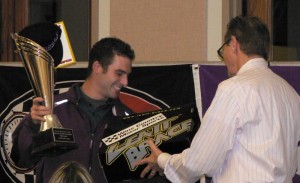 Pro Stock Honda
Champion: Jason Toft – Leatt neck collar and Hoosier Jacket
2nd Place: Nic LeDuc
3rd Place: Daniel Langon
Stock Honda Masters
Champion: Jim Inglebright – Adobe Road wine and Hoosier racing jacket
2nd Place: Jim Kidd – top end kit from HPD Honda
3rd Place: David Arnstein – 4 RLOKC race entries
Junior Stock Honda
Champion: Gino Giglotti – top end kit from HPD Honda and Hoosier racing jacket
EVO Electric karts
Champion: Marcos Ramirez – set of Hoosier tires and Hoosier racing jacket
2nd Place: Richard Hilleman – Molecule kit
3rd Place: Zac Rubenson – 4 RLOKC Saturday Practice days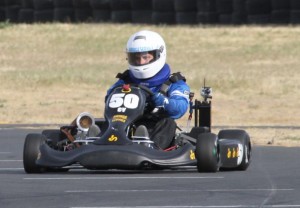 Thanks to all the sponsors who contributed to the awards for this years Red Line Oil Karting Championship Series
Red Line Oil
Molecule products
Sanzaru Games
GoPro cameras
Muscle Milk products
JMJ Motorsports
RES
Hoosier tires
Go Rotax
Cambrian Go-Karts
Aluminos Racing
Shawn Thomas Racing
Lynx Racing
Wine Country Motorsports
SimracewayInternationalKartingCenter
HPD Honda
Flamingo Hotel Resort and Spa
Cameron Karting
For more information go to the RLOKC web-site at RLOKC , you can also contact us by e-mail at organizer
Please follow and like us: