Racing Family – Change is Always Hard
Iowa karter Jeremiah Davis cherishes a reunion with his PKRA family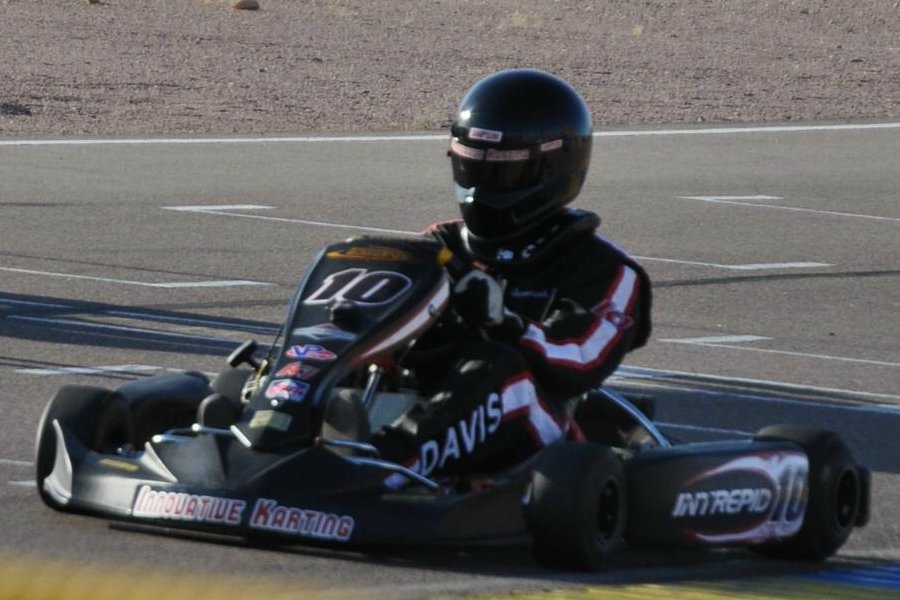 Jeremiah Davis competed at the recent 4-Cycle Super Showdown at PKRA in Arizona
About a year and a half ago, I moved to Phoenix from Iowa, just out of school, and in a place where I knew exactly no one. After about a month in the city, bored out of my mind and missing racing – I had sold my dirt racing equipment before I left, thinking I was done racing – I walked into Innovative Karting's shop one day, and after about five minutes I knew I wasn't done.
What followed was a year unlike any other in my life. It led to what I got to experience over the November 22-24 weekend at the 4-Cycle Super Showdown at Phoenix Kart Racing Association – but we'll get to the how and why in a minute.
Up to that point in my racing endeavors, I had only ever raced with my dad and uncle. We raced dirt tracks of northwest Iowa and southeast South Dakota, without really making lasting friends outside of ourselves. The lack of a consistent track to race at and other circumstances prevented that, though there were all kinds of great people and talented racers we got to compete against.
But what I got when I started racing in Phoenix was a racing family.
Now, I realize that may sound cheesy and hokey, but it's the truth. I was an outsider, someone who'd never raced on asphalt – let alone at PKRA. I didn't have big money or even a trailer in which to get my kart to the track. But despite all that I was welcomed into the fold at PKRA in the budding World Formula class.
I got to know a group of people who simply loved racing and wanted to do as much of it as possible. I got to know a track that provided a simultaneous experience of difficulty and enjoyment in PKRA – a racetrack which will forever be a favorite, no matter where I race going forward. I got to race against some of the most talented drivers I've ever been around, even besting them a time or two.
For most of that, I have Curtis Ruth and everyone involved with Innovative Karting to thank. Curtis and his wife Melissa made me feel at home at their Glendale shop, and gave me an escape from the grind of my job. I can't tell you how many hours I spent just hanging out there, with the likes of Roger Culver, Rich Cordova, Derek Poirier and Bryan and Gary Quattrocchi.
It's hard to describe what exactly it meant to me to have people accept me – a total stranger – like that. It was the most rewarding and fulfilling racing experience of my life, even though I'm sure Curtis would've loved if I spent half as much as I talked while at the shop (kidding, if only a little).
That brings me to the Showdown weekend.
In May of this year, I took a job back home in Iowa. I once again had to sell everything to move, and left all the aforementioned joy I'd found.
But even after I was gone, that racing family stayed in touch. I heard from all of them at some time or another, and was reminded each time that the friends I made weren't temporary. That was set in stone when I came back to race in the Showdown.
The whole weekend was like stepping right back into where I was when I lived in Phoenix. I got to race in a fantastic event – even getting to race in the rain for the first time ever – and was reminded about what I enjoyed so much when I was racing at PKRA on a weekly basis.
Even with some bad luck and frustrating points during the weekend, at no point was I unaware at how lucky I was to have that chance again. Fun seems like such a plain word to describe it, but that's exactly what it was: pure, unadulterated fun.
It's rare to find that, I think. It's rare to have friends who will find you a kart to drive and help you with whatever you need, no matter what.
This isn't a sales pitch for Innovative Karting, or a promotion for those of you reading to shop there – though I would encourage it, as Curtis' advice and products seem to find their way to the front on a consistent basis.
No, it's a wish. A wish for anyone who is thinking about getting involved in karting to do so, and to jump in with both feet. Curtis and his family aren't the only kind and generous people in the sport – not by a long shot – and the more people involved, the greater chance for people to have the experience I did.
So yeah, change is hard. I moved across the country twice, and had to give up racing. Or at least I thought I did. But no matter what changes, I know what's constant: racing, and its ability to bring people together. I love the sport, what it gave me and continues to give me – no matter what's changing in my life.
It's out there for you, I promise. Just head to your track and introduce yourself. You just might find your racing family too.
– Jeremiah Davis
Please follow and like us: