Antonio Serravalle: This Boy Can Drive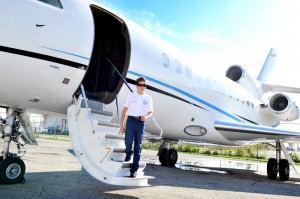 Antonio Serravalle has the potential to become a future F1 driver with the tremendous support of Toronto Financier Marc Wade who took notice of Antonio's outstanding racing abilities this year.     Mr. Wade amongst various business interests was formerly a minority / co-owner of the New Jersey Devils NHL franchise and has an eye for talent when he sees it. Wade believes Antonio will without question become one of the greatest Formula One drivers of all time. Within minutes of observing him on and off the track you sense commonalities that resemble that of Wayne Gretzky, Tiger Woods, Mohammad Ali and Michael Schumacher all rolled into one.
This young boy started racing go- karts as young as 5 years old. Living in Unionville, Ontario, he has travelled around the world showing off his talent with victorious wins including National and International Championships for almost 6 years in a row. Antonio races amongst 50-60 racers within his driving class almost every race. "He's racing against the most skillful racers around the world and yet manages to stay on top," says Antonio's father Peter. Having said this, Antonio is constantly being challenged by his opponents and is still motivated enough to show better results in a race than the last.
Antonio participated in Las Vegas, Nevada where he raced against 80 cadets from around the world. It was a celebratory weekend for the Serravalles as Antonio was the fastest qualifier and showed fastest lap time. The race ended with a 2nd place finish which resulted in a last lap incident causing Antonio to fall behind 1st place.
Antonio accomplished to make a record breaking win in the hardest category in the world- Mini 60 Sienna, Italy for the Italian championship race. Antonio dominated the race from start to finish and won at the age of 9.
The 11 year old racer also won the biggest race in the world for a Rotax Micro Max category when he was only 9 years (2012) during the Florida Winter Tour in Palm Beach, Florida.
Antonio continues to demonstrate great sportsmanship with his fellow drivers as well as professionalism when speaking to officials and other race teams.
Not only has Antonio been exposed through television, City TV's Inside Story, local magazines and local newspapers, he is also gaining recognition globally. Upon victory of the Italian Championship in Sienna, Italy in 2012, Antonio was fortunate enough to be approached by several Formula 1 teams that wish to eventually make him apart of their Junior Development Team.   Antonio had the privilege of meeting Mick Doohan, Former-5 time MotoGP Champion. After watching Antonio's many races since 2012, Doohan states, "Antonio is honestly one of the best young sportsmen I ever came across. I would say his racecraft is almost the best I've seen in karting not just for his age but overall. Antonio's understanding of kart setup is what I believe will take him all the way to F1."
Antonio is fortunate enough to absorb the attention from Toronto Financier, Marc Wade and is committed to extending all of his resources to obtain the ultimate goal. What's next? Wade has chosen to take Antonio under his wing! Marc Wade has shown his generosity by sponsoring Antonio's racing career and hoping to gear towards a triumphant finish at a Formula 1 race in the future. There are many things that Antonio must achieve prior to becoming a potential future F1 driver. Wade has made all resources available and accessible to Antonio as he begins his journey towards being the next Canadian F1 driver. Antonio will need to take the appropriate and imperative steps to make it big. What's in store for Antonio? He will need to focus and strengthen his self-development skills, physical fitness training and expand his education.
Peter Serravalle states, "I'm very proud of Antonio every time he is on the track; he reminds me that this is what he was born to do."
Antonio's father has been training Antonio ever since he stepped a foot into a go-kart. "Primarily, I train my son mentally but in terms of racing skills, he's developed that on his own…naturally. Although Canada has produced more than its share of talented drivers, money counts almost as much as his ability. I'm a strong believer that you can't buy talent."
This young karter has been setting records for the past couple of years. His father's future goals for his son are to stay focused, determined and remain eager to win while on the track. He knows Antonio's got the skill to be successful.
"I was recently told by Mike Wilson (a British driver coach that assisted in training Fernando Alonso and who is currently the F1 Ferrari's top Ace) that he's watched hundreds of kart racers all over the world and thinks that Antonio has incredible talent." Wilson also admits that he's watched the 11 year old race throughout Canada and Europe and said it's hard to race multi categories with different track conditions and always manage to do well like Antonio."
What does Antonio have to say about all this? "There isn't anything else I'd rather do with my time than karting. If I could live in a kart, I would! I'm always working very hard to do my very best at every race and I don't want 2nd or 3rd place. I want to be the best at all the races because I know I'm a very good driver and know how to win."
Mr. Wade had a few words to say about our young driver. "I am delighted to have become a part in Antonio's future in racing; he truly is one of the most gifted athletes I've ever seen. So humble, attentive, focused and simply a pleasure to be around. Without question, he will become Canada's greatest F1 champion."
Antonio will be traveling to Europe and to the USA where he will be looking to obtain world championship titles to add to his current incredible record.
He can be followed at www.antonioserravalle.com or via Facebook or Twitter as Antonio Serravalle.