EKN Trackside: 2013 Rotax Max Challenge Grand Finals – Friday Report
Kirkwood and Rudolph keep pole position heading into Championship Saturday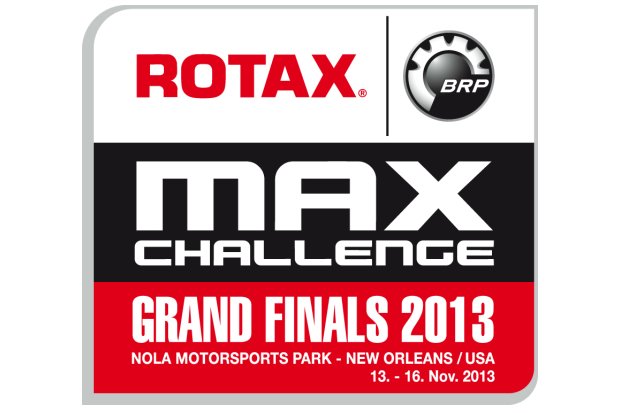 For complete coverage, visit the EKN Event Page and for a recap on the day's action, visit the EKN Paddock Insider – including interviews with a number of the Team USA members.
It was decision day at the Rotax Max Challenge Grand Finals, as Friday was the final day that all 72 drivers in each category would compete, as the four classes were narrowed down to 34 in each division. Rain hit the area for the first time since karts hit the NOLAMotorsportsPark in New Orleans, causing drama in all classes with the third round of heat races and the Second Chance Race taking place.
Team USA continued to run strong, both in the dry and the wet, as 16 of the 24 drivers qualified for Championship Saturday. Kyle Kirkwood and Alan Rudolph will be the first American drivers to start from the pole position in the prefinal for Junior Max and DD2 Master. Nick Neri and Joey Wimsett earned top starting positions for the squad in Senior Max and DD2.
JUNIOR MAX
Juan Manuel Correa – #173
Hometown: Miami, Florida
Mechanic: Yuri Carvalho
Facebook
Start: Group C – Row 4
Heat 3: 3rd (Bvs.C)
Points: 17 (5th)
Notes:
Correa was able to be one of the drivers to select the rain tires for the wet heat race. He drove his way up to sixth, but after penalties, was classified third place. That put him fifth on the grid for Saturday's Prefinal. The United States Rotax Grand Nationals champion will be one of three Team USA drivers starting in the first three rows.
Thomas Issa – #156
Hometown: Kingston, Jamaica
Mechanic: Sam Fugett
Instagram
Start: Group B – Row 2
Heat 3: 2nd (Bvs.C)
Points: 9 (4th)
Notes:
Jamaican Issa has remained consistently good after qualifying sixth overall. Never placing outside the top-five, he fifth in the rain-soaked Bvs.C heat race but was advanced to second after penalties. Issa finished the heat races as the second best driver of Team USA, just one spot ahead of Correa.
Kyle Kirkwood – #171
Hometown: Jupiter, Florida
Mechanic: Cody Johnson
Facebook
Start: Group A – Row 1
Heat 3: 1st (Avs.D)
Points: 4 (1st)
Notes:
After placing runner-up twice yesterday, Kirkwood took advantage of a damp track on slick Mojo tires to showcase his skillset on the world stage. He was able to hold off the field through the opening circuit of the seven-lap race, driving to his first heat win. Kirkwood will retain his pole position into the prefinal, set to be the first of two American do so ever.
Ryan Norberg – #180
Hometown: Orlando, Florida
Mechanic: Robert Bujdoso
Facebook
Start: Group B – Row 13
Heat 3: 22nd (Bvs.C)
Points: 68 (46th)
LCQ: 22nd
Notes:
When the rain came, it looked like Norberg had a chance to make his way forward. One of the driver to make the right move to rain tires, Norberg jumped up the order on the opening lap. Breaking into the top-10, it looked like he was going to continue moving forward. Unfortunately, the right rear hub worked itself loose from the axle, and Norberg was put on the sidelines. Placed into the LCQ and starting 18th, Ryan got a great start. Through the opening few corners, he was up to 10th until contact in turn six sent him into the marbles and grass. That dropped him out of contention for the top-six, ending his event a day early.
Blaine Rocha – #174
Hometown: Oakdale, California
Mechanic: Eric Bartolero
Instagram
Start: Group D – Row 2
Heat 3: 14th (Avs.D)
Points: 40 (20th)
Notes:
Receiving a 10-second penalty after contact in his second heat, Rocha needed a good finish to place him into the top-28. Starting his final heat fourth, Rocha was pushed off line at turn two while running third, dropping him back to 26th. He pushed forward, running some of the quickest lap times to be able to finish 14th. The result would be enough as he was classified 20th in the rankings.
Ashley Rogero – #155
Hometown: Naples, Florida
Mechanic: Jim Rogero
Twitter
Start: Group B – Row 8
Heat 3: 6th (Bvs.C)
Points: 39 (19th)
Notes:
Rogero was able to get wet tires for her third heat, and kept her Energy kart on course during the rainy heat three. Rogero stayed out of trouble and crossed the line ninth, but was placed sixth in the final order. Those three spots helped to qualify her in the top-28, and bypass the LCQ.
Luke Selliken – #172
Hometown: Portland, Oregon
Mechanic: Arie Ouimet
Facebook
Start: Group C – Row 2
Heat 3: 15th (Bvs.C)
Points: 33 (11th)
Notes:
Selliken made the choice to start the heat race on slick tires. Unfortunately, the skies opened and the rain came for the heat race. The Can-Am Rotax Max Challenge champion nursed his kart around the track for seven circuits, and following the penalties, was classified 15th. That put him on the inside of row six for the prefinal.
SENIOR MAX
Phillip Arscott – #260
Hometown: Portland, Oregon
Mechanic: John Arscott
Start: Group B – Row 9
Heat 3: 15th (Bvs.C)
Points: 33 (17th)
Notes:
Normally a great rain racer, Arscott was not on his game during his final heat race. Starting 18th, Arscott moved up early but fell down the order as the race progressed to end up 15th. The result was good enough to keep him in the top-20 overall, putting him on the inside of row nine for the prefinal on Saturday.
Oliver Askew – #272
Hometown: Jupiter, Florida
Mechanic: Gary Carlton
Twitter
Start: Group B – Row 8
Heat 3: 7th (Bvs.C)
Points: 40 (24th)
Notes:
Another great start propelled Askew toward the front of the field in his final heat race. Starting 15th, he was into sixth after the opening circuit. He would lose one spot in the remainder of the 10-lap event to finish seventh and earn a row 12 position for the prefinal.
Sam Beasley – #261
Hometown: Cleveland, Ohio
Mechanic: Ben Beasley
Twitter
Start: Group D – Row 1
Heat 3: 36th (Avs.D)
Points: 54 (30th)
LCQ: DQ
Notes:
Friday was possible the toughest day for Beasley in his karting career. Set to start from outside row one in his third heat race, Sam would never get on track as a loose motor stopped him from taking the track. That classified him 36th and put him in the LCQ. From the familiar outside row one starting position, Beasley bolted away from the field and drove off to the provisional LCQ win. The moment was short-lived as he crossed the scales 1/2 a kilo underweight and was removed from the results.
Jake Craig – #275
Hometown: Mission Viejo, California
Mechanic: Chris Wesson
Facebook
Start: Group A – Row 9
Heat 3: 11th (Avs.D)
Points: 69 (49th)
LCQ: 7th
Notes:
After talking with someone at the Rotax service desk that would listen, Craig was finally able to have his engine looked at after a full day of lost speed. This morning, they discovered the reeds were bad, and replaced them prior to the heat race. Craig drove from 17th to 11th, putting him 21st on the LCQ grid. The new reed cage helped the performance of his Rotax engine. Craig and Palmer hooked up and drove their way forward, reaching the top-10 by lap six of the 10-lap event. Crossing the line ninth, Craig was promoted to seventh in the final result – one short of continuing on with his event.
Nick Neri – #274
Hometown: Palmetto, Florida
Mechanic: Alex Speed
Twitter
Start: Group C – Row 12
Heat 3: 8th (Bvs.C)
Points: 31 (13th)
Notes:
Neri went three for three in solid drives in the heat races, going from the worst qualifier on Team USA to the top driver in the rankings. Starting 24th in his final heat race, the Ocala Gran Prix driver fought his way forward position by position. Earning seven spots on the opening lap, Neri completed the race in the 8th spot. The prefinal will see Neri go from inside row seven.
Andrew Palmer – #276
Hometown: Chicago, Illinois
Mechanic: Justin Stefani
Start: Group C – Row 11
Heat 3: 34th
Points: 77 (59th)
LCQ: 5th
Notes:
A fire was lit under Palmer today. Showing speed in the wet weather warm-up, the joy was cut short as he retired early in the final heat race after the engine shut off. Making the back of the LCQ field, starting 31st, Palmer was 18th after the first lap. From there, he was on a mission and running great lap times while gaining position. At the checkered flag, Palmer was in the seventh position, one spot short of transferring on. With the two penalties in front of him, Palmer earned his first prefinal start at the Rotax Grand Finals after two previous trips.
DD2 MASTERS
Scott Falcone – #461
Hometown: Lone Tree, Colorado
Mechanic: Eric Jones and Benny Small
Facebook
Start: Group B – Row 7
Heat 3: 33rd (Bvs.C)
Points: 48 (29th)
LCQ: 2nd
Notes:
Bad luck struck Falcone on the final heat race as another driver spun out in front of him as the field made their way through turn one. With heavy damage to the front end, Falcone was able to limp his way around for a 33rd place finish. The result placed him in the LCQ by just one point. Starting on the pole position for the Second Chance Race, the KartSport North America driver slotted into the second spot and finished there to transfer into Saturday's prefinal.
Mike Jones – #476
Hometown: Sachse, Texas
Mechanic: Greg Bell
Facebook
Start: Group A – Row 4
Heat 3: 11th (Avs.D)
Points: 18 (6th)
Notes:
Jones mentioned earlier in the week how he wanted to race in the rain. He got his wish, but the result was not what he had hoped. After a good start from seventh, Jones was shuffled back to 11th after 10 laps. Too lean on the carburetor left the engine not running at peak performance as he had no forward bite. Matched with his two top-five finishes yesterday, Jones will go from outside row three in Saturday's prefinal.
Rene Martinelli – #475
Hometown: Tampa, Florida
Mechanic: Carlos 'Tyson' Barbosa
Start: Group A – Row 6
Heat 3: 12th (Avs.D)
Points: 50 (32nd)
LCQ: 3rd
Notes:
Martinelli continues to get his Praga working better and better. Unable to gain any position in the wet heat race, Martinelli was placed fourth on the LCQ grid. Up to third and behind fellow Team USA teammate Falcone, he stayed with his wingman to finish in the qualifying position. He told EKN the kart felt great, and is excited to move forward in tomorrow's prefinal.
Corey Mitchell – #446
Hometown: Sacramento, California
Mechanic: Scott Gordinier
Facebook
Start: Group C – Row 13
Heat 3: 29th (Bvs.C)
Points: 94 (69th)
LCQ: DNQ
Notes:
Mitchell felt like his race pace was improving with each session, and needing a good finish he took to the final heat race on a wet track. Moving forward, Mitchell looked to be on his way to his best finish when he was caught up in a turn two wreck. Classified outside the top-64, Mitchell was sent home early and unable to race in the LCQ.
Alan Rudolph – #460
Hometown: Gilbert, Arizona
Mechanic: Jesse Dunham
Twitter
Start: Group A – Row 1
Heat 3: 1st (Avs.D)
Points: 0 (1st)
Notes:
Rudolph capped a perfect heat race score with a win in the wet Avs.D heat race. Starting alongside Team USA teammate Wang, Rudolph led wire-to-wire and was never challenge. He made history, becoming the first American to win all three heat races in any class, and was one-half of the first 1-2 finish by Team USA members in a heat race. Rudolph will retain the pole position going into the prefinal on Saturday.
Derek Wang – #459
Hometown: Kirkland, Washington
Mechanic: Diego Valverde
Facebook
Start: Group D – Row 1
Heat 3: 2nd (Avs.D)
Points: 44 (20th)
Notes:
Handed a disqualification after his heat one race, Wang needed another good finish in his last heat race. Starting on row one, outside Rudolph, Derek put in a flawless race to end up second. His result put him on row 10 for the prefinal, with plenty of pace to move back up toward the front of the field.
DD2
Mitch Carey – #378
Hometown: Parker, Colorado
Mechanic: Jim Carey
Instagram
Start: Group A – Row 15
Heat 3: 18th (Avs.D)
Points: 77 (55th)
LCQ: 31st
Notes:
The third heat was the last effort Carey had to ensure he would get into the Second Chance Race, to attempt at the six transfer spots to Saturday's action. It was his best performance of the week, gaining 11 positions to place 18th. It put him into the LCQ, where he started 27th. Contact however during the opening lap bent up the tie rods, leaving his CRG un-drivable to continue on.
Daniel Formal – #368
Hometown: Orlando, Florida
Mechanic: Donald Formal
Instagram
Start: Group A – Row 1
Heat 3: 12th (Avs.D)
Points: 16 (7th)
Notes:
Formal went three for three with his starts, but this time it was not as big of a jolt away from the rest of the field. This time, Formal was shuffled into the second spot before the opening circuit was completed. The Advanced Karting driver seemed to be content with running second, until he made a move for the lead on lap nine. He took over the spot into turn one, but then went too deep into turn two, spinning off course. Thankfully, he would not get stuck in the wet grass, and continued on to finish 12th. The result dropped him down the final order, as he will not start the prefinal from row four.
Fritz Leesmann – #371
Hometown: Folsom, California
Mechanic: Ricky Luther
Instagram
Start: Group C – Row 10
Heat 3: 12th (Bvs.C)
Points: 60 (37th)
LCQ: 13th
Notes:
Receiving a new frame after wrecking his original one in heat two, Leesmann went to work on trying to reach the top-28. Starting 20th, he drove up to the 12th position, but it would not be enough as he was placed 9th on the LCQ grid. A rough start with a lot of contact sent Leesmann backwards, as far as 17th. He battled on through the 10 laps, ending up 13th and ending his 2013 RMCGF.
Sean Owens – #377
Hometown: Dallas, Texas
Mechanic: Tom Owens
Facebook
Start: Group C – Row 16
Heat 3: 20th (Bvs.C)
Points: 74 (53rd)
LCQ: 29th
Notes:
Luck was never on the side of Owens all week, but the Texan never gave up. He would gain 12 position in his third heat, but was put 25th on the Second Chance Race grid. Contact put Owens toward the back of the field once again at the start, but the US Rotax Grand Nationals runner-up continued on to finish 29th.
Joey Wimsett – #369
Hometown: Beavercreek, Oregon
Mechanic: Wesley Boswell
Instagram
Start: Group B – Row 6
Heat 3: 4th (Bvs.C)
Points: 14 (4th)
Notes:
Wimsett is having some of his best performances aboard a DD2 machine. A tough qualifying result put him on the sixth row for his heat races. Each time, he managed to fight up to the top five in the heat races on Thursday. Today, it was the same as the CRG-USA driver fought his way to another fourth place finish. Wimsett will start the prefinal as the top American, going from the fourth grid position.