Paddock Insider: 2013 Rotax Max Challenge Grand Finals – Thursday
First rounds of on-track battle set for the day as Team USA hopes to hold onto front of fields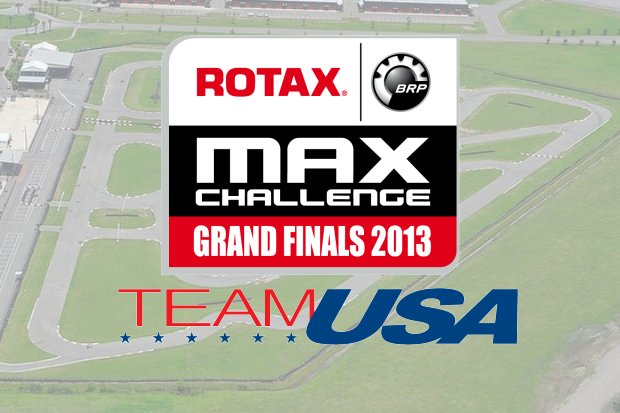 EKN's Paddock Insider is a new Trackside coverage addition, bringing you notes, updates and breaking news as it happens. The article will be a timeline of events as they happen during the 2013 Rotax Max Challenge Grand Finals. The information will not be seen anywhere else, including notes, interviews and photos. For complete coverage, visit the EKN Event Page. Please feel free to comment and discuss our coverage and today's action in the EKN Global Members Discussion area below:
Formal and Wimsett Continue to Lead Team USA DD2 Contingent
Daniel Formal once again gained a huge jump on the field to begin the Avs.C heat race, facing former world champ Pier-Luc Ouellette. Like the first heat, Formal would get caught, this time by two drivers – including Ouellette. The trio fought for the win throughout the 10 laps with Formal crossing the line in second. The rest of Team USA were caught up in a turn two wreck at the start, including Fritz Leesmann, Mitch Carey and Sean Owens. Leesmann pulled off with a broken bumper, while Carey and Owens went on to place 29th and 30th. Joey Wimsett was the lone bullet for Team USA in Bvs.D, as the CRG-USA driver once again fought his way toward the front. Up to fourth after starting 11th, Wimsett got shuffled back to sixth at the halfway mark, and stayed in place until the checkered flag.
Rudolph Pulls Away to Second DD2 Masters Win – Jones, Martinelli, Wang and Falcone in Top-10
Alan Rudolph was able to get a great start from the pole position in the Avs.C heat race. Out to a comfortable lead, he ran consistent times to run unchallenged to his second straight heat race win. Behind him, Mike Jones had his best performance, fighting for the second spot with former world champ Crisitano Morgado. Jones would eventually end up third, with Rene Martinelli in a fight for position all 10 laps, earning just one more spot from where he started to end up 10th. Corey Mitchell was making his way forward until a spin put him at the tail of the field, however, his race pace is getting better. Derek Wang, who found out he was disqualified in the first heat for ignoring the meatball flag, started Bvs.D from outside the front row. Getting shuffled back to fifth, he began to lose more spots until an early wreck in front of him gave him spots back. He would cruise to a fourth place finish. Scott Falcone was up to seventh at one point in the race, looking good, but fell off pace toward the end. He would cross the line in ninth.
Three Drivers in the Top-10 for Senior Max Heat 2 Action
Nick Neri put in another drive to help him make the main event on Saturday, climbing from the 24th position to finish ninth. It was a stellar performance, as he was among the quickest drivers on the track. Andrew Palmer gained positions, jumping from 22nd to 17th, while Jake Craig continues to struggle with engine issues in 34th. Matching his Ocala Gran Prix teammate, Oliver Askew did one better. Starting 16th, he climbed into the top-10 on the opening circuit, moving past outside polesitter Sam Beasley. He eventually got to fifth and ran down the leaders alone as the fastest driver on the track. Once in the lead group, he fought his way to third and nearly pulled off second on the final circuit, but elected to not take a risky chance. Phillip Arscott also improved his position, going from 18th to 10th, just ahead of Beasley as he would end up a disappointing 11th.
Kirkwood and Rocha Place Runner-up in Heat 2 for Junior Max
It was a bad start from the pole position for Kyle Kirkwood, as he fell to fifth on the opening lap of the Avs.C. He was able to work his way forward over the seven laps, placing second to finish the day strong. Juan Manuel Correa and Luke Selliken both had off-track experiences, but managed to drive forward. Correa ended up 10th with Selliken 11th, the second quickest driver on the track. Blaine Rocha started fourth in the Bvs.D race, and got through the opening lap clean. He drove his way to second early and would stay there after seven laps. Jamaican Thomas Issa was right there, placing fourth. Ashley Rogero was caught up at the start, dropping to 26th in the order but fought her way to 20th at the checkered flag with Ryan Norberg in 26th.
Formal and Wimsett Up Front in DD2 with Top-Five Finishes
Daniel Formal, the third Team USA driver to start on the pole position in the event, began with a killer jump to begin the 10-lap Avs.B heat race. Defending champion Ben Cooper was able to run him back down, taking the point away on lap four. The two ran nose-to-tail the rest of the way with Formal second. Joey Wimsett started 12th in the race and put in a stellar run, climbing his way up to fourth after jumping to seventh at the start. In Cvs.D, Fritz Leesmann seemed cautious out on track. He started the race 19th, and finished 15th, taking advantage of two drivers getting together on lap nine. Mitch Carey finished 31st and Sean Owens 24th in their heat races.
Rudolph Holds On for Heat Win, Wang Fights Back to Top-10 in DD2 Masters
It was not an easy one for Alan Rudolph, who started Avs.B on the pole position. He lost the lead at the start, fought his way back into P1, and then ran second until the leader broke a shifter linkage. Rudolph would go on to lead the rest of the race with two others right on his tail. Mike Jones recorded a top five finish after starting seventh. He survived the opening lap incident and ran alone in fifth, moving up to fourth when the previous leader broke. Scott Falcone made up positions, starting 14th and ending up sixth to start the heat races. Rene Martinelli was involved in the opening lap wreck, and ended up 31st at the checkered flag. Trouble struck Derek Wang as well in the Cvs.D heat race. Starting outside of row one, he slotted into position until contact was made in turn two, including two Canadian drivers. That dropped him back to 24th in the order. Putting in a stellar 10-lap performance, he ended up 10th to salvage what could have been a terrible result. Corey Mitchell spun on the opening lap and drove to 33rd.
Arscott and Beasley Run Top-10 in First Round of Senior Max
Phillip Arscott was on the move, swapping the Team USA blue for red suit, following the lead of Nick Neri who was quickest in warm-up. Starting 18th, he drove his way up to the eighth position, earning a solid point race. Oliver Askew started one row ahead of Arscott, and was caught up in the opening lap mess. He was making his way up the order until more contact on the final lap dropped him to 31st. Jake Craig started 17th and finished 25th, racing in a large pack that included Askew. Sam Beasley started on row one for the 10-lap Cvs.D heat race. From the outside of row one, he held second early on, but it was pass or be passed, as he fell all the way back to seventh in the lead group. Both Neri and Andrew Palmer, starting 23rd and 21st, were among those collected in the turn one wreck. Both continued with Neri driving hard to end up 14th. Palmer would finish the race in 26th.
Kirkwood, Issa and Correa Score Top-Five Finishes in Heat 1
Kyle Kirkwood led for the majority of the seven-lap Avs.B heat race for the Junior Max. Starting on pole, he got away cleanly and led until getting passed with three laps to go. He stayed locked onto the leaders bumper, not looking to make any mistakes and finished second. Jamaican Thomas Issa got a clean start from fourth, and at one time ran second but finished fourth. Ashley Rogero started on the outside lane and was shuffled back to 26th on the opening circuit. She showed true grit, driving her way back to 15th on track. Ryan Norberg started 26th, and finished 23rd, racing in a big pack. Luke Selliken and Blaine Rocha started from row two, with Selliken jumping to the lead in turn one. Rocha was shuffled back to P10 while Juan Manuel Correa was up to fourth from seventh after the opening corner mess. Selliken made an error on the exit of turn one, and that opened the door for his rivals to move past and fell to third. He lost space to the leaders, but once they started fighting, it brought him back, along with Correa and Rocha to make a seven-driver lead pack on the closing lap. Selliken did not defend his line into the final corner, and that sent the group three-wide as they made their way to the checkered flag. Correa would end up fourth with Rocha sixth and Selliken seventh.
Let the Racing Begin
With the drivers putting behind the practice and qualifying sessions, it now begins the battle and task to survive and advance in through the heat races. Two rounds are schedule today for each driver, with Avs.B, Cvs.D, Avs.C, Bvs.D races to take place. The wind had died down, but the temperature remains in the 50s this morning as drivers took to the warm-up sessions. Here were the top drivers in warm-up for Team USA, with a number of drivers within the top-10 in each class:
Junior A+B: Ashley Rogero – 57.229 (3rd)
Junior C+D: Juan Manuel Correa – 57.231 (4th)
Senior A+B: Oliver Askew – 55.435 (4th)
Senior C+D: Nick Neri – 55.132 (1st)
DD2 Masters A+B: N/A
DD2 Masters C+D: Derek Wang – 55.493 (8th)
DD2 A+B: N/A
DD2 C+D: Fritz Leesmann – 54.738 (19th)