EKN Exclusive: SKUSA SuperNationals XVII – Preview Program – TaG Master
Nienkotter carries hot hand into SuperNationals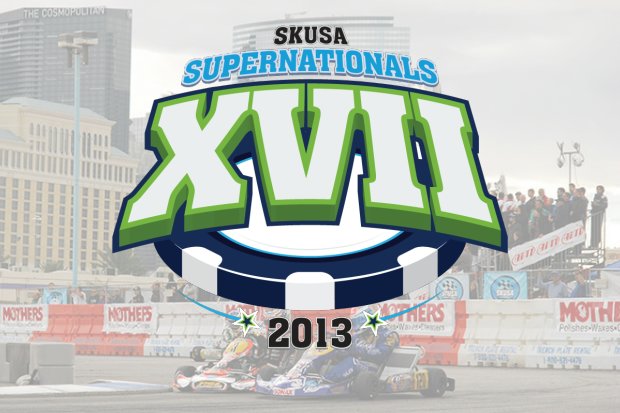 eKartingNews.com, the official online media partner of Superkarts! USA, is proud to present the SKUSA SuperNationals XVII Preview Program. Over the coming days leading up to the November 20-24 event, EKN will preview each of the 11 categories that will close out the 2013 SKUSA Pro Tour while competing for a share of the prize package, worth well over $100,000.
For complete coverage of the SKUSA SuperNationals XVII, visit the EKN Event Page
TaG Master
It is incredibly difficult to claim any particular class to be superior over any other when it comes to the quality of racing at the SuperNationals. That said, if we can go out on a limb, the TaG Master category never disappoints when it comes to providing some of the best racing all week in Las Vegas. The 2012 version of the SuperNationals featured plenty of great racing and many exciting moments for the most seasoned TaG pilots. Through qualifying and all three heat races, no driver stood on top of the chart more than once.  Scott Falcone led the way in timed qualifying, while Billy Cleavelin, Robby Mott and Leonardo Nienkotter all took turns leading the field to the checker in the heat races. Come SuperSunday, it was a very determined Nienkotter who bested all other TaG Master challengers, the Brazilian scoring his third straight SuperNats victory, an unparalleled streak.
So far in 2013, here on American soil, three drivers have stood out in SKUSA Pro Tour competition, bagging wins.  Falcone (Arrow) has been the TaG Master driver to beat, as the Colorado pilot kicked things off at the SpringNationals in Tucson where he scored the win in the first race of the year. Back in his home state in July for the SummerNationals at Grand Junction, Falcone saw the checkers first again to record his second win of the season. The Pro Tour point lead is his reward for this consistency. SpringNats Round #2 race winner and reigning TaG Master Pro Tour champion Paul Bonilla (Tony Kart) sits second entering Vegas after following his victory with a pair of top-fives in Grand Junction. Pennsylvania's Brian McHattie (Exprit) rounds out the top three in the championship chase on the strength of his win in round four, a second place at round three and a third place at round two. All three of these drivers will be gunning for the national #1 plate for 2014 and an invitation into SKUSA's valuable Circle of Champions program.
Podium Predictions: After his impressive drive in 2013 to become the first driver ever to win three consecutive SuperNationals in the same class, Leonardo Nienkotter (Kosmic) is sure to be a threat for the win once again this year. The top three in Pro Tour point standings – Falcone, Bonilla and McHattie – will certainly be near the front once official timed sessions begin in Las Vegas. A pair of teammates worth keeping an eye on will be Russell Karting Specialties' Jim Russell Jr and Chuck Gafrarar, the United States Pro Kart Series Leopard Masters champion. This duo is always in the hunt aboard their Parolin chassis. Phil Giebler Racing's Ethan Wilson (FA), as well as karting veteran Billy Cleavelin (Aluminos) are more than capable of having their names called at the podium celebration Sunday night.
Wildcards: The TaG Masters class is filled just enough 'wild cards' to make podium picking for the class nearly impossible. Oklahoma's Anthony Honeywell (Tony Kart) has looked good so far on the Pro Tour after narrowly missing out on a trip to the podium in round two in Tucson. Rotax Grand National podium finisher Diego Pelosi (FA) is a possible contender, along with two-time provisional SuperNationals winner Kip Foster (Arrow). Over two of the last three years, Foster has been the first to see the checkered flag, but has seen the win removed after he failed tech inspection. Announced earlier this year, Jason Bell (Tony Kart) will join Team Koene USA as he returns to the SuperNationals XVII.  Veteran Larry Fraser will also be present to shake things up and make life difficult for the typical frontrunners, running one of the new Aluminos chassis. Lastly, and interestingly, for SKUSA ProMoto Tour champion and Indy Lights driver Bobby Wilson will be coming to play once again in Las Vegas, making his TaG Master debut.
Karting Cameo: Joining the usual crowd of TaG Master competitors will be a pair of professional motorsports stars in Will Power and Jamie McMurray. SuperNationals XVII will mark NASCAR star Jamie McMurray's first start in the TaG Masters class, although this is certainly not the Daytona 500 champ's first SuperNationals rodeo. IZOD IndyCar Series pilot Will Power will be making his SuperNats debut this year in Las Vegas. The Australian born racer is coming off a successful 2013 Indy Car season that saw him claim victory three times –including the season finale in California – while coming home fourth in the championship tally. Both drivers will run Arrow chassis out of the Kartsport North America tent.
Entry List

| No. | Driver | Team | Chassis | Engine | State | Country |
| --- | --- | --- | --- | --- | --- | --- |
| 1 | Paul Bonilla | Ryan Perry Motorsports | Tony Kart | Vortex ROK TT | CA | USA |
| 01 | Bruno Fusaro | Italian Motors USA / Italkart USA | Italkart | Leopard | MG | BRA |
| 2 | Scott Falcone | Kartsport North America | Arrow | Rotax | CO | USA |
| 3 | Chuck Gafrarar | Russell Karting Specialties | Parolin | Leopard | NC | USA |
| 4f | Brent Lyman | Russell Karting Specialties | Parolin | Leopard | FL | USA |
| 5 | Will Power | Kartsport North America | Arrow | Rotax | NC | AUS |
| 07 | Diego Camodeca | Bordogna Racing | OTK | Leopard | | ARG |
| 9a | Hamish Leighton | Team VemmeKart / Extreme Karting | Vemme | Leopard | VIC | AUS |
| 10c | Jerry Henderson | Baldozier Racing | Tony Kart | Vortex ROK TT | CA | USA |
| 11 | Jamie McMurray | Kartsport North America | FA Kart | Leopard | NC | USA |
| 12y | Larry Fraser | Aluminos | Aluminos | Motori 7 | CA | USA |
| 15m | Jesus Robles | Texas Karts | Tony Kart | Vortex ROK TT | TX | MEX |
| 16y | Federico Aquini | Italcorse America | Italcorse | Leopard | NV | ITA |
| 18f | Jason Bell | Team Koene USA | FA Kart | Rotax | FL | USA |
| 17 | Bobby Wilson | Team Koene USA | FA Kart | Rotax | IN | USA |
| 19c | Billy Cleavelin | Mike Manning Karting | CRG | Motori 7 | CA | USA |
| 20a | Kip Foster | Kartsport North America | Arrow | Vortex ROK TT | WA | AUS |
| 21e | Jim Russell Jr. | Russell Karting Specialties | Parolin | Leopard | MO | USA |
| 23k | Kevin Manning | Mike Manning Karting | MMK | Vortex ROK TT | CA | USA |
| 24b | David Barbosa | Ron White Racing | CRG | Leopard | BM | USA |
| 27q | Don Guilbeault | DRT Racing | DR | Leopard | NH | USA |
| 28a | Eric Andre | | Tony Kart | Rotax | SP | BRA |
| 31y | Paul Hohlbein | Energy Corse America | Energy | Vortex ROK TT | NV | USA |
| 44a | Markenson Marques | J3 Competition | Kosmic | Vortex ROK TT | PR | BRA |
| 45r | Ron Hyde | Italian Motors USA / Italkart USA | Italkart | Leopard | BC | CAN |
| 22 | Rodrigo Alenaz | Bordogna Racing | OTK | Leopard | | ARG |
| 41 | Steve Schiewer | Top Kart USA / Grand Products | Top Kart | Leopard | IN | USA |
| 49y | Ethan Wilson | Phil Giebler Racing | FA Kart | Vortex ROK TT | CA | USA |
| 51y | Carl Freese | Cambrian Go-Karts | Birel | Vortex ROK TT | CA | USA |
| 53 | Tino Donadeli | Top Kart USA / Grand Products | Top Kart | Leopard | PA | ITA |
| 63 | Guido Badaloni | | Vemme | Leopard | | ARG |
| 69r | Dave Kunicki | Team VemmeKart / Extreme Karting | Vemme | Rotax | BC | CAN |
| 76o | Anthony Honeywell | DB Motorsports | Tony Kart | Vortex ROK TT | OK | USA |
| 87 | Sandrei Da Silva | CRG-USA | CRG | Leopard | | BRA |
| 93j | Brian McHattie | DB Motorsports | Kosmic | Vortex ROK TT | OH | USA |
| 121 | Leonardo Nienkotter | J3 Competition | Kosmic | Vortex ROK TT | SC | BRA |
| 321 | Francisco Marques | | Tony Kart | Motori 7 | DF | BRA |
| 111m | Salvador Bortoni | Bortoni Motorsports | CRG | Rotax | Monterrey | MEX |
| 127y | Mirko Mizzoni | Italcorse America | Italcorse | Leopard | NV | ITA |
| 141z | Kurt Fisher | Italian Motors USA / Italkart USA | Italkart | Leopard | WA | USA |
| 155p | Hector Alvarez | Champion Racing | Intrepid | Vortex ROK TT | PR | USA |
| 199z | Dave Lehmann | Rolison Performance Group (RPG) | Velox | Motori 7 | WA | USA |
| 492o | Gary Butler | Chanpion Racing | Intrepid | Vortex ROK TT | OK | USA |
| 622c | Diego Pelosi | Orsolon Racing | FA Kart | Vortex ROK TT | CA | BRA |
| 777n | Tom Gerstner | Mike Manning Karting | CRG | Vortex ROK TT | NY | USA |