EKN Exclusive: SKUSA SuperNationals XVII – Preview Program – TaG Junior
Stout field of young talent to decide fifth different winner in five years at SuperNats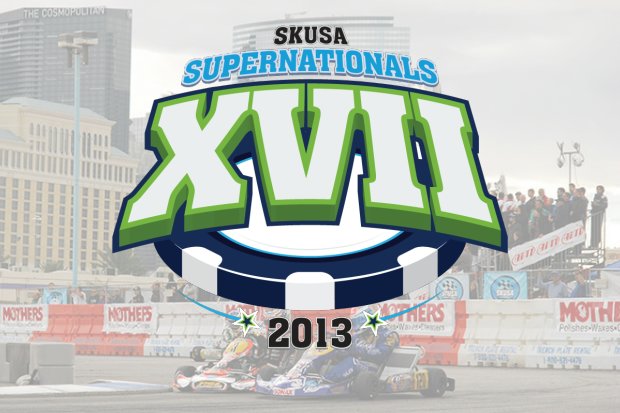 eKartingNews.com, the official online media partner of Superkarts! USA, is proud to present the SKUSA SuperNationals XVII Preview Program. Over the coming days leading up to the November 20-24 event, EKN will preview each of the 11 categories that will close out the 2013 SKUSA Pro Tour while competing for a share of the prize package, worth well over $100,000.
For complete coverage of the SKUSA SuperNationals XVII, visit the EKN Event Page
TaG Junior
Each and every year, the TaG Junior division provides excitement during each lap around the SuperNationals circuit. Over 60 drivers will battle for the victory on SuperSunday this season, and with five different winners in five  years, this year will see another first time victor, as last year's champion Lance Stroll is no longer a Junior driver. All five winners have  been drivers from outside the United States as well.
One question will be, is this the year that an American earns the victory? The second: who will win the SKUSA Pro Tour championship, which is also up for grabs?  Going into Las Vegas, four drivers sit within 70 points of the lead when factoring in the drop race. Blaine Rocha (Kosmic) has accumulated the most total points after four rounds, but his Rolison Performance Group teammate Austin Versteeg (Kosmic) holds the advantage by five points when counting the drop. Luke Selliken (Kosmic) makes it three RPG drivers within 75 points while KartSport North America's Davey Manthei Jr. (Arrow) has the chance to break up the party as well. Five others remain in the chase mathematically, including Yurik Carvalho (Italkart), double-duty driver Carter Williams (FA Kart), Nick Ramirez (Top Kart), Noah Grey (FA Kart) and Emerson Reed (Top Kart).
Podium Predictions: Seriously, if you look at this entry list, selecting five drivers to finish on the podium is very difficult to do. A number of the entrants have the skill and preparation to be among the contenders and top finishers come SuperSunday, but 'lady luck' can easily propel someone we may not see or know into the mix. Selliken and former SKUSA TaG Cadet champion Colton Herta stood on the podium last year. Herta's time away from karts while working his way into the junior open wheel ranks may hamper his Vegas performance, but the talented second generation driver is not one to shy away from a challenge. The four driver racing for the Pro Tour title are podium contenders as well, but not always do we see championship drivers end with race day hardware in Vegas. Former SuperNats winners Anthony Gangi Jr. (Tony Kart) and Logan Sargeant (Tony Kart) are always contenders, and may add a second victory to their CV. Current US Rotax Grand Nationals champ Juan Manuel Correa (Tony Kart) is also another big name to watch throughout the event.
Wildcards: A number of non-Pro Tour competitors, including a 1/3 coming from outside North America, could be in the mix come SuperSunday. Coming from the east coast, Franklin Motorsports/Merlin driver Brandon Lemke (Merlin) and Top Kart USA's Zach Holden are two young drivers making their TaG Junior debuts. Both are multi-time Cadet champions in Yamaha, Komet and Comer competition, and have shown to be fearless when faced with a challenge. Mike Doty Racing has two drivers that have improved throughout the season – Austin McCusker and Tazio Torregiani. Piloting the Haase chassis, both could be among the contenders.
Entry List

| No. | Driver | Team | Chassis | State | Country |
| --- | --- | --- | --- | --- | --- |
| 00 | Devlin DeFrancesco | DeFrancesco Racing (DFR) | Tony Kart | ON | CAN |
| 01 | Brandon Lemke | Merlin USA / Franklin Motorsports | Merlin | WI | USA |
| 1 | Luke Selliken | Rolison Performance Group (RPG) | Kosmic | OR | USA |
| 2 | Carter Williams | Phil Giebler Racing | FA Kart | CA | USA |
| 06 | Austin McCusker | Mike Doty Racing | Haase | NY | USA |
| 07n | Anthony Gangi Jr. | GT7 Motorsports | Tony Kart | NY | USA |
| 7 | Josh Early | Top Kart USA / Grand Products | Top Kart | CA | USA |
| 9z | Kyle Wick | Rolison Performance Group (RPG) | Kosmic | WA | USA |
| 12c | Nathan Seegrist | Mack Motorsports | Tony Kart | CA | USA |
| 17y | Zack Dante | DRT Racing | DR | CA | USA |
| 20 | Ivan Nosov | | Praga | | RUS |
| 21 | Sasha Brun-Wibaux | Checkered Motorsports | PCR | FL | USA |
| 21t | Austin Osborne | Leadfoot Motorsports | Tony Kart | TX | USA |
| 22a | Nicolas Dapero | Bordogna Racing | OTK | FL | ARG |
| 22y | Royal McKee | | Tony Kart | CA | USA |
| 23 | Gustavo Lopes | | Tony Kart | DF | BRA |
| 24y | Michael Avansino | VRP Racing | Energy | CA | USA |
| 26c | Colton Herta | ART GP America | ART GP | CA | USA |
| 27c | Zach Arthur | Mack Motorsports | Arrow | CA | USA |
| 31y | Joey Paonessa | Nash Motorsportz | Tony Kart | NV | USA |
| 33 | Juan Vieira | OTK USA / Orlando Kart Center (OKC) | CRG | SP | BRA |
| 34c | Christian Brooks | Nash Motorsportz | Tony Kart | CA | USA |
| 40 | Kurt Kostecki | | Tony Kart | | AUS |
| 41j | Braden Eves | J3 Competition | Tony Kart | OH | USA |
| 42z | Davey Manthei Jr. | Kartsport North America | Arrow | WA | USA |
| 45 | Nazareno Moscetta | | Vemme | | ARG |
| 46 | Mauro Auricchio | Top Kart USA / Grand Products | Top Kart | PA | BRA |
| 51z | Jake Preston | Phil Giebler Racing | FA Kart | WA | USA |
| 55 | Luiz Branquinho | Italian Motors USA / Italkart USA | Italkart | GO | BRA |
| 56 | Jake Kostecki | | Tony Kart | | AUS |
| 63y | Saundra Lynn Kirby | 2Wild Karting | Tony Kart | NV | USA |
| 68 | Juan Correa | VMotorsport | Tony Kart | FL | USA |
| 70q | Tazio Torregiani | Mike Doty Racing | Haase | CT | USA |
| 77u | Austin Versteeg | Rolison Performance Group (RPG) | Kosmic | UT | USA |
| 79j | David Malukas | Top Kart USA / Grand Products | Top Kart | IL | USA |
| 81c | Justice Lepe | Nash Motorsportz | Tony Kart | CA | USA |
| 83c | Nick Ramirez | Top Kart USA / Grand Products | Top Kart | CA | USA |
| 90r | Jordan Redlin | PSL Karting | CRG | BC | CAN |
| 95a | Yurik Carvalho | Italian Motors USA / Italkart USA | Italkart | WA | BRA |
| 96a | Luis Leeds | Kartsport North America | Arrow | VIC | AUS |
| 97b | Tanner Wattenbarger | Top Kart USA / Grand Products | Top Kart | CA | USA |
| 98y | Phillippe Denes | ART GP America | ART GP | CA | USA |
| 92 | Christian Munoz | VMotorsport | Tony Kart | FL | COL |
| 97 | Denis Mavlanov | Top Kart USA / Grand Products | Top Kart | PA | RUS |
| 100 | Isaac Antabi | | Kosmic | | VEN |
| 106c | Anthony Sawyer | | Tony Kart | CA | USA |
| 110 | Darryl Wenas | | Tony Kart | | IDN |
| 111x | Yufeng Luo | 2Wild Karting | Tony Kart | CA | CHN |
| 118 | Vinicius Papareli | Italian Motors USA / Italkart USA | Italkart | SP | BRA |
| 121a | Ruben Grillet | Ruben Grillet Racing | Tony Kart | FL | VEN |
| 146 | Lucas Caminos | | AM | | ARG |
| 209y | Blaine Rocha | Rolison Performance Group (RPG) | Kosmic | CA | USA |
| 213y | Blake Milton | | Energy | CA | USA |
| 222f | Sebastian Sierra | Bordogna Racing | OTK | FL | USA |
| 222j | Zach Holden | Top Kart USA / Grand Products | Top Kart | IN | USA |
| 316z | Sting Ray Robb | Rolison Performance Group (RPG) | Tony Kart | OR | USA |
| 324x | Noah Grey | Phil Giebler Racing | Kosmic | CA | USA |
| 424m | Juan Gonzales | | Praga | | MEX |
| 442y | Callum Smith | | Energy | | AUS |
| 524 | Logan Sargeant | Sargeant Motorsports | Tony Kart | FL | USA |
| 568 | Javier Gonzales | Advanced Karting | Tony Kart | FL | MEX |
| 777 | Marcelo Costa | | CRG | | BRA |
| 888c | Hannah Grisham | Mack Motorsports | Arrow | CA | USA |
| 911 | Pedro Sival | Praga North America | Praga | | BRA |