Morning Coffee: Tuesday – November 12
SuperNationals - Continued Growth in Las Vegas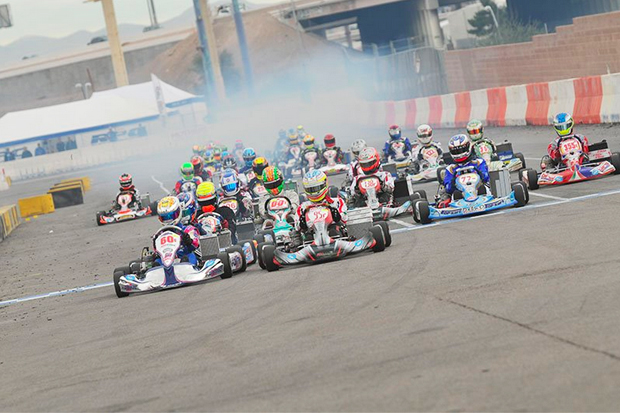 The evolution of the SKUSA SuperNationals has provided American karting with an event that boasts full fields across the board
(Photo: Todd McCall - otp.ca)
I had a great chat with SKUSA's Tom Kutscher last week while we were going over our live audio broadcast plans for this year's SuperNationals.  We'll once again be streaming my trackside play-by-play from Las Vegas through our EKN Live page, bringing you all the action for the sport's biggest event.  Tom's really excited about this year's race, and the almost guarantee that it will top what was once an unimaginable entry total.  I can't blame him.  With over 600 drivers now anticipated for the race, this will be the largest event that North America has seen in many, many years.  We'll also have a brand new EKN Live platform for the race, which mirrors the new site design, and will include a couple of new features as well.  More on that in a future 'Morning Coffee'.
I've been fortunate to have been on the microphone for all of the first 16 SuperNationals, and it's been thrilling to watch the continued growth of the event as it worked through the up-and-downs of four different owners and managers.  In the early days, back in the late 90s, we thought were we doing something special, dragging some 150+ drivers to the Las Vegas desert for an annual showdown.  And we were indeed building something 'special', as those were incredible times, back when shifterkart racing was more 'outlaw' than the polished category it is today. For me, having been there through the race's genesis, it's a little overwhelming to see the sheer number of drivers that the SuperNats is now attracting.   Back in 2000 and 2001, we enjoyed some huge fields in the Formula S2 shifter class when the event was run out of the city at Las Vegas Karting Center.  This category was the original Semi-Pro 125cc shifter class, and early in that decade, we pulled over 70 drivers for what was a gearbox-only show.  It was massive for the time, but I don't think any of us could have dreamt about how big it would become.
Fast-forward to this year's version – circa 2013 – and 70+ drivers will be the norm.  As it stands right now, at least three classes will top the 80-entry mark and one other has been capped at 44 drivers (TaG Master), hitting the limit less than 24 hours after registration had opened.  The sheer stature of the event has grown in parallel with the precision of its management, which is a thing of beauty.  I strongly believe that the combination of SKUSA's passion for the sport and their focus on customer service has been the key to this steady growth and stability.
This type of positive momentum is key for karting right now, as it claws its way out of the damage caused by the country's recent economic recession.  This is an incredible month for the sport.  As we now ready ourselves to dive into the remarkable Rotax Grand Finals in New Orleans this week, with the knowledge that we're following it up with the SuperNationals in Las Vegas next week, I can't help but think how great an end that this has been to a strong season.  Ideally, we'll all keep this momentum rolling into 2014.