Carlton Returns Once Again for SKUSA SuperNationals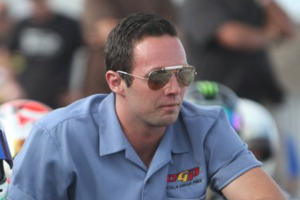 Gary Carlton will jump from an instructor's role back into the driver's seat and seek a return to the top of the class in this year's edition of the SKUSA SuperNationals.
Carlton will be competing in the familiar KZ2 category where he won the championship in 2006. Although the category is a very familiar one for the seasoned driver and experienced teacher, he will enter this year's event with a brand new team, TB Kart S.r.L/Cat 5 Motorsports. Carlton will pilot a TB Kart S55 chassis powered by a factory-prepped Modena KK1 Engine.
Although this is the first time the factory team TB Kart S.r.L/Cat 5 Motorsports will take part in the SKUSA SuperNationals, both the team and driver are gunning for a podium finish.
"Of course I'm very excited to be in the seat for this year's edition of the SuperNats," Carlton said. "It is an event everyone in the karting world wants to be a part of and I can't thank Farshad Bagheri and Enea Brenna, along with the rest of the TB/Cat 5/Modena team, enough for putting their trust in me. As I always do I will be giving 100 percent to give them the best results possible."
Although the chassis and engine package will be new for Carlton on the famed Rio Hotel circuit, there will be a familiar face helping him prepare the kart. His long time friend and past mechanic Mattia Madami will be at Carlton's side turning the wrenches.
Born in South Africa, raised in Italy and now living in Australia, Madami has worked at the top level of karting for many years and is considered one of the industry's best.
"Having Mattia as my mechanic at this event is huge for me," Carlton said. "He really understands what I need as a driver and what settings work best for my style of driving. He has helped me grow as a person over the years we have worked together and is someone I have always looked up too. It's going to be a great working together once again."
Carlton knows building a successful kart team and performing at a high level in the world's biggest races takes dedicated teamwork and willing sponsors.
"A huge thank you has to go out to Jerry and Becky Brown from TheHolsterStore.com, Randy and Dianne Neal from Neal Trucking, Brett King from Brett King Design, Tim and Todd Ulmen from Playthings Racing, Sheldon O'Connell from Oakley, Bell Helmets, Go Pro, -273 Clothing, Dave Davies, and Ocala Gran Prix. There are no words that can express how thankful I am for the support over the years. Could not do this without all of you. Thank you," Carlton added.