4-Cycle Super Showdown presented by Briggs & Stratton Set for November 22-24
PKRA facility in Arizona to welcome World Formula and LO 206 racers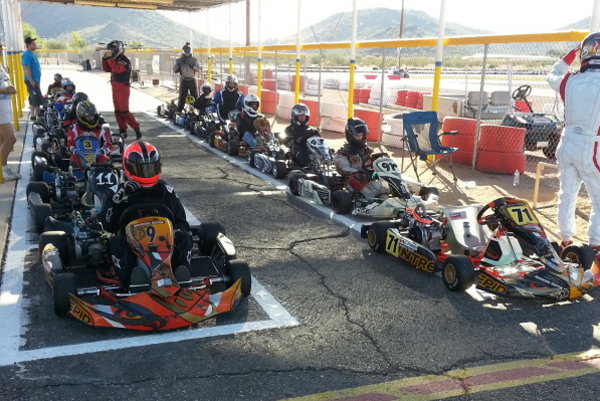 World Formula and LO 206 racers will be welcomed to PKRA on November 22-24 for the 4-Cycle Super Showdown
The first annual 4-Cycle Super Showdown presented by Briggs & Stratton is set for the Phoenix Kart Racing Association facility in Glendale, Arizona. On November 22-24, an over $8,000 prize purse will be awarded to five 4-cycle categories competing around the Formula K Raceway circuit. The event is expected to see drivers from all over the country, from California, up to Oregon and Washington, and as far away as Iowa and Minnesota. Interest has sprung from Canada as well.
"We plan to create an event that for years to come," stated Curtis Ruth of Innovative Karting – one of the partners for the inaugural 4-Cycle Super Showdown. "Our goal is to harness the most grassroots form of karting, promoting low-cost domestic 4-cycle engines produced by Briggs & Stratton. The World Formula and LO 206 concepts provide competitive and exciting racing, both for the beginner and the veterans of the sport."
The format will include three World Formula (Medium, Heavy and Junior) classes with two LO 206 divisions (Senior and Cadet) – following IKF rules with MS98 fuel available at the track. MG HZ, Bridgestone YLC, or Burris 55 tire compounds are permitted, with only one set utilized for both days of racing. Racing will be plentiful, as six heat races are scheduled for all five categories – which will include 90 laps of racing in addition to 90 minutes of on-track practice time available. The opening heat grid will be based on first registered to last registered, so the first entry turned in will start from the pole position. Online registration opens November 2 at Noon. Each heat race will be longer and worth more points then the previous heat. Points accumulated determine the grid for each race, with the event winner determined by the driver with the most points over the six heat races.
"Our pre-entry process sets the grid for the opening heat races, much like many of the road races around the country," continued Ruth. "We will be updating daily the entry list as it builds, in efforts to help grow excitement even more as the event draws closer. We have secured sponsors from outside and inside the karting industry and look for this to be a great weekend of kart racing."
Pre-registration fee of $150 before November 22 for the first class, with $135 for a second before the online registration deadline. At-track entry fee will be $200 for first class, $175 for second class. Friday practice is $50 for online entry, or $75 at track. Other fees and rules can be found at the PKRA website.