Event News: Will Frank Memorial Race
Karting icon's race held at Tennessee state fairgrounds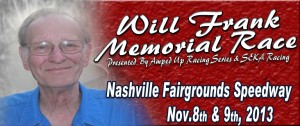 If kart racing is anything like it was on October 19, 2013 during the KartWarehouseUSA.com Fall Classic at the storied Nashville State Fairgrounds Speedway, get ready for some exciting racing for the season finale Nov. 9 at the Speedway. The Amped Up Racing Series and SEKA Racing's finale will pay tribute to Will Frank, a lifelong Kart racer, who lost his battle with cancer May 3,2012 at his home in Nashville, Tenn.
Frank, the District 5 trustee for WKA and supporter of many forms of karting, including dirt, sprint and road racing, would have been proud of the Fall Classic racing. None more so than Chad Lee's victory in the Shifter class on the nine-turn half-mile road course. Lee of Hanceville, Ala, who started in last place, only led the last 10 feet of the race. The reason for his last-place start was he did not finish his heat race after leading it. His motor broke forcing him to put a new motor in his Kart for the feature. He also won the class feature in the series opener Sept. 14, the inaugural Music City Grand Prix.
Another exciting feature race was the Pro Clone Medium where outside polesitter Luis Garcia of Chatsworth, Ga., a two-feature winner at the Music City Grand Prix, prevailed. Garcia passed race-leader and polesitter Mike Curran of Murfreesboro, Tenn., about midway in the feature.
Curran said his Kart ran well during the practice session the day prior and in the heat race, which he won. "But for the feature the kart got very tight and I could only hold off Garcia for awhile then he got by me when I pushed out to wide," said Curran. "I was able to run him back down at the end but I just didn't have enough to get past him."
Other feature race winners were Stuart Towry in the Pro Mix feature on the oval track, Noah Scott in the Clone Junior and Charles Adams of Nashville in the 4-cycle outlaw feature.
A special award will be presented to the family of Will Frank at the drivers meeting on November 9.