EKN Trackside: 10th Annual RoboPong 200 – Preview
Racers set to battle for 200 laps at New Castle Motorsports Park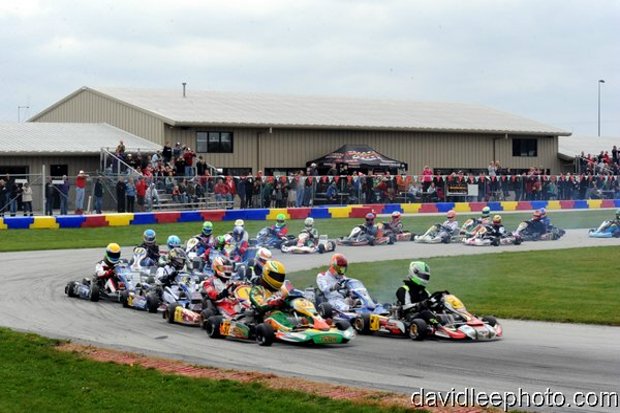 Over 40 teams will battle for 200 laps around the 1-mile New Castle Motorsports Park circuit
There is no question that racers who excel in the sport are always looking for the next feat to accomplish. One victory that racers covet for the past 10 years now is to outrun and outlast their competition at the RoboPong 200 event at New CastleMotorsportsPark. The challenging 200-lap TaG endurance race is set for this chilly weekend in Indiana, set to battle around the popular 1-mile circuit owned by former IndyCar driver and 24 Hours of Daytona winner Mark Dismore. Roughly 50 entries from across the continent will battle Sunday, all fighting for a piece of the $20,000 cash purse and to etch their names into the side of the Dan Wheldon Cup.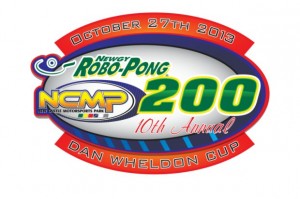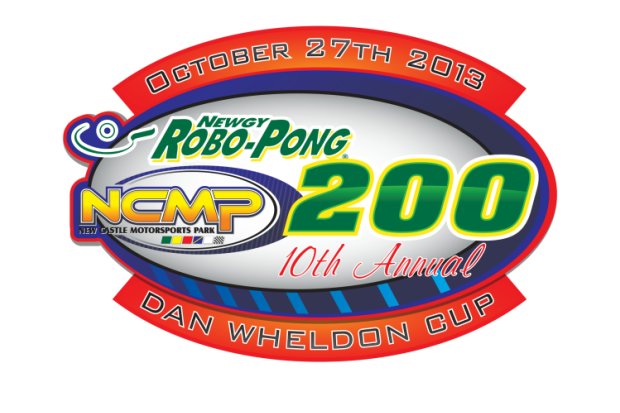 The purse will award the top six teams, with $10,000 going to winning team. Bridgestone, the official tire of the RoboPong 200, will award teams finishing sixth through 10th a new set of tires. The Yamaha support races will add in another $18,000 divided among the three categories, including a new set of tires for sixth through 10th in each class. Also for the Yamaha divisions, L&T Clutches, Horstman Clutches, Tomar Clutches and Patriot Clutches will give away product with random drawings for sixth through 10th place finishers in each class, making the event total prize purse nearing the $40,000 mark.
Last year's event continued the drama that unfolds each and every RoboPong 200. The final pit stop in the grueling 200-lap battle gave Sam Beasley and Jacob Donald the lead and victory, claiming the $10,000 check. DRT Racing's Jimmy Simpson and Robby Seward led going into the pit stops, but trouble with a tire change cost them valuable time on pit land and the victory, finishing 22 seconds behind. The top two teams were the only karts on the lead lap with Andy Dunne/Brennan Harrington placing third, Will Owen/Derek Dignan – both RoboPong rookies – were fourth and gave KartSport North America a second straight year with two teams on the podium. Rounding out the top-five was Russell Karting Specialties entry with Jim Russell Jr. and Joel Jens behind the wheel.
Many of the same contenders will return in 2013, including one portion of every winning team aside from the 2006 victors Paulie Harraka and Ricky Rudd. Last year's victors will see just one half present this weekend. Beasley is set on making his fourth trip to the Rotax Grand Finals his best yet, and elected to sit out the RoboPong this year to prepare for the 'Olympics of Karting' in just two weeks down in New Orleans. Donald is back to defend the crown, bringing on a rookie to the RoboPong – Roger Ralston – under the KartSport North America tent which will field three teams this year aboard the new Arrow X3 chassis. Dignan is joined by team manager Eric Jones while recent IndyCar winner Will Power is set to partner up with former karting star and NASCAR Truck Series driver Dusty Davis. Power will make his third RoboPong start, placing a best fourth back in 2010 when teamed up with Simon Pagenaud.
Each year, Simpson's team is among the quickest in qualifying and always in the hunt, yet have come away not scoring a victory. In 2008, he saw the win taken away following a post-race penalty for an on-track issue. Last year, a pit stop took them out of the lead. This year, the New Castle regular is teaming up with an old friend – Conor Daly. The two spent many years racing against one another throughout their karting careers, and now partner up for the RoboPong for the first time. 2011 co-winner and IndyCar driver Josef Newgarden returns for another RoboPong, teaming up again with Mark Dismore Jr. After winning with Dismore Senior, the NCMP owner retired – for now – leaving Newgarden to pick up the former two-time RoboPong winner. Dismore Jr. won the opening two events, 2004 with Adam Rovazzini and 2005 with the late Dan Wheldon. Mechanical issues have plagued Dismore year after year, but this could be the year all the gremlins have been scared away.
Adding to the list of IndyCar drivers include 2010 winner Jay Howard and 2009 winner Ed Carpenter. Howard will team up with his co-winner Bill McLaughlin Jr. under the Team Top Kart USA squad, who will field two karts with three drivers. The third is 2007 winner Christopher Larson, making his return to the RoboPong since 2008. Carpenter is back with co-winner Nathan O'Rourke – chief engineer at Sarah Fisher Hartman Racing. 2008 winner Billy Lewis welcomes a new partner for the RoboPong, WKA front-runner Kyle Smith.
Other IndyCar drivers include Simona de Silvestro making her first RoboPong on the only female team with karter Hanna Zellers. Also on the entry list include James Davison and Martin Plowman. The Mazda Road to Indy program is also well represented with drivers Anders Krohn, Stefan Wilson, Matthew DiLeo, and Brandon Newey. Also on the list is newly crowned Firestone IndyLights champion Sage Karam and vice-champion Gabby Chaves. Karam, a multi-time Cadet title winner back in his karting days, has a number of victories on the New Castle circuit but will make his first RoboPong start. Chaves, the 2012 SKUSA SuperNationals TaG Senior winner, has a stellar karting career as well. The two will partner up with local manufacture iKart for the weekend.
New for the 2013 RoboPong 200 is the rule allowing an entry to be just one driver. The 'ironman' contest sees three drivers stepping up to the challenge of a single racer going the 200-lap distance – Jim Russell Jr., Sam Chastain, and Tyson Catron. Russell told EKN he is going for the total ironman experience, completing his own pit stops solo with no help.
In 2012, New Castle Motorsports Park added Yamaha support races to help fill up time during the weekend and give young racers a chance to experience the thrill and excitement of being part of the RoboPong 200. The success has lead to the addition of a Yamaha Senior category, putting the total to three classes competing for $6,000 purse each. The Yamaha Senior field is growing as the event draws closer, with a number of local drivers taking part. NCMP regulars Sam Cate, Camden Speth and Michael Goodyear will be among the contenders, including Top Kart USA's Blake Deister, KartSport North America's Gresham Wagner making his Senior debut. With NCMP allowing racers to compete in multiple classes per their age, Wagner is able to race in both the Senior and Junior divisions. The Junior field is already at 25 drivers, with a number of top names in the field. Top Kart's Zach Holden and Emerson Reed will pull double duty, racing both the Yamaha and RoboPong event together. Brandon Lemke won last year's Yamaha Sportsman race, and plans on doing both Junior and Sportsman. The Sportsman division is up to 30 drivers, with many of the top Midwest young pilots taking part.
Saturday, between official practice and qualifying sessions, the first annual Dan Wheldon Memorial Pro-Am Karting Challenge. The two-hour race and day's event will benefit the Alzheimer's Association, a cause that Wheldon fought to raise awareness following his mother's diagnoses with the illness in 2008. Dan's widow Susie Wheldon has put together a star-studded lineup of friends and family, making up 13 four-driver teams to race for two-hours on the NCMP circuit. Autograph session as well as a silent auction will take place, with all proceeds going toward the Alzheimer's Association.
eKartingNews.com will have complete trackside coverage throughout the event. Paddock Insider will begin Friday afternoon as teams spend the day practicing around the 1-mile circuit, along with any late breaking news on the Official Forum Thread, Facebook, and Twitter. Watch for photos on Instagram, as well as the Official Starting Grid qualifying report, including photos of each team and results, and race report Sunday night.
| No. | Team | Chassis | Engine | Driver One | Driver Two | Driver Three | Driver Four |
| --- | --- | --- | --- | --- | --- | --- | --- |
| 0.4 | Orion Racing | Birel | Leopard | Jimmy Tennill | | | |
| 0.8 | Franklin Motorsports "FMS" | Tony Kart | Leopard | Colton Ramsey | Kyle Kalish | | |
| 4 | Goodyear – Cate Racing | Birel | Leopard | Michael Goodyear | Sam Cate | | |
| 7 | CometKartSales.com | FA Kart | Leopard | Mark Dismore Jr. | Josef Newgarden | | |
| 8 | I-kart Factory Racing | iKart | Leopard | Sage Karam | Gabby Chaves | | |
| 10 | Durrett Racing Group | Tony Kart | Leopard | Davis Durrett | Ayla Agren | | |
| 11 | Lewis/Smith/Comet Kart Sales Racing | Arrow | Leopard | Billy Lewis | Kyle Smith | | |
| 12 | KartSport Team AMR 1 | Arrow | Rotax | Dusty Davis | Will Power | | |
| 13 | Muffin Patrol | Praga | Rotax | Steven Szigeti | Zachary Claman De Melo | | |
| 14 | Team HAAS | DR | Leopard | Brandon Cross | Michael Busse | Tim Bannon | Stephen Davis |
| 16 | Catron Racing | Arrow | Leopard | Tyson Catron | | | |
| 19 | ProKART Indoor | Arrow | IAME | Jordan Bernloehr | Steven Arens | | |
| 20 | Ed Carpenter Racing | Arrow | Leopard | Ed Carpenter | Nathan O'Rourke | | |
| 21 | Simpson Racing | DR | Leopard | Jimmy Simpson | Conor Daly | | |
| 23 | Gabriel-Newey Racing | Tony Kart | Leopard | Mick Gabriel | Brandon Newey | | |
| 25 | Conlin & Schultz | Birel | Rotax | Alex Conlin | Chris Schultz | | |
| 27 | Chastain Motorports | Tony Kart | Rotax | Sam Chastain | | | |
| 30 | Free Spirit Racing | Arrow | Leopard | Jacob Knueven | Jared Thomas | | |
| 31 | KartSport Team AMR 2 | Arrow | Rotax | Roger Ralston | Jacob Donald | | |
| 34 | KartSport Team AMR 3 | Arrow | Leopard | Derek Dignan | Eric Jones | | |
| 38 | Full Throttle Indoor Karting/OKR | Birel | Leopard | Dylan Cradlebaugh | Randy Wells | | |
| 41 | Barnes Racing | Arrow | Leopard | Derrick Barnes | Chandler Horton | | |
| 42 | Bailey Ebaugh Motorsports | Zanardi | Leopard | Justin Carey | Martin Plowman | Mark Plowman | |
| 44 | Kartwerks Praga | Praga | X30 | Andy Schlosser | Matthew DiLeo | | |
| 46 | APPCO Racing | Tony Kart | Leopard | Cody Gardner | Dan Stempfley | | |
| 52 | Russell Karting 2 | Parolin | Leopard | James Russell | Aaron Telitz | | |
| 54 | Out There Racing | Tony Kart | Leopard | Clay Settles | Camden Speth | | |
| 56 | Top Kart USA 1 | Top Kart | Rotax | Bill McLaughlin Jr. | Chris Larson | Jay Howard | |
| 57 | Top Kart USA 1A | Top Kart | Rotax | Bill McLaughlin Jr. | Chris Larson | Jay Howard | |
| 60 | Davey Hamilton Racing/IRS | Tony Kart | Rotax | Davey Hamilton Jr. | Logan Gomez | | |
| 77 | Lockhart-Cox Racing | Birel | Leopard | Josh Cox | Andrew Edwards | Steven Kilsdonk | Josh Lockhart |
| 78 | Pink Ribbon Racing | Tony Kart | Rotax | Simona de Silvestro | Hanna Zellers | | |
| 84 | Team Tall | Top Kart | X30 | Christian Ross | Stefan Wilson | Anders Krohn | |
| 89 | WhisperingOaksCamp.com | Arrow | Rotax | Andrew Coulter | Chase Armstrong | | |
| 97 | Chastain Motorports | Birel | Leopard | Nick Chastain | Eric Batt | | |
| 191 | MoSport Tuning | Arrow | Leopard | Henry Neal | John Cascella | | |
| 288 | Etrain/Holden Racing | Top Kart | Leopard | Emerson Reed | Zach Holden | | |
| 311 | Revolution Racing | Tony Kart | Leopard | Steve Knight | James Davison | | |
| 342 | Taylor Motorsports | Birel | Rotax | Adam Taylor | Mick Gabriel | | |
| 472 | TKOD | Tony Kart | Leopard | Eli Salamie | Adam Jennerjahn | | |
| 521 | Russell Karting | Parolin | Leopard | Jim Russell Jr. | | | |
| 638 | Team Jacket | FA Kart | Leopard | Jason Ewers | Alex Angel | Jimmy Laser | |
| 766 | Capitol Strategies Racing | Margay | Rotax | Russ Kemple | Tim Strawkas | | |