Morning Coffee: Thursday – October 24
The Beauty of Four Cycle Racing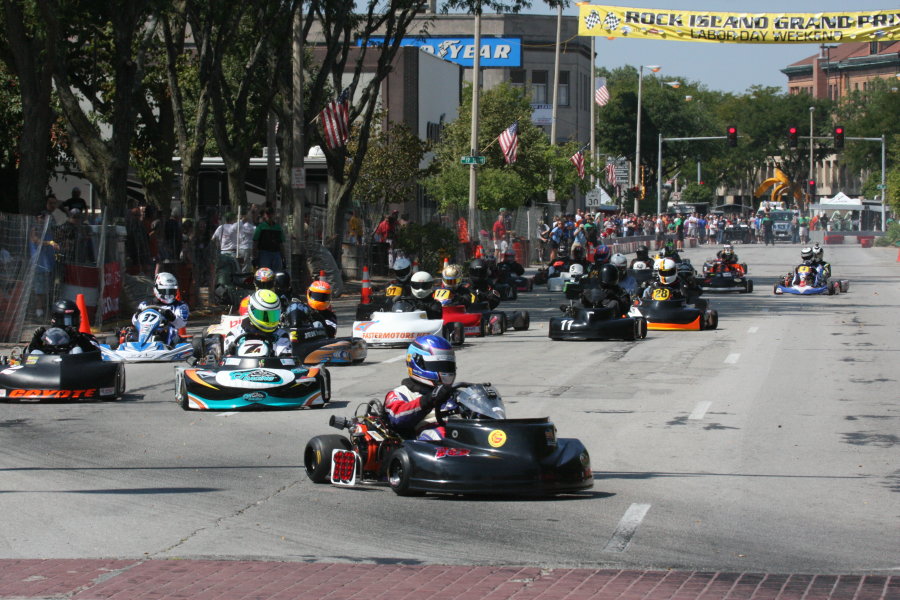 Briggs LO 206 racing continues to grow throughout the country
We've got a pretty darn good gig here at eKartingNews.com.  Yes, it's a lot of work, countless hours staring at a computer screen, 20+ weekends away from our families, sometimes actually forgetting where we've been when we arrive home on a return flight.  The commitments are extensive to be certain, but as true fans of the sport, it's all worth it. Living your passion 24-7 is such a gift, as it means that you look forward to each new workday with great motivation and enjoyment.  Well, most days, at least.
The chance to be front and center at international events like the SKUSA SuperNationals and Rotax Grand Finals are certainly unique opportunities.  These events are important to our sport, as they provide a premier level of competition, where extreme talent is put on display in cutting edge technology, prepped and maintained by the most knowledgeable mechanics in karting.  It's the pointy end of the motorsports ladder; the upper echelon.  That being said, it's also only a small percentage of the sport as a whole.  In truth, it's not accurately indicative of karting in general, but merely a snapshot of one segment.  This level of racing enjoys a significant majority of the media spotlight however, and cases can be argued that this is both good and bad.  Promoting national level racing is solid marketing, as it's cool, exciting and sexy.  People new to the sport or those with zero knowledge are, for the most part, pretty fired up when the see it. However, I think that we can all agree that the national level is not the place to bring new racers into karting.  There's the Catch-22.
In my opinion, a significant key to the growth of sprint karting, and where a vast majority of newcomers should enter, is four-cycle Briggs and two-stroke Yamaha KT100 racing.  As we complete the club kart racing seasons all over the continent, I'd like to comment on the value of these long-standing forms of the sport, especially the Briggs program.  These categories are affordable, they are the primary focus of countless strong local programs, and they provide a platform for racers to learn the skills and racecraft needed to get lifelong enjoyment for the sport.  Where the national competition level puts up much in the way of 'barrier to entry', from high costs to the need for in-depth knowledge, both Briggs and Yamaha racing are what karting was all about in the beginning.  They provide the primary opportunity for the motorsports enthusiast to step out of the grandstands and off the couch to become a racer.  And that fact has a ridiculous amount of value.  The sad part now is that most of the competitors in the higher-end classes turn their nose up at four-cycle racing (and often times the KT100 as well). They look down on this formula without really knowing anything about it.
When I first found myself as a cub reporter for the Canadian publication Performance Racing News back in the early 90s, I was a lifelong motorsports enthusiast who simply didn't have the means to get behind the wheel myself.  I was given assignments to cover a myriad of events – the local short track stock car bullrings, jet ski racing and even snowmobile grass drags.  These were all cool, but when I was sent to my first karting event, I found a level of four-wheel motorsports that was my opportunity – MY chance to get behind the wheel.  I could afford it on my meager salary (barely), the race scene in Ontario was incredible, and it was just flat-out cool.  And, ladies and gentlemen, it was a 50" wide four-cycle kart that was to me as awesome as a Formula One machine.  All the young kids who race thanks to their parents' pocketbooks won't be able to comprehend this, but I'm sure many of you have a similar story of running in your first races, on your own dime, thinking that it was the best thing that you'd ever done in your life.  Being able to race a full-size car was just so out of reach, then along came karting and everything changed.
And this is just an example of why four-cycle racing is so important to our sport and why I still run both a Honda GX200 and the new Briggs LO206 whenever I can.  It's doable on a limited budget, and the racing is competitive and hard-fought.  It's pure karting, focused on the simple fact that 'racing' has nothing to do with how fast you're going.  Instead, it's all about the straight-up, one-on-one fight for the apex – at 60 mph or 100 mph.  If it weren't for four-cycle racing and its affordability, I wouldn't be here.  I'm sure many current racers can say the same thing.  My first kart was a used American-made MXK and I bought it for $1700.  It cost about $100 to race each day, taking into account the entry fee, truck fuel and the amortizing of my tire costs.  They were incredible times.
The four-cycle racers in Eastern Canada where I compete are fortunate.  Our community still holds this category in high-esteem, and the top Rotax drivers still compete in the Briggs and Honda classes all the time.  It's close racing, and it's fun.  And it doesn't break the bank.
As we head into 2014, one of my goals with EKN will be to provide more quality coverage of the four-cycle ranks so that it gets some much-needed promotion.  The category is enjoying a significant increase of participation, both in the form of the Briggs LO206 and Clone packages.   This is big, and we want to continue fueling this growth.  I guess, for me personally, one of the goals of this new editorial mandate will be to elevate the status of four-cycle racing in terms of its perception in the karting community.  I wonder sometimes just how many people we scare away from the sport when people insist on selling newcomers on the TaG programs when all they have is a four-cycle budget.  A TaG rebuild alone is more than what some people spend on racing all year.  Instead, if we put them in a Briggs LO206 package in a used chassis, we'd give them the chance to fall in love with the sport, and then advance as their skills and budget allowed.
We need to remember one thing.  Karting is a pyramid, and feeding the base will keep the sport strong and will fill every other level.  In 2014, do yourself a favor, go run a four-cycle race and have a blast.  And once you do, you tell a friend and get them to do the same.  They'll thank you for it, and so will the sport.