Team USA Attack the World at the Rok Cup International Final
Five-member team made up largest USA roster in event's 11-year history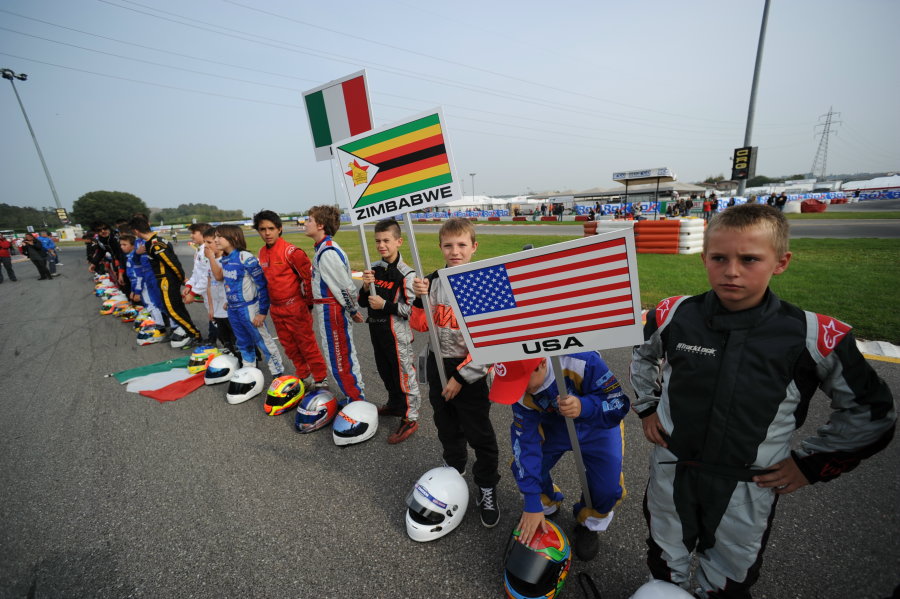 Hunter Kelly and Hayden Wagner (Photo: Rok Cup USA)
After a year of preparation of American competition that won them their opportunity to compete against the world on foreign soil, the five-member Rok Cup Team USA arrived at the famed South Garda Karting Facility in Italy to participate in the 11th Annual Rok Cup International Final.  With the largest USA contingent that have even been assembled, thanks to support from Rok Manufacturer Vortex, Team USA immediately took command of their weekend by attacking the high learning curve of equipment lottery and track familiarization, in what would become one of the most exciting weekends of their racing careers.
The first USA drivers arrived early on Tuesday to obtain their equipment and gain valuable track time.  AJ Myers, entered in the very competitive SuperRok Category, and Hunter Kelly, Mini Rok, enjoyed a full day of testing while race management obtained the complimentary kart and motor for the remaining Rok Cup Team USA Members.  Wednesday, the full roster of Team USA was at the famed South Garda facility first thing in the morning, to prepare their Vortex-supplied equipment for the battles that lay ahead.  Non-event free practice consumed the team as they honed their strategies and became familiar with a very different style of driving than what they are used to back in the states.  Once the team checked in at the Official Sporting Checks, they were officially registered as Team USA.
Practice and Qualifying Heats
The Official first day of event activities was Thursday with practice in the morning, inter-mixed with Drivers' Briefing by class, then Qualifying Practice in the afternoon, with even the first set of Heat Races to round out the day for Mini Rok, the largest class of the event with 71-entries.  Team USA reported mixed results in the Qualifying sessions.  In Mini Rok, Hayden Wagner suffered a technical DQ for spark plug after his session earning him the 71st Qualifying Position, while Hunter Kelly came in 34th overall.  Ignacio Salvucci continued his search for speed in Junior Rok, coming home 60th in Qualifying.  In SuperRok, Ariel Castro, participating in the "Master" Category of SuperRok, known as Elite 30 or E30, was among the top three of E30 throughout Practice.  Unfortunately, Castro suffered a flat tire in the opening laps of his Qualifying session, posting 64th overall as a result.   AJ Myers, who has been a threat all week in SuperRok, drove a smart Qualifying effort, coming home a respectable 24th for the Category, out of 69.
Heat Races
As is usually the case, doing well in the Heat Races was imperative for Team USA to raise up the ranks in their respective Categories.  In Mini Rok, where each driver participated in four heat races, Hunter Kelly scored in the top 15 of his heat races, except one where he was involved in an incident on track, retiring early.  Hayden Wagner working hard from the back due to his misfortune in Qualifying, worked through a tough field in each heat race, finishing 21, 21, and 25.  He too fell victim to a retirement in one of his heat races, however, due to a mechanical issue.  Ignacio Salvucci, also starting last in his Junior Rok heat races, charged through the field each time, scoring as high as 15th in his first heat race.  From his unexpected retirement in Qualifying, Ariel Castro was forced to start in the rear of his SuperRok Heat Races, working up to 18th and 21st in the first two.  A four-kart pile-up in the third Heat Race collected Ariel in an unavoidable incident.  Ariel recovered, however not without major damage to his chassis, forcing the blue flag signal to be displayed to Ariel from the Marshalls.  Also in SuperRok, AJ Myers continued to garner the attention of the press and other competitors, by posting solid results throughout his Heat Races.  AJ scored 14th, 6th, and 11th in very hard fought races, advancing his in an excellent position for his Pre-Final.
Pre-Finals
The Format for the Pre-Finals was the first 68 from each Category would be divided up among Pre-Final 1 and Pre-Final 2 for each Category, (60 for Mini Rok).  Then the first 17 from each Pre-Final would advance to the Final, (15 for Mini Rok).  Unfortunately with the string of poor luck he experienced during his heat races, Hayden Wagner barely missed the opportunity to advance to a Pre-Final, ending his event.  Hayden worked amazingly well in his Heat Races, but just fell victim to the bad luck gremlins too many times to place him into a Pre-Final.  Hunter Kelly was assigned the 20th starting position in Mini Rok Pre-Final 1.  Hunter drove a very smart race, picking off the competition in a very short 8-lap Pre-Final, coming home 14th, which would line him up 27th out of 30 for the Mini Rok Final. In Junior Rok competition, Salvucci lined up 24th for Pre-Final 2.  From the start he worked his way through the field, reaching the all-important 17th transfer spot at the half-way point.  Unfortunately, just after his kart experienced fuel pick up problems, forcing Ignacio to retire early, thus ending his event.
Starting 25th in SuperRok Pre-Final 2, Ariel Castro immediately went on an all-out tear to make up spots to get into the Final.  Through a string of hard charging, combined with some on-track incidences that Ariel capitalized on, he was as high as 12th, settling in comfortably.  Just past the half-way point, Castro started to drop back in positions, however ending the Pre-Final in 21st, out of the Final, and ending his weekend.  AJ Myers continued to be a threat to the competition and he had all weekend.  Starting 6th in Pre-Final 1 for SuperRok, AJ hovered around 5-7th positions throughout the Pre-Final, until the half-way mark, when another driver took a shot at a bump and run on AJ, only to collect them both and hook both their karts together.  While the two thrashed to unlock their vehicles, about eight drivers went past, and AJ suddenly found himself outside the 17th spot to advance to the Final.  Back to work he went, picking off karts as he could, finally ending the Pre-Final in 14th position and to the Final.
Finals
After an amazing Driver Presentation Ceremony two of Team USA drivers were left and advanced to their respective Finals – Hunter Kelly in Mini Rok and AJ Myers in SuperRok. In a 30-kart field, as restricted by the local Federation, Kelly took up his assigned 27th Starting Position.  With only 12-laps on the program, Kelly took to the field right from the start.  As with any final, passing becomes much harder when everything is on the line, as Hunter experienced.  Once again driving a smart race, Kelly completed all the laps without incident, coming home a strong 20th in the Category that started the weekend with 71-drivers.  In SuperRok, AJ Myers also was lined up 27th out of 34, due to his unavoidable misfortunes in his Pre-Final, for his 20-lap Final.  AJ grabbed a great jump on the start, poised to start picking off the competition.  Making up lost ground from the start, AJ was working past drivers when just 5-laps in, another driver decided to use AJ as breaks, yet again, ending AJ's event unexpectedly.  Myers was credited with the 32nd finishing position.
Amazing Rok Cup Prize Giving Party
After the races were completed, Vortex and the Rok Cup Staff threw an amazing party for all of the participants of this year's Rok Cup International Final, in an absolutely unheard of affair.  Known as THE Karting party to attend each year, the party was filled with gourmet food and drinks, amazing trophies, prizes and gifts for all attendees, regardless of how they did at the event.  This year's affair truly was a Rok Concert of sorts for Karting.
Overview
With high expectations, yet mixed results, Team USA proved to the world that they had the talent and desire to run with best Rokkers on the planet.  Although not the results all of the team was expecting, it was clear from the competition that Team USA was a force to be reckoned with throughout the event, and it showed with their presence both on and off the track.  Rok Cup USA and Vortex will once again support a team from the USA for next year's Rok Cup International Final to once again take on the world of Rok Cup.  Watch for more information in the near future detailing how you could be a part of Team USA next year.  Anyone wishing to see more about Team USA throughout the event, a chronological play-by-play, with photos and videos, can be seen on the Rok Cup USA Facebook Page.
About ROK Cup
The ROK Cup is an internationally successful program, offering consistent rules packages accepted around the globe.  Utilizing Vortex-ROK equipment that has promoted parody throughout the program for over 11-years, ROK Cup is an FIA Authorized International Series, operating in 32-countries, yielding 300-drivers for the 2013 ROK Cup International Final, which is traditionally held each year at South Garda.  For more information about ROK Cup, please visit www.rokcup.com or email usa@rokcup.com