Trey Shannon Breaks 1,000 Lap Barrier to Complete 643 Miles in 24 Hours of America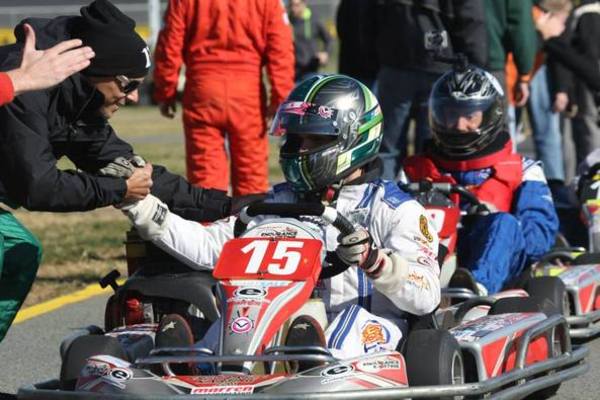 Shannon during the cool down lap, receiving congratulations from other drivers
Over the weekend Racing For Tourettes made the trip to Concord, North Carolina to compete in the Endurance Karting 24 Hours of America. Racing For Tourettes driver Trey Shannon successfully completed 1,020 laps of Charlotte Motor Speedway's infield kart track, recording a total distance of 643 miles as the event's only solo competitor. Although Shannon's #15 kart finished some 462 laps down from the winning ProCup Karting team who took the honors with 1,488 laps completed, making it past the 1000 lap mark was a moral victory for Trey and his team.
The race began at 10:30 Saturday morning under damp conditions. Taking a conservative approach from his 9th place starting position, Shannon gave up a few spots on the Le Mans style start. The wet conditions, however, allowed Trey to keep pace with the pack without expending too much energy, remaining in the top 15 and on the lead lap for the first two hours of the event. After making his second stop, the track had begun to dry enough that Trey had to begin pacing himself to make the entire 24 hours. Still running lap times within 5 seconds of the leaders, he got settled into a groove and put in consistent stints of 45 laps each. With his brother Drew and their good friend Jason Connole on the radio with him, Trey did a good job of keeping a reasonable pace and staying out of the way of those racing for position.
Once again, Shannon had to deal with cold weather. Saturday's running was under overcast skies, but the temperature was comfortably in the 60s. Overnight, however, the skies cleared up and the temperatures dropped to the low 40s. Coupled with the wind chill of driving a kart at speeds above 50 miles per hour, Shannon was starting to feel the effects during the early morning hours. Luckily the Speedway's infield bathrooms were open to the competitors during the event, and Trey put them to good use dashing in during his stops to blow the hot air from the hand driers into his suit and warm him back up. He wasn't the only one, as each time he went in there were always one or two other drivers doing the same thing to get ready for their upcoming stints, and warm back up after getting off the track.
With three hours to go, and 916 laps in the books, the Shannon brothers determined that the 1,000 lap goal was still within reach. Trey completed two more 45 lap stints to put him over the mark at 1,006 laps. At that point, there were around 45 minutes left in the race, and Shannon decided to wait until the last 15 minutes to go back out. Feeling refreshed and wanting to stay out of the way for the last few laps, Trey put in 10 qualifying laps to finish the event, setting his fastest lap of the race with a 55.9 sec lap, just one second off the fastest lap of the race.
"Since we weren't going for a record, and had no real chance of competing with any of the other teams, we needed to set ourselves a personal goal for the 24 hours," Trey said. "We broke through 900 laps on both of our world record attempts the past two years, but weren't quite able to reach 1,000 on either, so we decided this race was going to be 1,000 or bust, and we made it. I also wanted to set my fastest lap in the last hour which I wasn't able to do either of the last two 24 hour runs, but finally pulled off with this one.
"I really have to thank my brother Drew and our friend Jason for spotting for me the whole race. They were absolutely on point the entire 24 hours. I also have to thank my wife and parents for their support, especially my wife for updating all of our social media and discussion forums throughout the race. And last but not least I need to thank all my sponsors for helping me get here and allowing me the opportunity to compete and raise awareness for Tourette Sndrome. Without their help I wouldn't be able to do any of this, so huge thanks to Oktane Visual, DB Motorsports, eKartingNews.com, Kart Sale, Racer of Tomorrow, AiM Sports, David Lee Motorsports Media, Kart360.com, Marren Fuel Injection, Autowash Express, KartSport NA, Yorel Integrated Solutions, Karting Connect, Performance Auto Mall, Acceleration Kart Racing, and PitFit Training. I also have to give a massive thank you to Chris McCoy and Endurance Karting for letting me do this, and literally bending over backwards to accommodate me and my team. This was an absolutely fantastic event, so big props to them for putting it all together and pulling it off so well."
Even though the 24 Hours of America has passed, it's not too late help the cause. If you'd like to make a tax deductible contribution to the Tourette Syndrome Association, please visit Trey's Active Giving page at active.com/donate/teamtsa/racingfortourettes. You can also access the page by going to treyshannon.com and clicking on the "Donation" link. Every donation, no matter how large or small, is greatly appreciated.