eKartingNews.com Driver of the Month – September 2013 – Gary Lawson
Ohio driver continues reign over Rock Island GP after two year hiatus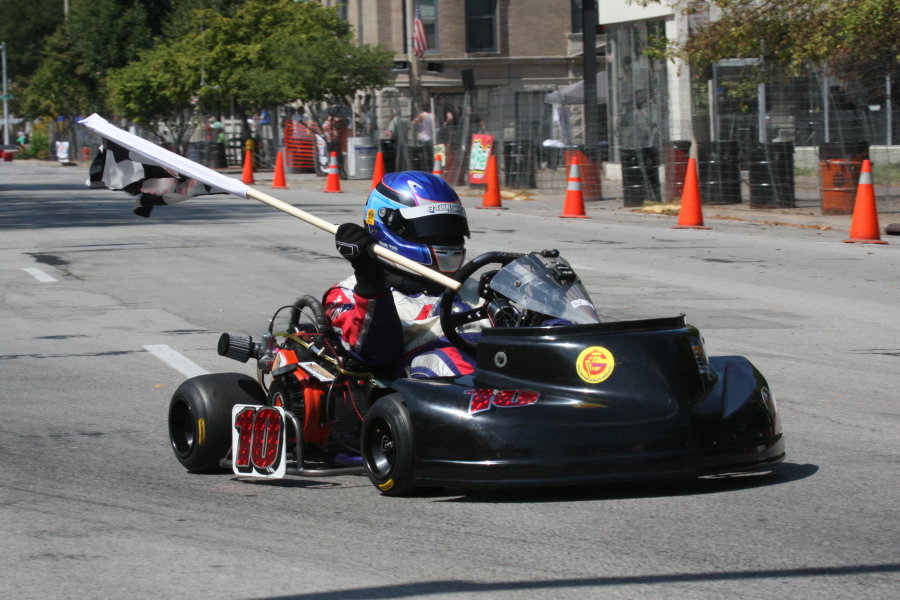 Lawson returned to the Rock Island Grand Prix after two years, adding four victories to his win total (Photo: Joe Brittin)
In a continued effort to highlight the many outstanding performances by drivers around the country, eKartingNews.com is proud to introduce the 'Driver of the Month' program. Each month, the staff at EKN will determine the one driver who stood out above the rest and give the viewers a chance to know exactly what they accomplished and who they are.
For the past decade, the Rock Island Grand Prix and Gary Lawson have been intertwined. Each season the annual Labor Day street race comes around, racers in the 4-cycle and 2-cycle divisions know they have two things they must conquer – the track and Lawson. From the moment karts roll out of the trailer, all eyes turn to Lawson once the city streets open up for practice Saturday morning. The all-time race winner of the event extended his total to 25 last month, winning all four classes he contested during the August 30-September 1 event in Rock Island, Illinois.
The weekend began in the LO 206 Medium division, with Lawson making his first start in the second-year class. Starting on the pole position, Lawson led all 15 laps for the first victory of the weekend, recording the fast lap of the race, keeping Cale Downs at bay. Second class on the docket for Lawson was Clone Heavy, once again making his first start in the growing category. The 15-lap race was the only time Lawson would get challenged for the lead as defending race winner Connor Lund put up a challenge. Lund stole the lead from Lawson for one lap, before the all-time winner retook the position. The two went side-by-side on the final circuit with Lawson able to edge out Lund by 55 thousandths for the second victory of the day.
The third win came in the new LO 206 Heavy category. Thanks to the large support from the 4-cycle racers in 2012, Rock Island GP created a Heavy division for the emerging engine program that welcomes newcomers and veterans. Lawson, a 20-year veteran behind the wheel, was smooth and fast in the 15-lap main event. Off the line clean, he powered away to a four-second advantage to record the inaugural victory to pad his CV. Making it four-for-four, Lawson started his final race – Clone Medium – from the pole position. It was clear sailing as the rest of the field fought it out for the second position. In just 15 laps, Lawson would secure a nine-second lead for his fourth victory of the day, making his all-time total to 25.
Before and after the Rock Island Grand Prix, Lawson took part in the closing rounds of the WKA Gold Cup series with events at Pittsburgh International Race Complex and CarolinaMotorsportsPark. In August, Lawson won both Senior Pro Gas Animal main events to warm-up for the RIGP. He backed it up just a few weeks ago in Kershaw, South Carolina, sweeping the Senior Pro Gas Animal category again plus the win in the Animal money race, pocketing $1,800 for his three wins.
September 2013 EKN Driver of the Month – Gary Lawson
Bio
Born: 10/26/1982
Hometown: Mentor, Ohio
Marital Status: Married
Children: Expecting our first in May!
Height/Weight: 5'9" / 210lbs.
Education: Bachelor's in Early Childhood Education
Occupation: Substitute Teacher, Tuner/Driving Coach
Racing Resume
Chassis: Arrow 4s / Comet Eagle
Engine/Engine Builder: Turner Racing Engines (4cycle), Comet Racing Engines (2cycle)
Sponsors: Turner Racing Engines, KartSport North America, Comet Kart Sales, G-man Kartworks, SMC Clutches, MyChron,  and Lawson Tree Service.
Series You Compete In: WKA Gold Cup Series and select street races including Rock Island
Years Karting: 20
How did you get started in karting? My uncles bought me a kart to race at the local track in Thompson, Ohio in 1992
What has been the high point in your racing career? Multiple WKA triple crowns as both a racer and tuner. All-time wins leader at the Rock Island Grand Prix
What are your goals in racing? Keep winning, whether it is as a racer or tuner
In a few words, how would you describe your driving style? Smooth, consistent, and attacking
Funniest moment at the race track? Dominating Brandon Jenkins and Mark Dismore Jr. at the USPKS Cornhole tourney with my partner John Dignan. The funny part will actually be when they read this…
Likes
Favorite Track: Charlotte Motor Speedway
Favorite form of professional motorsports: I don't make an effort to watch any racing other than motocross occasionally
Favorite karting driver: Rising stars Derek Dignan and David Kalb Jr. (The drivers I currently work with)
Favorite professional driver: None
Favorite website: Yahoo Fantasy Football during football season, but the new EKN site is awesome!
Favorite movie: Brian's Song, Rudy, Any Given Sunday
Favorite actor/actress: Scarlett Johansson J
Favorite music/group: Mostly country, but I like a little of everything
Favorite vacation/activity spot: St. Lucia
Favorite food: Lobster and Crab Legs
The Real Deal
What do you do when not at the track? Catch up on lost time with family and friends
What are your goals outside of karting? Take good care of my wife and family
What type of street car do you drive? 2001 Pontiac Grand Am
What type of street car would you like to drive? Buying a new car before winter and currently undecided, maybe a Nissan Maxima
What are your pet peeves or things that irritate you? People that make excuses, people that don't give 100% effort, quitters, and liars. Also, when someone asks me to get something when they know exactly where it is and I have no idea.
What do you think could be done to improve the sport of karting? Help to build local tracks/clubs instead of trying to build from the top (nationals) down. Also, promote more economical engines at the local level so more people will be encouraged to give karting a try.
What are your favorite aspects about the sport of karting?  So many great people get involved in karting. I have met many of my closest friends at the track.
September 2013 Driver of the Month – Honorable Mention:
– Griffin Kunz: United States Pro Kart Series – 2 Wins (Yamaha Rookie Champion)
– Kyle Kalish: United States Pro Kart Series – 1 Win (Leopard Pro Champion)
– Dylan Tavella: Streets of Lancaster Grand Prix – TaG Cadet win
– Chris Cricca: Streets of Lancaster Grand Prix – TaG Senior win
– Rob Howden: Rock Island Grand Prix – Started 8th, finished 8th