Lloyd Sets New 24 Hour Kart World Record
British driver breaks mark set by American in 2011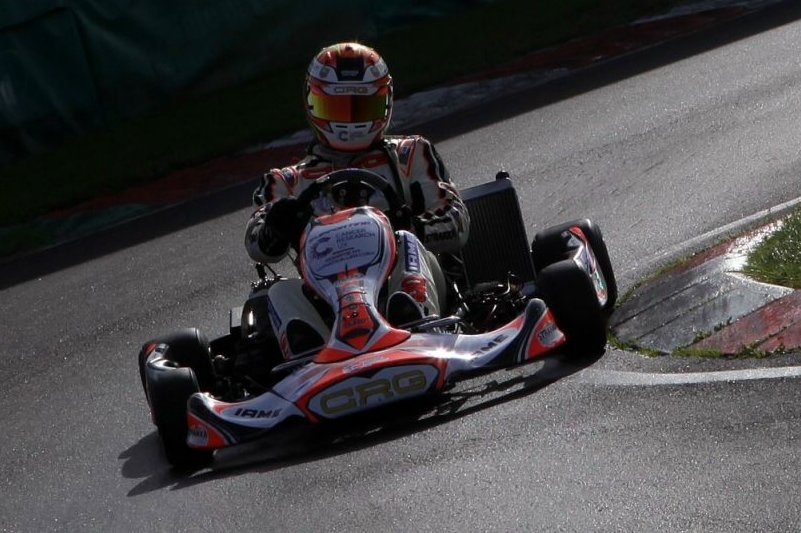 Lloyd de Boltz-Miller set a new 24 hour world record at 1081.66 miles
Lloyd de Boltz-Miller drove into the history books when he set a new Guinness World Record at PFi on 8 October following a gruelling 24 hours at the wheel.
The freelance motorsport consultant first hit the headlines in 2009 when he set a new British and European record before going on to claim the World Record the following year. However, America's Trey Shannon pushed the distance to 845 miles in 2011, sending his English rival back to the drawing board.
Two years were devoted to planning this latest assault, with de Boltz-Miller determined to bring the record back to Britain.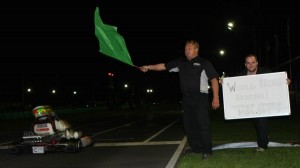 "We'd planned to run an aggressive strategy, as I wanted to be the first through the 1000 mile mark," said de Boltz-Miller. "With Trey having covered 845, we'd need to push it but also create a good buffer. However, it came to light that a disputed claim of 1,054 miles (set in 2012) may have still stood. As we couldn't talk to Guinness we needed to adjust our strategy to break this and Trey's record. This meant that for the entire 24 hours I was going to have to consistently lap the circuit in less than 34 seconds and that my pit stops couldn't last more than four minutes each time. My fastest lap on low fuel and new tyres in testing was 30 seconds dead. This meant I had to drive the entire record like a sprint!"
Despite their communications equipment failing before the attempt had begun, prompting Lloyd's support crew to invent a range of interesting hand signals to 'talk' to him from trackside, everything was going to plan during the opening few hours. De Boltz-Miller survived some exciting moments during his fourth stint when his water bottle holder broke, leaving his drinks container to empty its contents at the first corner, which made for a couple of interesting moments.
"Throughout, the package – CRG Black Star chassis and IAME X30 engine – worked flawlessly," Lloyd said. "We had a single issue with a sticking throttle cable but my mechanics, Shaun and Russell Carter, replaced it in just 3 minutes during my ninth stop."
As the hours rolled on, keeping de Boltz-Miller focused and informed without a radio led his team to try some interesting experiments, as Lloyd explains: "They tried to make life a little comical. I would come out of the last corner to find them gesturing, dancing, building human pyramids and even spelling words with their bodies on the gantry over the track. One of the film crew wrote a sign and held it out to me. It said "Make History" and this served to really put the bit between my teeth."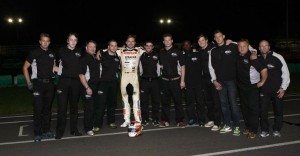 The physical toll also began to have its effect: "Whilst the circuit had been chosen for its pace, its physical demands were very much of an unknown over distance, but soon revealed themselves. Because of the high-speed, sweeping corners and minimal opportunities to rest, it meant that after around 10 hours the effect on my mind and body was similar to that which a very high aero car exerts on a driver. I'd have to hold my breath before entering Turn One as I was loaded with the effects of G-force for around eight seconds plus. But this is what I wanted – the ultimate test!"
To further keep him focused on his task, friends joined Lloyd out on the circuit in their own karts and creating new competitions: "Riki Christodoulou joined me for three stints and it was a real tale of cat and mouse as we traded lap times. Olly Walker also came out and the rivalry saw me bang in my fastest time of the event a 29.61 after around 20-21 hours of running." This tactic almost had a catastrophic effect on the challenge though, as Lloyd reveals: "I was broken though. My team had to lift me out of the kart for the last five stops, but I continued to smash the time sheets! I also had an 'off' 40 laps, during which I dropped half a second off pace due to agonising stomach cramps. Going into my penultimate stint I couldn't grip the steering wheel and decided to stop using the front brakes, which are operated by a lever by the steering wheel which you need to pull firmly. Despite all my aches and pains, my speed was still good and my final stop sent me out with just over an hour to go. With fifty minutes remaining I started to crank up the pace and finally broke the record with 38 minutes remaining."
Although he had achieved his goal, Lloyd used the remaining time to put the record beyond doubt: "I wound on the pace and was lapping within a hair's breadth of my fastest lap, every lap! I was going Hell for leather. It was my chance to make history and put the record out of reach. I was 100% dialled and the clock was ticking. I really feel this was the drive of my life!"
Lloyd's new world record is 1081.66 miles. As a key part of his 24 hour challenge, he is also raising money for Cancer Research UK. Donations can be made via www.justgiving.com/24hrWR.
Lloyd could not have achieved his goal without the support of a dedicated team of friends and family, plus factory assistance from CRG SPA, IAME and Strakka Racing.
For more information and updates you can follow Lloyd on Twitter, just go to @deBoltzMiller or visit his website, wwww.lloyd-miller.com