Driver Diary: Kurt Fisher – IAME International Final
Italian Motors USA driver taking on best IAME drivers in world at French facility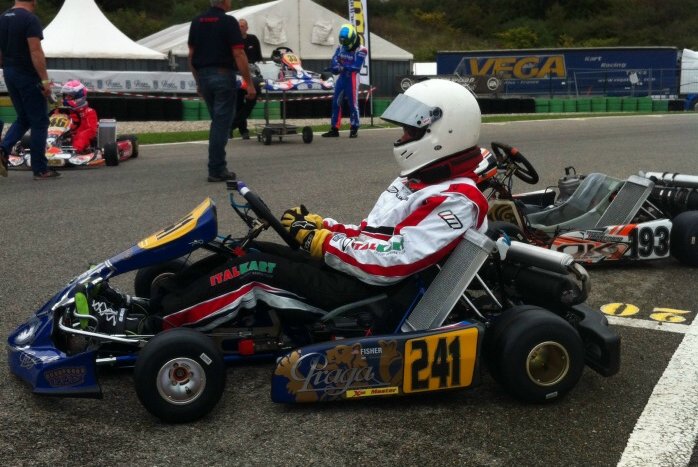 Fisher making completed his first day on course Wednesday
eKartingNews.com has partnered up with Kurt Fisher to provide an insightful and direct look into competing at the IAME International Final, held at the 'Actua Circuit de Lyon' in the scenic city of Lyon, France on October 16-20. A total of seven drivers from North America will be competing, with Fisher set to do battle in the 49-driver X30 Masters division. Following each day, the Italian Motors USA driver will provide a notebook on his journey throughout the week.
Day 7 – October 20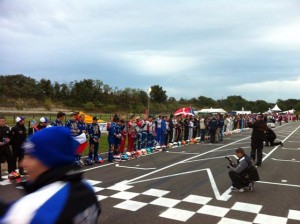 Last night we went to sleep with a positive thinking of no rain and the hopes of a great result in the B-Main race.  We awoke to cloudy skies here in the French countryside.  Our goal in the pre-final was a good finish and to be in a good spot to go for the win in the final race.  Since our times were quicker than the rest in the group, we knew there was a good shot at a win.  Then, as the unpredictable nature of racing will go, the rains came about an hour before our pre-final race.  Not at all what I was looking for from my final race day here.
Be that as it may, we ran decent in the first race running top three for a bit and finishing top five.  The locals know the race line so well in the wet, and me, the novice American, was still figuring it out.  The final was a mediocre result, but had some good racing with passing back and forth the last four laps with three other pilots.  Not sure where I ended up, but it wasn't a podium.  All in all, a great experience and thanks go out to Claudio Valiante for hooking me up with the sponsorship to be here and the Praga guys for being a top notch group to work with too.
The clouds cleared late after noon for some dry racing and it was quite a spectacle to see the fields of 30 plus karts take the green flag and rush into turn one four and five wide in a cloud of exhaust smoke.  When you are watching it, all you can think is 'this is crazy', and then you suit up and put yourself in the middle of it when it is your time to go out.  A driver needs to have 'a certain lack of imagination' which the line from the movie Grand Prix, 'otherwise we would never get into the car (kart)'.  This is so true.  You put yourself in harms way for the glory or a trophy, and at great financial expense, and for what?  To do it again, of course.  Perhaps it is a sickness, but if you race, we call it passion.
My thoughts turn now to SKUSA SuperNationals XVII in Vegas next month where I certainly expect a better showing then we saw here.  Having been to that event three times, I will not be totally a virgin to the deal there.  Also, we will be running MG Yellow tires which I have a ton of experience on and also will arrive with my Leopard motor on my Italkart chassis with the Italian Motors posse.  Tuning issues will not be such an issue, and hey, we will be in Vegas, baby!
Day 6 – October 19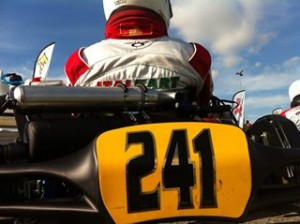 Today was a bit of redemption despite a not perfect result.  Stuck in the B Main race despite a pace to be in the A Main, due to a lack of knowing the track: but more not knowing the motor package and the tuning of it.  The X30 is truly a great motor package.  Not one motor has failed out here the entire weekend from what I have seen, but knowing how to tune it is another thing.  Having experience with the Leopard, you would think it would come together quickly, but alas, it was not to happen.  The good news is that we did figure it out and the motor was singing perfectly–finally!!!
We turned times quicker than the ten pilots ahead of us in the final heat race, but the poor qualifying performance left us searching for more laps to make up the lost track position.  With only ten lap heat races, that is a tough equation.  All in all, it is a good thing because tuning of the carb is essential and learning how to do it on the track in real time was a learning experience and something I will take back with me to Seattle.
I had a chance to talk to Tom Kutscher, Grand Supremo of Superkarts! USA (SKUSA), and to do an interview with him today.  He seemed quite impressed with what was happening at this event and said he was taking a couple critical things with him that he will apply to SKUSA events in the future.  To see the interest of SKUSA in what is going on here in France shows the true international flavor of the event itself and the level of competition.
The languages are varied and seeing people of all languages communicate though hand gestures and motor-speak is really quite a spectacle.  The folks pitting next to me speak no English and I speak no Italian, yet, we can speak of motor tuning with sounds and inflections only a racer would know.  Truly a beautiful thing.
Tomorrow we start the pre-final of the B Main and not near the total back.  Knowing we are quicker than the rest of the field, we are shooting for a good finish.  Being in the A Main was the goal, but racing is racing and it is what it is.  All being said; I wouldn't trade this for anything.
Day 5 – October 18
We awoke to a nearly full moon in the western sky through the haze of an early morning in Lyon, France. Red skies to the east as beautiful and you can imagine greeted us as we drove to the track, hopeful of a good warm up and qualifying sessions.  As it would be, our morning warm up and the qualifying session did not go nearly as hoped.  We struggled a bit with the carb settings in the warm up, and missed the chassis settings badly with a guess to go with different rear hubs that frankly, was a really bad idea. The lessons of learning a new motor package coupled with learning a new track!
Our expectations of qualifying in the top-20 were dashed, and we quickly became philosophical about our day and our experience here in France. Let's get a top 10 in the A Main feature, turned into; let's enjoy our time here and get a decent starting position in the B Main feature.  That is racing.  Unpredictable it is with the organized chaotic nature of the sport itself.  Really, as a guy who is used to being near the front, it was quite humbling to be near the back, but that's racing.  Watching my buddies from SIMA facing similar challenges, I wasn't alone, but nevertheless, it wasn't a space any of us were used to being in.
The weather was beautiful all day after the haze of the fog burned off, and the event went on pretty much as scheduled.  Racing was fierce and many of the kart celebrities we all know and love, such as Superkarts! USA's Tom Kutscher and Italian Motors USA's Claudio Valiante, were there to witness it in person.  The way the European's race is akin to nothing I have seen outside of SuperNationals. Aggressive at all times with a 'coming on in there' approach to a corner if you are a tenth of a second slower than the guy behind you.  A truly awesome spectacle to behold.
After a less than stellar day on the track, fortunately I was invited by Claudio to have dinner with him and the rest of the Pacific Northwest contingent.  Being in France and having dinner with friends reminded me of what the sport truly is about: camaraderie with those who share your passion.  We all struggled on the track, but we all shared the kinship of a love for karting and racing, and really; we were in France, eating pizza and laughing.  This is not something you can buy and really completes the experience itself.  The clown-punching jokes at McAllister while we all joked about, including the self effacing jabs at myself, put it in perspective.  Frankly, tomorrow is a new day–and we are all here.
With a second heat race tomorrow and hopefully a good showing in the B Main, all is not lost.  Nothing is lost because this can't be taken away.  We are making wholesale changes to the gearing and the reeds, and perhaps that will be the elixir we seek, but either way, the victory is in the effort and the fact that we all earned our way here over the past nine months is the reward.  Frustration moves away for appreciation.
The nearly full moon is overhead and it is so pretty here right now.  You should see it!.  Once again, it is quite late here, and I must go to sleep and get up to race the final heat race in the morning in about six hours time.  It is my hope that the update tomorrow is of a better racing result then today, but either way, there are no regrets, just gratitude.
Day 4 – October 17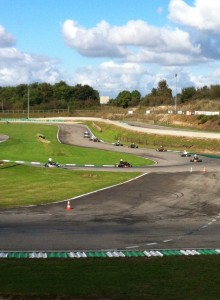 Today was a critical day at the track. We intended to have four practice sessions leading up to qualifying tomorrow and had our adjustments planned after each session, but alas; this is racing and it is a very fluid, thanks to the on-the-go changing process of adjusting to the weather and differing situations. In the end, we made only minor changes, other than a change of rims, and it worked out great.  Since it had rained all night and we were greeted with a wet track surface when we arrived at 8 AM, we passed on the first practice session.  It seemed to make no sense to go out with rain tires and eat them up in one session, and even less sense to go out with slicks and risk tearing up the chassis, so we waited until the second session.  By then the track was dry, it was sunny, and we were able to get some good laps in. That helped us dial the chassis in quite well in the three sessions we completed.
The Praga Dragon chassis is very similar to an Italkart with the handling characteristics I have experience.  It is nimble and very positive into the corner.  Since I prefer a chassis with more push going into the corners, we narrowed the front end to let it become more neutral throughout the entire turn.  We also went away from the stiffer shiny bronze colored rims to low volume DWT rims to soften the feel of the chassis.  Most racers are sticking with the bronze rims, but, at 6'2″ tall, our chassis set up usually counter-intuitive to the standard set up.  Following my instinct to soften the chassis, we found some good speed with them, and the kart handled more like I prefer it.  The Praga chassis is beautiful; all 30mm tubing and in a chrome-like purple/blue color with gold accents on the body work.  It really stands out.  Not only is it pretty, it is also a solid chassis platform that is easily adjustable.  Also, we have hand actuated front brakes, which are really slick.  I wish we had these in the States as they are so far superior to the standard foot actuated ones we use with the adjustable bias controls.  I have to say that I am very impressed with both the chassis and the brake systems we are using here.
The X30 motor package is totally new to me despite having quite some time with its IAME cousin; the Leopard. It has a different power band than the Leopard with better mid range and the low end seems to possess more torque as well.  The jetting was a challenge, frankly, and likely due to the lack of experience I have with this platform.  We kept running it too rich which cost us time at the end of the back straight in particular.  That cost us time not only in the straight, but also in the wicked fast carousel double apex right hander at the end of it too.  We will figure it out tomorrow, and my motor builder friend and star kart racer, John Dixon, texted me after the day to give me all of his tuning tips as well.  We are going to apply them in the warm up session in the morning and, assuming it works, carry that into the qualifying session around noon.  In France, you also need to run a silencer on the motor versus a straight pipe.  Hearing people running one without the silencer, you can clearly hear the difference.  I am not sure it affects performance that much, but it deadens the noise significantly.  Either way, we all have to run them, so it is an even playing field.
Tonight, after the driver's meeting, we left the track at about 7:45 PM and were greeted with very crisp clear skies and a nearly full moon.  It was totally stunning.  That and seeing the brightness of planet Jupiter just over the horizon made it feel quite special.  This is really a big event on many levels.  The number of competitors, the level of talent here, the professional approach of the organizers, and the circuit itself certainly make this one of the bigger races on the globe.  It's hard to believe I am here participating.  Big day tomorrow!
Day 3 – October 16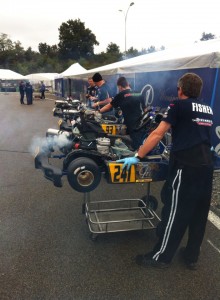 Today was about shaking down the kart and getting some laps in for the first time on this great circuit.  Although we had a few technical issues, the Praga factory race team guys were totally on top of it and we sorted it out.  They are a classy organization and went to great lengths to make sure the equipment got dialed in for us.  Although it wasn't my best day of turning laps on the track, we were able to collect critical data that will allow us to really hone in on set up tomorrow.  It was dry all day and didn't rain until the moment we left the track, so that was a bonus too.
I have only been to France once, but that was nearly twenty years ago.  The differences to what you experience at an event in the States are fairly significant.  For example, once the kart and driver are in parc ferme', you cannot adjust anything or touch anything on the chassis.  Nothing!  If you do, they disqualify you from the session, or in the case of a race that is about to commence; put you at the back of the grid.  They take the rules very seriously here and are not afraid to let you know if you digress them.  Of course, they are telling you in French, so an English speaking person such as myself usually just nods as though you understand and continue to keep saying 'sorry' while the process continues.
I experienced this first hand today in our second, and final, practice of the day when my throttle stuck and I spun off into the entry grid.  The grid steward was not happy and let me know of it insisting I go back on the track to exit properly.  Fortunately there was a bi-lingual assistant that arrived on the scene after about five minutes and I was allowed to get to the correct exit and the scale areas via another avenue.  That was a good thing, because being on the circuit with twenty five other drivers with a stuck open throttle is truly disconcerting!  He actually was probably telling me of the other avenue, but my lack of understanding of the French language is likely what really aggravated him.  Kind of funny in retrospect and certainly a lesson to me (or anyone going to France to race): learn a little of the language!  Seems fair enough.
The cultural differences, outside of the track and language barriers, are also fairly significant.  If you are looking to purchase ice, or an inexpensive Styrofoam cooler to take to the track to keep your food and drinks cold–good luck!  I am sure these items are here to be bought somewhere, but darned if I can find them.  French fries (do NOT call them that here of you will see the disdainful glare of the server-they are pommes frites), and almost everything else at lunch time you might order, come smothered with mayonnaise.  When you eat dinner, they don't offer you a to-go box.  So order wisely, as that great steak you just had half of will not be going home with you and to the track for lunch tomorrow.  The speed limits are merely a suggestion.  Although it was clearly posted at 90 kilometers per hour on the highway, my cabbie generally was going 150 kph, and at one point, he was doing 180.  He didn't speak English, but when I mentioned Formula One racing he talked the rest of the ride to the hotel (in French) about what I assume to be Formula One.  I recognized the names of racers and he talked, and drove, at around 100 and something miles an hour.  It actually was the perfect introduction to Lyon for a racer.  Frankly, he was a really great driver too.  I never felt unsafe, but rather was intrigued and kind of amazed by the guy's driving ability.  I wonder if all the cabbies are like this here.
Tomorrow, we have the last day of practice; four critical sessions where we need to fine tune the chassis and motor to be ready for the following day when the racing really begins–qualifying.  My mechanic and I, with a ton of input from others in our group, have mapped out what we will do in our sessions and the adjustments we intend to perform between each one.  It is 10 PM here now in the French countryside as I write this from my hotel room.  I hear the cars as they make their way along the adjacent highway in the light rain, wondering where they are all headed, likely at 150 kilometers and hour, and knowing that in seven short hours I will awaken and be headed back to the circuit for another intense day of lapping, tuning, learning and experiencing something you can only do once a year, here in Lyon France.
Day 2 – October 15
Today, we joined the Praga factory race team at the Actua Circuit De Lyon to prepare the chassis for the IAME International Finals.  We are leasing a motor and chassis package from them for this event.  The Praga team had done quite a bit of the chassis set up; but we still had to assemble the motors fresh out of the box, install the seat, and do a hundred other small things to prepare the equipment for practice, which is starting tomorrow.  We finally left the track at 8:15 PM and literally have only a few minor items left to finish in the morning to be ready to go.
Although it rained most of the day, it was dry around noon and I was able to walk the track for the first time with Ethan McDade, who is piloting a Senior class entry and representing Canada.  He and his father Scott were a great help today in many ways, and fun guys to hang with too.  The Circuit De Lyon is truly a phenomenal track with super long straights, banked and off camber turns, a set of challenging esses, and unexpected elevation changes.  The curbing looks pretty aggressive, so staying off them is something both Ethan and I agreed upon.  You could see where karts that didn't respect the curbing had grooved the pavement in several of the corners.  You could also clearly see the passing opportunity points and also the difference between the racing lines and the qualifying lines.  The back straight on the uphill section will have us pushing 80 MPH as it goes downhill into a double apex right hander that we expect to be a slight lift with some trail braking and other than that, pretty much flat out.
The Praga chassis is beautiful and the team that is supporting us is stock full of great guys.  With their help, my dedicated mechanic, and the entire group of the Italian Motors contingent from Seattle/Vancouver, I am surrounded by a lot of karting knowledge and experience.  At an event like this, that is a critical element, and it will allow me to get up to speed much quicker than I could have without them.  I am grateful for the support and also for this unique opportunity presented to me by Italian Motors and SIMA Raceway to attend this once-a-year ultra competitive international event.
Hoping for dry weather tomorrow. Time to go racing!
Day 1 – October 14, 2013
My trip to the IAME X30 World Finals began in February with the Sumas International Motorsport Academy (SIMA) 'Advance to France' race series.  Claudio, Bev, Claudia and Michael Valiante sponsored the winner of the series to go to this event, and I won the championship with some stiff competition from Ron Hyde and Doug Brandt.  It went down to the last race to decide it.  A great series and a bunch a great guys to run with.
My father raced NASCAR and my older brother was a Skip Barber champion.  When I was 32, I went to a SkipBarberSchool at Laguna Seca, and was instantly hooked.  The moment I first sat in the cockpit of that formula car I said to myself, "I am going to do this for the rest of my life".  A passion for it that I had was not apparent until that moment and it hasn't left me since.
After about two years hitting a good number of Skippy events, I was introduced to karting by my former business partner.  I was blown away by the intensity of it.  The acceleration, braking and g-force loads in the corners were truly amazing.  At that point I gave up formula car racing and became consumed with karting.  With the physical demands and the nuances of the tuning, it has become my biggest passion outside of my work.
In the years I have been doing it, I have won multiple club championships and hundreds of races. One IKF Gold Cup regional championship and some good showings at national level events, including a third place finish at the Rock Island Grand Prix in 2012.
I'm excited to see what can happen in France!  With such a huge field, a top ten would be a huge accomplishment, and a top five or podium would be phenomenal.  A new track and a new motor/chassis package adds to the challenge of the event, but with some help from my friends and my super wrench mechanic Jeff Popel, I think we will do okay.