Lawson Sweeps Senior Pro Gas as Murry, Lee and Zobkiw Claim Championships at WKA Gold Cup Finale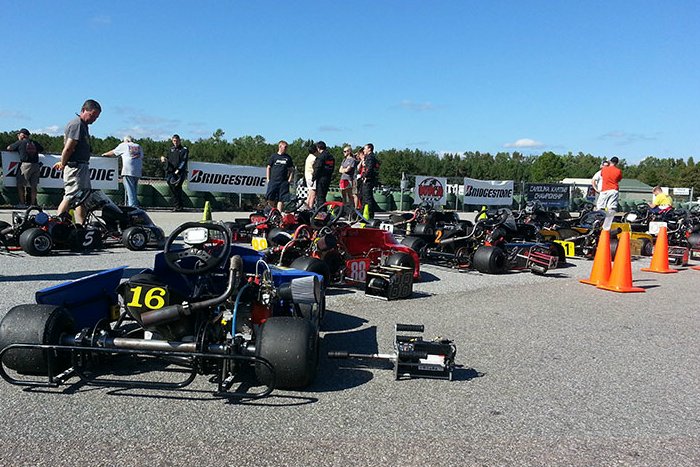 A full Senior Pro Gas Animal grid Sunday at Carolina Motorsports Park (Photo: NCRM)
Mentor, Ohio's Gary Lawson once again made it look easy with big money on the line in the RLV Gold Cup Series season closer this past weekend at Carolina Motorsports Park, while Georgia's Dylan Murry and Tanner Lee and New York's Dylan Zobkiw unofficially claimed Pro Gas Animal national championships and the brand-new, race-ready go-kart prizes that were included in the year-end awards package.
While Lawson and 17 other drivers raced to Carolina Clash presented by Jammer Clutches & Performance North national wins, a main focus for many was the national championship races in the Sportsman and Senior Pro Gas Animal classes.
Entering the series' final round no fewer than five drivers had mathematical shots at each class championship. Lee had Junior Pro Gas Animal locked up heading into the weekend; he took home the brand-new Razor Chassis for his efforts.
Murry scored the win in Saturday's Baker Racing Engines Sportsman Pro Gas Animal main event, finishing just ahead of Ohio's David Kalb Jr. and Maryland's Zach Wells. One of Murry's closest competitors in the points, Matthew Miller, finished 10th, costing him dearly in the championship race.
But Miller bounced back Sunday to score an impressive victory over Wells and Nick Fauci in Baker Racing Engines Sportsman Pro Gas Animal 2. Murry, who suffered an engine problem on the last lap of the pre-final, started toward the rear of the 14-kart field and finished fifth in the main. Murry's fifth-place finish was enough to unofficially win the class championship and new Margay Racing Products chassis by about a 30-point margin over Miller.
Kalb also entered Sunday's race with a shot at the championship, but he finished seventh in the main and would unofficially settle for third in the final standings.
Murry's win on Saturday earned him one free class entry to each of the four 2014 WKA Gold Cup nationals, while Miller's Sunday win gave him a free set of Bridgestones to each of next year's nationals. Wells' second-place effort Sunday earned him a set of Bridgestones posted by distributor Grand Products.
The Senior Pro Gas Animal points race couldn't have been much closer.
While several drivers had a shot at the title entering the Carolina Clash, Michigan's Jeff Beatty and Zobkiw were on the inside of the points battle with Beatty entering the event with a slim lead over Zobkiw. With a new Coyote XP chassis on the line, both racers were well aware of the high stakes, and both stepped up their games.
Both Beatty and Zobkiw ran strong finished second and third in Saturday's Gas Animal main to Lawson. The race became very interesting in Sunday's pre-final when Zobkiw made a pass on Jacob Heavlow for a top-five position. Zobkiw and Heavlow made contact and Heavlow shot back onto the track and a hard wreck ensued, which involved Beatty.
The Michigan Kart Supply racer was able to continue, but nursed his Coyote home to a 10th-place finish, while Zobkiw finished third.
With Zobkiw starting seven positions better than Beatty in the main, Beatty needed to advance positions as quick as possible.
Zobkiw had a bad started and quickly dropped to fifth, but Beatty couldn't capitalize as he was stuck in traffic around the 10th position. Zobkiw made his way back to fourth and eventually third, meaning Beatty would have to get to the fifth position in order to win the championship.
While Zobkiw ran unchallenged in third, Beatty ran deeper in the field fighting for every position he could gain. He passed top drivers like Tyler Sandmeyer and Sean Meier late in the race, and a last-lap incident between Michael Fauci and Jason Zobkiw while battling for fifth advanced Beatty another two spots.
But the Michigan racer would fall one spot shy of a national championship in his rookie Gold Cup season. Beatty placed sixth, about four seconds back of fifth-place finisher Corey Towles. Beatty's sixth-place run would give Zobkiw the title by a mere three-point margin. If Beatty could have made it to fifth, he would have won the title by seven markers over Zobkiw.
Zobkiw earned the brand-new Coyote XP with a Baker-powered Gas Animal for his efforts.
Chris Wells finished second to Lawson in the 12-lap main event. Zobkiw was third, Dakota Bell fourth and Corey Towles fifth.
Sandmeyer won the $250 Hard Charger Award for advancing the most positions (25th to fifth) in Saturday's Pro Gas Animal main. Towles won the Hard Charger and $250 for starting 19th and finishing fifth in Sunday's main.
Lawson also won Friday's Senior Animal Money Race, meaning the Ohio Arrow pilot pocketed approximately $1,800 for his three wins. In all, Lawson, Dylan Zobkiw, Beatty, Wells, Sandmeyer, Towles and Jim Lipari all took home payouts from the weekend's Senior Pro Gas Animal races.
Travis Manning wheeled his MGM to three big Carolina Clash wins. The biggest came Sunday with Manning's GT Machine / MGM Chassis Animal Medium triumph, which paid a cool $500. Tyler Sandmeyer earned $200 for his second-place run to Manning. Josh Steifel was third.
Manning also triumphed in Coyote Motorsports Animal Lite and Margay Racing Products Animal Amateur Medium. Michael Osborn finished second to Manning in Lite while Josh Stiefel and Paul Headley were second and third in Amateur. Manning also won a new set of Bridgestones for his win in Amateur, sponsored by Grand Products.
David Kalb Jr. swept the Van-K Wheels Sportsman 2 classes. Kalb wheeled his Margay to the win both days over Zach Wells and Adam Cornell.
Jason Alder and Miller split the Sportsman 1 divisions. Alder triumphed over Nick Fauci and Miller in Saturday's Performance North Sportsman 1 Lite. On Sunday, Miller scored his first of two wins on the day in Sportsman 1 Heavy. Alder was second and Trevor Vargo third.
Sarah Luoma, Tanner Lee, Tyler Stiefel and Haley Kummer all scored Junior wins at Kershaw. Luoma won Junior Lite over Tyler Stiefel. Lee picked up wins in Junior Heavy, Junior Clone 2 and both Junior Pro Gas mains. Kummer won over David Lawrence and Lee in Junior Clone 1 while Stiefel scored the win in Restricted Junior.
Cody Hall and Zach Wells split the Sportsman 2 Clone features. Hall won over Wells in Sportsman 2 Clone 1 while Wells came back Sunday to pick up the win over Hall and Cade Frazier in Sportsman 2 Clone 2.
Cale Hall bested Nick Torres and Tanner Carter to win Sportsman 1 Clone.
anner Carter bested Blake Boon in LO206 Kid Kart 1 Saturday. Carter moved up to the Sportsman 1 ranks for Sunday's racing, leaving Boon to claim the win in Sunday's LO206 Kid Kart main event.
Sandmeyer was able to score one victory on the weekend in Animal Heavy. The Maryland MGM racer won over Headley and Josh Stiefel. Sandmeyer left Kershaw with $650 between his second-place Animal Medium run, second place in Friday's Money Race and Hard Charger Award in Saturday's Senior Pro Gas Animal.
Jacksonville, Fla.'s Patrick O'Neal swept the Senior Clone features to put an exclamation point on his Clone championship season. O'Neal wheeled his Coyote to the Saturday Clone win over Coyote owner Jim Lipari. Razor pilot Matthew Horst was second to O'Neal Sunday in a close race.
Wiley Holcombe won Target Distributing Animal Masters over Stevie Roberts.
Murry won Friday night's Sportsman Pro Gas Animal Shootout over Miller and Kalb. Murry earned a new ECX radio-controlled truck for the win.
Lawson won the $500 plus the lion's share of the 75 percent payback for scoring the win in Friday's Money Race. Sandmeyer pocketed over $300 for second and Lipari over $200 for third. Sean Meier and Dakota Bell also finished in the money in fourth and fifth, respectively.
Go to HERE  to view MyLaps results from the Carolina Clash presented by Jammer Clutches & Performance North.
Go to HERE  to view the weekend's top-10 results.