Dan Wheldon's Legacy Continues to be Honored at RoboPong 200 Event
Charity race will raise money for Alzheimer's Association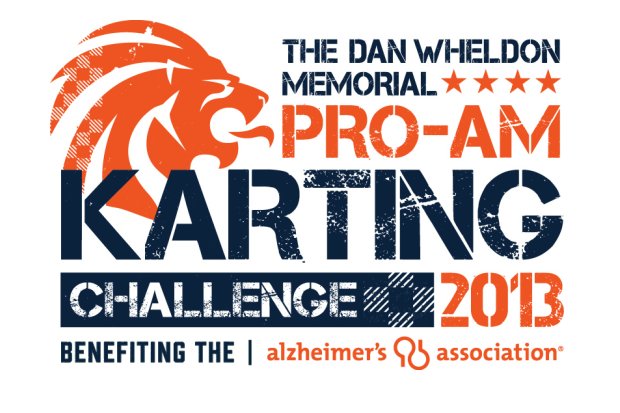 Drivers from various racing backgrounds will come together on October 26 to compete in the Dan Wheldon Memorial Pro-Am Karting Challenge at New Castle Motorsports Park. Proceeds from the event will benefit the Alzheimer's Association, a cause Wheldon fought to raise awareness for after his mother was diagnosed with the illness in 2008.
"The Alzheimer's Association and its Greater Indiana Chapter are honored to be the recipients of proceeds raised through The Dan Wheldon Memorial Pro-Am Karting Challenge," said Heather Hershberger, Executive Director of the Alzheimer's Association Greater Indiana Chapter.  "It's a fitting tribute as Dan was a great champion of our work and took great interest in the programs for individuals in the early-stages of the disease.  While saddened that Alzheimer's has personally touched his family, we are inspired by this generous and moving tribute."
The challenge will consist of 12 corporate sponsored teams in a timed 2-hour race beginning at 12:30 p.m.  Each team will have one pro driver paired with three amateurs.  Gates open at 7 a.m. and admission is free.  The pro drivers will also take part in an autograph session before the start of the race.
"I'm thrilled to be taking part in this race," said James Hinchcliffe, who will be driving for the Firestone-sponsored team.  "It's such a cool way to do it, by combining two of Dan's passions, karting and Alzheimer's awareness.   I'm honored to get to participate."
The challenge will be part of the Robo-Pong 200 race weekend, an endurance event Wheldon loved to compete in during the off-season.  In fact, Wheldon was often seen in the kart paddock competing in various races during his downtime from the IndyCar Series.
"An event like this is just great because we're continuing to carry the flame of something he started," said Alex Tagliani, who will be the pro driver for the IMS-sponsored team.  "And it's karting.  I definitely had the chance to spend some time karting at the Florida Winter Tour with him.  I know it was a location where we hang out in the winter to have fun away from the serious business and so karting always makes me remember him and this even more.  I'm so glad to take part in it."
Drivers and sponsors were quick to sign up for the race when asked to participate by Wheldon's widow Susie, including three-time Indianapolis 500 champion Dario Franchitti, who was also a teammate of Wheldon during the start of his IndyCar career.
"I'm really looking forward to competing in the race," said Franchitti who will be driving for Big Machine Records.   "It'll be fun to get back in a kart for the first time in a long time and most importantly to raise awareness of Alzheimer's, something which Dan was so passionate about."
Franchitti's teammate Scott Dixon, also a former teammate of Wheldon, will be driving for Target in the event.
"I'm very excited to be a part of The Dan Wheldon Memorial Pro-Am Karting Challenge," said Dixon.  "Dan was a much loved friend and teammate.  This race will be a great addition to Dan's lasting legacy and helping the Alzheimer's Association, an organization Dan was very passionate about.  The cross between regular top tier drivers, up and comers, and racing enthusiasts is going to make for quite the race!  I hope everyone comes out to support."
Three drivers from Schmidt Peterson Motorsports will take part in the race, including Simon Pagenaud, Tristan Vautier and Sage Karam.
"Dan was a tremendous driver and a good friend to many of us," said Pagenaud, who will drive for Bowers & Wilkins.  "It's important for us to show that IndyCar is a close family, and this event is our way of showing support to Susie.  I'm very happy to be participating."
Wheldon, a two-time Indianapolis 500 winner, was one of IndyCar's most popular drivers and is remembered not only for his success on the track, but as much for his charismatic personality and devotion to his beloved fans, as well as the up and coming drivers in the Series.
"When Michael Fux (Comfort Revolution) decided to sponsor a team in the event and asked me to drive, I became filled with emotion," said Indy Lights driver Karam.  "Dan was one of the drivers that always made time to talk to the young guys like me on race weekends.  He left quite a positive impression on me and I am honored to be a participant in this event."
Ed Carpenter, Martin Plowman, Josef Newgarden-Honda, Jay Howard-Bell Helmets, and Bryan Herta-William Rast/Global Rallycross round out the 12 teams entered in the race.
This is the first event that Wheldon has officially organized and hosted in her late husband's name, following his passing at the Las Vegas season finale in 2011.
"I feel so blessed to have had such an overwhelming response from people wanting to contribute," said Wheldon, who will be attending the event with her two small children Sebastian and Oliver, as well as their father's family from England.   "The outpouring of support goes to show what kind of person Dan was and how he affected those he met.  I couldn't be more proud.  Being able to carry on his legacy with an event like this, benefiting the Alzheimer's Association, is something very special."
A piece of racing memorabilia from Wheldon's personal collection will also be auctioned off at the event, by way of silent auction.
Each winning team member will receive a 221 Rose Gold watch, with special engraving, from Ritmo Mundo and a room package compliments of the Conrad Indianapolis.