Behind the Laptop: Out with the Old, In with the New
New EKN site only to get bigger and better, primed for a strong future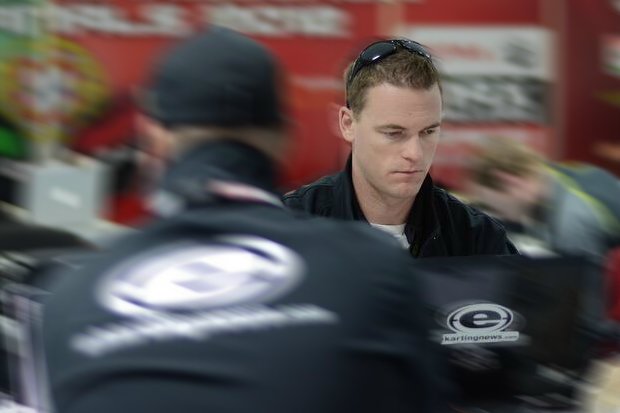 Welcome to my first column of the EKN V2.1 era. This is an exciting time to work for Howden Media Group and I can't believe it's October already. Each year goes by fast when you're doing what you love, heading to the racetrack every other weekend. It's been a wild few months since we launched the new EKN platform, and I'd like to begin by thanking everyone for their comments regarding my recent OnTrack article with Victory Kart and the Briggs & Stratton LO 206 engine. It means a lot to hear the positive feedback, having had only a few chances in the past year to get behind the wheel of a kart. Coming back from the Streets of Lancaster Grand Prix, I almost wish there was time to take part in that street race as well, as it's just as exciting of an event, and the layout is even faster in the city streets. There's a number of great temp circuit events out there now, and I can't wait to see what the City of Modesto and Superkarts! USA have in store for the SummerNationals in 2014.
Moving on to what has been on my mind lately…I want to put this out there….'change' is always something that takes time. It takes time to get accustomed to a new car, finding its blind spots and performance limits. Testing a kart chassis for the first time requires a break-in period as well, just as is the case with a new seat. Anything new or different always requires us to invest some time to find a rhythm or system, normally different to what we used to. Heck, even a new laptop is something that needs adjustment time, finding all the new software updates and being familiar with new options and features, all the placement of icons and services. So, it should comes as no surprise that the same can be said for the new eKartingNews.com website.
After providing 11 years of the original format, style, and operation on the site, we launched the new EKN v2.1 back in July after months of brain-storming and development. One of the reasons that we are using the 'v2.1' tagline is that we, of course, plan to continue developing and updating the site. It's more than just an overnight change to the platform, as what we began with for the launch in July will feature growth to not only what we can provide for our viewers, but for the sport in general. Adding more features, new sections, and continuous updates is our goal, which is a complete 180 degrees from the static site that sat for years and years.  We were locked into a site with very limited options for growth. As technology and social media interaction change, we need to change as well, and we will.  For those who can look beyond today and into the future, it's an exciting time.
One of my favorite aspects about our EKN Global membership program, aside from posting in the forums, is the 'Discussion' section below each editorial segment we publish. Like so many new media outlets around the world, readers can post their comments or opinions right to the page. Just below the social media sharing links – which I love just as much – you will find the area to leave comments. Whether it's a column, a race report, breaking news, or a PR Wire, you can submit your thoughts or opinions right there. This is just the start in the future plans to connect our EKN Global members even more.
I can understand the frustration that often accompanies change, as I've had a recent experience in an update that I myself was not happy about. As is the case with many guys in the United States, I enjoy playing fantasy football. For as many years as I can remember, at least since the Internet came into play, I've been a member of a Yahoo Fantasy Football league. The website for their fantasy leagues changes yearly, and this season was among the most drastic in terms of changes with a completely new layout, coloring, and positioning of certain areas, etc.
Am I a fan of the new look? Not really.
Did I stop participating in my league? Of course not.
I was not impressed with what they did or how it looks, but I'll still going to the site every day until the end of January when I score the victory in our league championship. It's taken me a few times to review the site, see where the links I need are, and surf the pages to see what was now there or what I may be missing. The basic functions are still there, edit my line-up, review player notes and talk trash. It's not going to turn me away from something I love to do. And I hope that's the mentality that many of you feel if you're struggling with the new layout of EKN.
Sure, things can be frustrating now and then with the current 'get it now' mentality of the new generation. Slow internet speeds, fast food that's not really fast, and of course, road traffic, are all things that spike our frustration levels. Certain things just need time before you realize how amazing or simple they can be. As I've grown older and as my kids become more demanding, it's a challenge to teach them that good things come with patience.
Life is short, have fun!
David Cole
eKartingNews.com Managing Editor
@DavidColeEKN