WKA and IAME Announce Revamped Partnership for 2014 Manufacturers Cup Series
Parilla Junior added to series for first time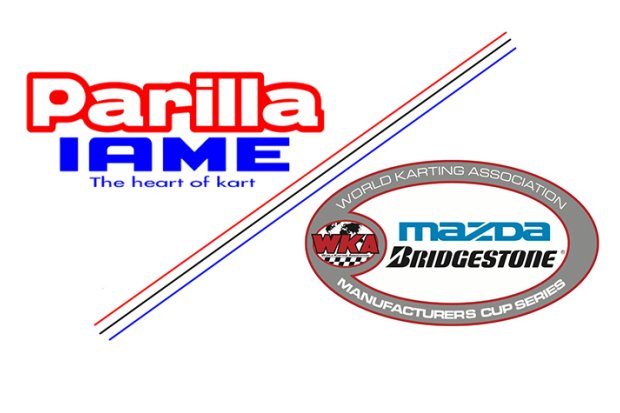 The World Karting Association and IAME, the Italian-based producer of the Parilla Leopard, X30 and Komet engines, are pleased to announce a restructure of their ongoing partnership for the 2014 season in WKA's national 2-cycle sprint series, the Mazda / Bridgestone Manufacturers Cup.
WKA and IAME's new partnership, which has been a constant since 1995, will produce a restructured, much-improved awards package for several Manufacturers Cup classes, including the new Parilla Junior (TaG Junior), which officially has been added to the 2014 Man Cup class structure.
Beginning with the new Parilla Junior class, the division will be offered to 12- to 15-year-old racers along with Yamaha Junior and Komet Junior. Parilla Junior will run as Leopard and X30 only, and this will mark the first time in the Manufacturers Cup's prestigious history that a TaG division has been offered to junior racers.
Parilla Junior and Parilla Senior, which will remain open to the Leopard and X30 engines, will run for some of the best year-end awards packages the Man Cup Series has ever seen.
With the future of IAME's TaG engine program clearly structured around the X30, as is evidenced by the numerous X30 series and programs throughout the world, WKA is committed to IAME's proactive future plans and objectives for their engine development in the United States.
Both Parilla Junior and Senior's year-end awards will include an X30 engine kit to the national champion, and other engine parts to the remaining top-five points finishers.
Customized rings, provided by IAME, will be awarded to each class champion, while $1,000 in IAME personal gear will be distributed to the top-six points finishers in each class.
There's still more!
IAME has stepped up to offer the Parilla Junior and Parilla Senior points leader at the end of Man Cup Race 5 (best 8 of 10 finals) an invite to the 2014 X30 Challenge in France. The invite will include a package that consists of an entry to the X30 Challenge, tuner, kart, engine and tires, all free of cost for the competitor.
In addition to standard weekend awards at Man Cup nationals in 2014, each national event's overall Parilla Junior and Parilla Senior weekend winner (best average finisher) will earn a special, customized WKA / IAME championship cup.
Also as a part of the IAME / WKA partnership, Komet Sportsman and Komet Junior national champions will earn a new KPV engine kit with other engine parts going to second through fifth in the final national standings.
Yamaha Senior, Komet Pro combined in 2014
In order to bring Parilla Junior into the 2014 Manufacturers Cup class structure, officials needed to make room in the daily schedules. The space comes with a combination of the series' two 100cc senior divisions in 2014, Yamaha Senior and Komet Pro.
The two engine packages will run against each other in 2014 in the newly titled class, Senior Piston Port. Weight rules are to be announced. The Yamaha will continue to utilize the SR-Y pipe and RLV 9110 header, while the KPV package will run its Komet Piston Valve spec header and pipe.
TaG Masters
TaG Masters has been reserved for drivers age 35 and up, however, this will change in 2014. The TaG Masters division will now be legal to drivers age 30 and up, and drivers at least 21 years old will be permitted to run the Masters class if he/she weighs at least 220 pounds.
Classes remaining unchanged
Most divisions will remain unchanged in 2014. These are all the Sportsman divisions – Rookie, Yamaha, Cadet and Komet – Yamaha Junior, Komet Junior and TaG Senior.
All classes will run both days for a single championship.
2013 Daytona KartWeek / 2014 Man Cup schedule
The 2014 series will kick off at Daytona International Speedway December 27-30, where the WKA Sprint Championships will once again headline Daytona KartWeek.
The traditional Dec. 27-30 date falls on a Friday through Monday this year, meaning load-in day, which includes parking, pre-tech and registration, is Friday, Dec. 27. Official practice will take place Saturday, Dec. 28 with racing slated for Sunday and Monday, Dec. 29-30.
The WKA Sprint Championships entry form will be released in mid-October.
Also coming in mid-October will be the remaining 2014 Manufacturers Cup schedule. Officials are currently working on dates and venues, and WKA looks forward to making the schedule announcement in the coming weeks.