Kel Teseder named MG Tires Driver's Driver of the Year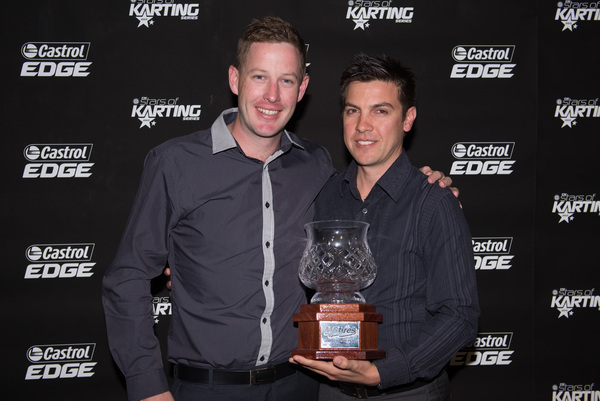 Kel Treseder with MG Tires Representative Adam Kluynk (AF Images/Budd)
Bundaberg's Kel Treseder was honoured by his peers in the CIK Stars of Karting Series on Sunday night when he was presented with the MG Tyres Driver's Driver of the Year Award.
The prestigious award is voted on by the drivers in each of the three Pro categories in a 3, 2, 1 format on who they believe is the 'best and fairest'.
Treseder gained 30 votes in the count, five clear of his Energy Corse stable-mate John Grother with Chris Hays (20) rounding out the top three in the count. It is the second time in four years that Treseder has won the Title after he was chosen by his colleagues to receive the Award at the completion of the 2010 Series.
"To receive this Award is an absolute honour," said Treseder.
"I was overwhelmed when I won in 2010 and that trophy takes pride of place in my house, I'm sure this one will be doing the same.
"To be voted on by my fellow competitors as the Driver's Driver for a second time is an incredible feeling.
"I'd really like to thank Ray and Kerryn Fulcher for their dedication towards my career, without them, none of my racing would be possible and I'd be watching the racing from the sidelines.
"Both Adam Graham of Energy Corse Australia and my mechanic this year, Jon Targett, have been amazingly supportive over the year and I can't thank them enough for their ongoing support."
In the battle for the Trans-West Manufacturer's Cup it was CRG that edged out fellow Italian-made brand Kosmic for the title. It is the second time in three years that the CRG team has won the prestigious title.
The Shane Wharton-led Shamick Racing was chosen as the Team of the Year, while Pro Junior (KFJ) driver Andrew Kahl collected the KARTX Rookie of the Year Award.
Michael Patrizi's Patrizicorse outfit was selected as the Best Presented Team of 2013, with the Southern Go-Kart Club's second round of the Championship in South Australia chosen as the Event of the Year.
Both Callum Walker and Pierce Lehane collected two awards throughout the evening winning as the Qualifying and Heat Race Champions of their respective Pro Junior (KFJ) and Pro Light (KF) categories. John Grother was crowned the Qualifying Champion in Pro Gearbox (KZ2) with Joey Hanssen's eight heat race wins earning him the title of Heat Race Champion.
2013 CIK Stars of Karting Series
presented by Castrol EDGE
AWARDS LIST
Pro Junior (KFJ) Qualifying Champion – Callum Walker
Pro Light (KF) Qualifying Champion – Pierce Lehane
Pro Gearbox (KZ2) Qualifying Champion – John Grother
Pro Junior (KFJ) Heat Race Champion – Callum Walker
Pro Light (KF) Heat Race Champion – Pierce Lehane
Pro Gearbox (KZ2) Heat Race Champion – Joey Hanssen
Mechanic of the Year – Clint Cathcart (Liam McLellan)
Commitment Award – Mick Kenny, Brock Kenny and Peter Allan
Best Presented Team – Patrizicorse
Team of the Year – Shamick Racing
KARTX Rookie of the Year – Andrew Kahl
Event of the Year – Round Two, Southern Go-Kart Club
Pro Junior (KFJ) Third Place – Andrew Kahl
Pro Junior (KFJ) Runner-Up – James Abela
Pro Junior (KFJ) Champion (Jon Targett Trophy) – Liam McLellan
Pro Light (KF) Third Place – George Geranis
Pro Light (KF) Runner-Up – Troy Loeskow
Pro Light (KF) Champion (James Courtney Trophy) – Matthew Waters
Pro Gearbox (KZ2) Third Place – John Grother
Pro Gearbox (KZ2) Runner-up – Chris Hays
Pro Gearbox (KZ2) Champion (John Pizarro Trophy) – Joey Hanssen
Trans-West Insurance Manufacturer's Cup – CRG
MG Tyres Driver's Driver of the Year – Kel Treseder