Stars of Karting Championships go to the Final Lap in Melbourne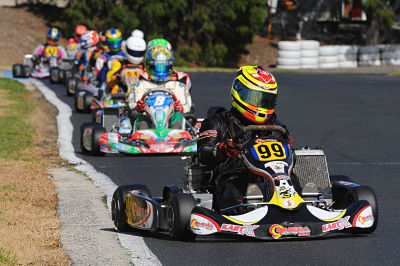 Paul Pittam scored the win the TaG 125 Heavy (AF Images/Budd)
Two of the three CIK Stars of Karting Championships, presented by Castrol EDGE went right down to the very last lap of competition at a frenetic Port Melbourne final round with Liam McLellan, Matthew Waters and Joey Hanssen declared Champions.
McLellan – who entered this weekend's event second on points – was locked in a battle with his chief rival James Abela right to the finish in the Pro Junior (KFJ) category. After the first final on Sunday morning, McLellan's second placed finish saw him hold a point buffer where he could finish as low as 13th to become Champion. The second final saw the Victorian OK1 chassis driver enter a race long battle with Abela, causing many nervous moments among his support crew. In the end though, despite Abela getting the best of him in the race, McLellan cruised to the Championship win and was presented with the Jon Targett perpetual trophy.
Taking their maiden Stars of Karting final wins this weekend were Chris Sandrone (Exprit Kart) and Callum Walker (Formula K Kart). Sandrone and McLellan locked wheels as they crossed the finish line in final one – the margin of victory just 0.064. The second final was even more dramatic. Darwin's Bryce Fullwood crossed the line first with Walker second, however was later disqualified for an early race incident with Sandrone, that saw the New South Welshman spin. This handed an emotional Walker his first Stars of Karting win.
In Pro Light (KF), Waters started the weekend as the points leader, however George Geranis was keen to show up the Sydney-sider on his home track. It wasn't to be, with Geranis spinning heading into turn one in the second final. A fly in the ointment Waters wasn't expecting was Queenslander, Troy Loeskow. Loeskow came into the event third on points with a mathematical chance at winning the Championship and then went on to win the first final. Following on from that, he was dominant in final number two to take the double win. Throwing caution to the wind, he had nothing to lose being 16 points off the Championship lead and two points off second place. Geranis' turn one spin elevated Loeskow to second in the Title should he remain in the event. He rocketed to the front ahead of Pierce Lehane and was a chance to take the Championship should misfortune hit Waters. It wasn't to be though with Waters coming home sixth, doing enough to take his fourth Australian Karting Championship and first Stars of Karting Title, including the James Courtney Trophy and $10,000 scholarship to compete in an overseas CIK event.
In Pro Gearbox (KZ2), Joey Hanssen confirmed his position as Champion-elect after yesterday's pointscoring Shootout and heat races. The 21-year-old Dutchman becomes the first international racer to win a CIK Stars of Karting Championship and did so in fine form. He confirmed his stranglehold on the Jon Pizarro Trophy in the first final on Sunday morning – his seventh final victory of the 2013 season. In the second final on Sunday afternoon, his season long combatant, Chris Hays quickly got to the pointy end of the field and tore away in his Energy Kart. Hays bookended his season with round wins at Ipswich (round one) and Sunday at Todd Road.
The battle for third in the Championship was the major on-track interest in Pro Gearbox with John Grother, Kel Treseder and Jason Pringle all fighting it out. Pringle's bid was short-lived with a mechanical issue in the first final when the proverbial $2 part (an engine stop bolt) broke, however he blasted from 26th on the grid in final two to end the 27 laps in ninth place.
Grother – who switched to an ART GP chassis this weekend – recorded fourth and third placed results to secure third in the Championship despite a valiant effort from Treseder who ended the day's proceedings sixth and fourth. Cian Fothergill put in consistently his best performance of 2013 over the weekend to score a third in the first final, whilst Tyler Greenbury – who had a one-off appearance this weekend walked away with a commendable fifth placed finish.
In the Dunlop KartSport Support Categories, Aaron Borg took two TaG Light wins on the trot from Jack Richardson and Micheal Carless, Paul Pittam recorded an undefeated weekend in TaG Heavy beating Michael Saller and Jason Hryniuk. Meantime, Rookies fell the way of Jai Sparey who took Cody Brewczynski to the wire in their 19 lap race, whilst in a crazy TaG Restricted final, Nathan Grover recorded victory in the Light division and Michael Maruszak was the victor in Heavies.
The weekend brought to a close what has been an outstanding Championship battle right from the very beginning in 2013.
2013 CIK STARS OF KARTING SERIES presented by Castrol EDGE
Round 5 of 5
RESULTS (Top Five)
Pro Gearbox (KZ2)
1. Chris Hays (Gold Coast, QLD)
2. Joey Hanseen (Netherlands)
3. John Grother (Gladstone, QLD)
4. Kel Treseder (Bundberg, QLD)
5. Tyler Greenbury (Toowoomba, QLD)
Pro Light (KF)
1. Troy Loeskow (Bundaberg, QLD)
2. Adam Willison (Melbourne, Vic)
3. Pierce Lehane (Sydney, NSW)
4. Brooke Topp (Toowoomba, QLD)
5. Jordan Nicolaou (Melbourne, Vic)
Pro Junior (KFJ)
1. Callum Walker (Brisbane, QLD)
2. James Abela (Sydney, NSW)
3. Liam McLellan (Melbourne, Vic)
4. Andrew Kahl (Sydney, NSW)
5. Joshua Rogers (Gladstone, QLD)
Dunlop Kartsport TaG 125 Light
1. Aaron Borg
2. Jack Richardson
3. Michael Carless
4. Dean Foster
5. Tyler Cramer
Dunlop Kartsport TaG 125 Heavy
1. Paul Pittam
2. Michael Saller
3. Jason Hryniuk
4. James Reid
5. Michael Griffiths
Rookies
1. Jai Sparey
2. Cody Brewczynski
3. Joshua Smith
4. Jordan Dudfield
5. Antonia Astuti
TaG Restricted Light
1. Nathan Grover
2. Scott McGuinness
3. Micah Montgomery
4. Marc Sortino
5. Stuart Reed
TaG Restricted Heavy
1. Michael Maruszak
2. Trent Sim
3. Andrew Freeman
4. Robert Zoanetti
5. Simon Chase
CHAMPIONSHIP POINTS
Pro Gearbox (KZ2)
1. Joey Hanssen 658
2. Chris Hays 575
3. John Grother 502
4. Kel Treseder 488
5. Jason Pringle 469
Pro Light (KF)
1. Matthew Waters 554
2. Troy Loeskow 547
3. George Geranis 536
4. Brooke Topp 504
5. Jordan Nicoloau 466
Pro Junior (KFJ)
1. Liam McLellan 563
2. James Abela 547
3. Andrew Kahl 512
4. Chris Sandrone 509
5. Callum Walker 490