Kart Racing Returns to Music City Grand Prix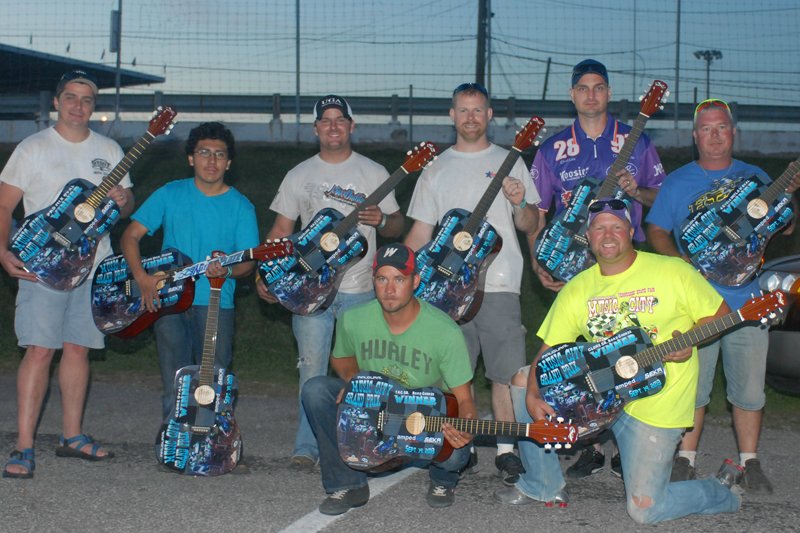 Winners take home the inaugural Music City Grand Prix Guitars
Luis Garcia of Chatsworth, Ga., won not only one but two Kart feature races at the Tennessee State Fair Inaugural Music City Grand Prix Saturday, September 14 at the storied Nashville State Fairgrounds Speedway. The event put on by the Amped Up Racing Series and South East Karting Alliance hosted almost 100 racers from seven states. This was the first time since 2002 that karts have raced on the track.
The 14-year-old Garcia won the 20-lap Pro Clone Open Medium presented by Nitroplate and the 15-lap Clone Jr on the quarter-mile oval.  David Baker of Murfreesboro, Tenn., won the Pro Clone Open Heavy, Josh Darnell of Shelbyville, Tenn., won the Pro Clone EL and Travis Humphrey of Cleveland, Tenn., won the Pro Mix. Other winners on the oval track were Charles Adams of Nashville, Tenn., in the 4-Cycle Outlaw.
Garcia, who won the same classes at on the Dogwood Speedway's dirt track a week earlier, said in the early part of the Pro Medium feature where he started third the track was slick.
"It got better and better as more laps counted down," said Garcia. "Toward the end, it drove beautifully."
Garcia made the winning pass on the inside of the first turn with four laps to go in the feature. In the Clone Jr. feature, he started the pole and cruised to the victory.
Baker, who started on the outside pole, made his winning pass inside on the second turn entering the back straightaway.
"I had enough chute speed to pass (the leader), said Baker.
Baker noted overall that the speedway's concrete wall was a little "intimidating."
Darnell also started from the outside pole. He said on the second lap, he made an inside pass on the fourth turn to take the lead and victory.
"I just set him up going into the corner and I had a better exit," said Darnell.
The event also hosted a nine-turn road half-mile course. Ty Porter of Athens, Ala., won the in Kid Karts, Chad Lee of Hanceville, Ala., won the Shifter, Joseph Skaggs of Murfreesboro, Tenn., won the TAG SR Presented By Kart Warehouse USA, Matt Skaggs of Murfreesboro, Tenn., won the Clone Sr., Ryan Garmon of Glasgow, Ky., won the Clone Jr and Jake Galloway won the Yamaha .
This road course also allowed the Kid Kart racers to race on the fourth turn of the speedway's 5/8-mile course where racing legends, inlcuding the late Dale Earnhardt and Franklin's own Darrell Waltrip have raced. This is a first in kart racing, said a veteran racer.
The next kart event at the speedway will be on October 19 and November 9. Visit our site for more information www.ampedupracingseries.com