Trey Shannon Enters 24 Hours of America as Solo Driver
Racing for Tourettes pilot set for another challenge twice around the clock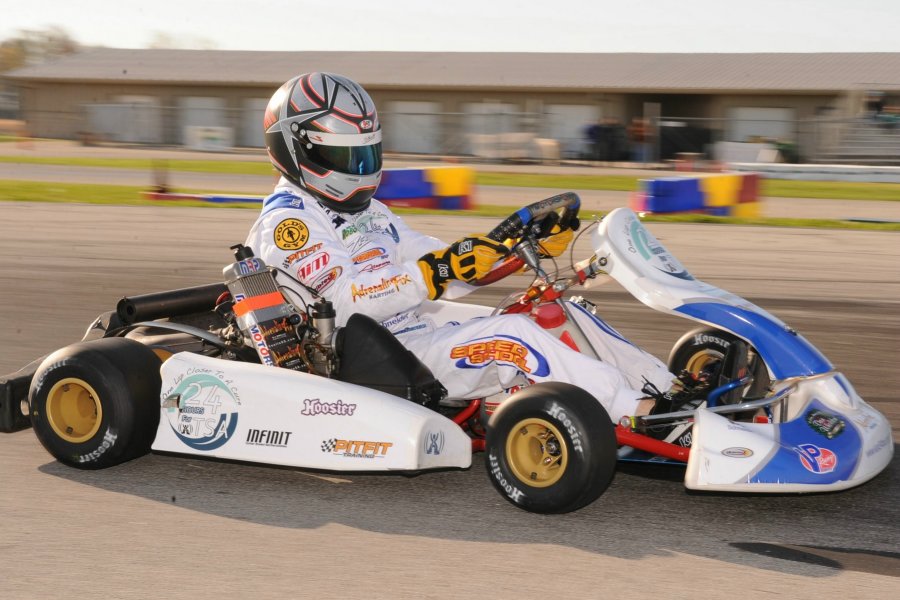 Trey Shannon completed a 24 hour record in 2011, Racing for Tourettes (Photo: DavidLeePhoto.com)
Racing For Tourettes is excited to announce Trey Shannon's entry into the 24 Hours of America. Building upon his successful 24 hour Guinness World Record attempts in 2011 and 2012, Shannon is now set to take on his first 24 hour race as a solo competitor. The 24 Hours of America, organized by Endurance Karting, is an annual event at Charlotte Motor Speedway, consisting of up to 30 teams doing battle over the 24 hours on the infield kart track. Shannon will be the first solo participant the event has ever seen.  The 24 Hours of America takes place this year on October 18-20. With 20 teams already entered, Shannon is set to take on over 80 drivers over the 24 hour race, with all money raised going directly to the national Tourette Syndrome Association.
As a member of the karting community who is affected by Tourette Syndrome, Trey is grateful for the opportunity to continue raising awareness of TS, and hopes to raise a considerable amount of funds for TS research as well.  "This is such an awesome opportunity to do another 24 hour event, and to go up against an entire field of seasoned endurance competitors is just fantastic," said Trey. "I can't even begin to describe how excited I am to once again be representing the Tourette Syndrome Association and all those living with TS. The TSA has continued to grow since I got involved with them two years ago, and I hope that what I'm doing here can help add to that progress.
"My previous 24 hour world record attempts were amazing experiences, but I know that this event will truly be something special. I really have to thank all of my sponsors for their support, especially Chris McCoy and his whole Endurance Karting team for working with me and allowing me the opportunity to join them for the 24 Hours of America."
Everybody at Endurance Karting is looking forward to seeing Trey compete as the first solo racer in the event's five year history. Endurance Karting owner and operator Chris McCoy expresses their enthusiasm over Shannon's participation as a one man team. "We are honored to have Trey join Endurance Karting for the 24 hours of America as a World Record Holder, but more importantly as someone overcoming challenges and giving to a worthy cause with his talents."
Last week, Shannon signed eKartingNews.com as the official media partner of Racing For Tourettes program at the 24 Hours of America. "We are happy to lend our support to Trey and the Racing For Tourettes program for the upcoming challenge," stated EKN Managing Editor David Cole. "As the leading kart racing website, we are always looking to promote the sport in many different ways along with supporting many charitable programs. Thanks to Trey's passion for the sport and his involvement in TS Awareness, we can support two within the same event. His record-setting performances the last two years is astonishing, and gives many the mindset that anything can be done with hard work and determination. We've been happy to promote Shannon's accomplishments over the past two seasons and will be providing complete coverage of Trey's experience, including a 24 Hours of America race preview, a driver diary of his 24 hour stint, and complete recap of his experiences in Charlotte."
In addition to EKN's coverage of Trey's preparations and progress throughout the race, live timing of the 24 Hours of America will be steaming live on Race Monitor throughout the entire 24 hours. Shannon will be piloting the #15 Racing For Tourettes entry sponsored by Oktane Visual, DB Motorsports, eKartingNews.com, Racer of Tomorrow, AiM Sports, David Lee Motorsports Media, Kart360.com, Marren Fuel Injection, Autowash Express, and Endurance Karting.
To help the cause and make a contribution to the Tourette Syndrome Association, please visit Trey's Active Giving page at active.com/donate/teamtsa/racingfortourettes. You can also access the page by going to treyshannon.com and clicking on the "Donation" link. Every donation, no matter how large or small, is greatly appreciated.